Tom Ford's pubes get their own t-shirt, while Toni Braxton's children (Diezel and Denim) star in a new
Diesel campaign
ALEXANDER MCQUEEN GOES TO GLASGOW
Lucia Fairfull has collaborated on a short film with Alexander McQueen, which sees the Glaswegian musician perform and travel through the bowels of the Barrowland Ballroom. Shot by Sophie Muller, a supporting actor comes in the form of a shiny crocodile iteration of the label's Jewelled Satchel. This is the first in a series of films to come from Alexander McQueen, each of which will be lead by and star one of Sarah Burton's muses. Watch Fairfull's video here.
TELFAR GETS WEIRD(ER)
The denim industry has been suffering from an identity crisis over recent years, with just about every style of jean gaining popularity at the same time. But, thanks to the likes of Glenn Martens, a dominant trend has emerged: weird, twisted, and freakish denim. Telfar is the latest example, debuting its first jeans in completely overblown proportions, complete with cowboy chap cut-outs. Head over to Telfar to see more.
UNBREAK MY HEART, GLENN
Speaking of Glenn Martens' Diesel, its founder Renzo Rossi fronts the label's sustainable Library collection in new campaign images shot by Frank Lebon. There, he stars alongside Dazed 100-er Ella Snyder, Toni Braxton, and her two children, named Diezel and Denim – which near brings a tear to my eye. Cast your eyes on Lebon's imagery here.
ALESSANDRO MICHELE ISN'T GAGA ABOUT THE GUCCI FILM
After incessant badgering from fashion fans, Gucci creative director Alessandro Michele has finally spoken out on Ridley Scott's House of Gucci. "I met a lot of people who worked with the family, and they were so sophisticated, in contact with beautiful people, they were artists and collectors. They spoke good English, all the men looked so handsome and sophisticated, one was a big movie star in Italy," he said of the debonair family from which the film (that has been compared to Dolmio adverts) drew inspiration. "It's like they are telling something that is pretty strange."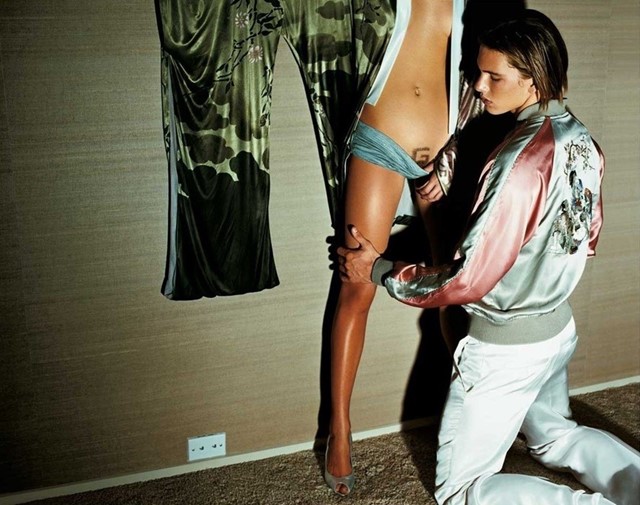 Courtesy of Gucci
TOM FORD'S PUBES GET THEIR OWN T-SHIRT
Supreme's latest drop sees Gucci's now-iconic image of Carmen Kass' monogrammed pubes emblazoned on a t-shirt. Shot by Mario Testino under the creative direction of Tom Ford, the photograph originally appeared in the February edition of Vogue in 2003 and provoked uproar, with the tabloids calling it "no better than pimps and those who advertise sexual services in phone boxes." With that in mind, head over to Supreme to get your hands on Tom Ford's pubes.
NEW (NEW) BOTTEGA VENETA AND OLD CÉLINE
Bottega Veneta continues to plunder Phoebe Philo's little black book, having hired wunderkind employees Daniel Lee, Matthieu Blazy, and now, Ilaria Icardi, who is joining the label as RTW design director. Having just launched her own jewellery business, and racked up experience at Tom Ford's Yves Saint Laurent and Victoria Beckham, the designer is well positioned to bolster Blazy's handsome, slightly off-kilter approach to fashion. 
YOU GET AN IPHONE, EVERYBODY GETS AN IPHONE
Every six months, designers and their PR teams are embroiled in a sinister battle over who can send out the most berserk invites and achieve newsfeed domination in the process. Balenciaga snatched the crown this season when scuffed-up iPhones, engraved with show details, arrived at hotel rooms – cue a load of fashion editors hurriedly logging onto mazumamobile.com...
AZ SETS UP A FACTORY LINE OF COLLABORATIONS
Once the obituaries have been written, the memories shared, and tributes undertaken, honouring somebody's life rarely extends beyond anniversaries. Alber Elbaz, however, is set to be commemorated every season, with his label, AZ Factory, transforming itself into a platform for guest creatives – or "amigos". Every season, a new designer will assume the role of creative director, with the first being Thebe Magugu, who will present his collection in late March or early April.