Be it Meredith Blake's Prada camping gear in The Parent Trap, or the iconic Versace LBD in Showgirls, it turns out some actually do like
it hot
ROMY AND MICHELE'S HIGH SCHOOL REUNION (1997)
If there was ever a case for metallic, maribou-feathered micro dresses, then Romy and Michele's High School Reunion puts forward a powerful testimony. As Michele insists "fashion, to me, is like...everything." Gaudy, garish – and sometimes matching – the duo's silly one-liners are topped only by the frothy fashion they pull out of the closet. Decked in plastic earrings, teetering platforms, and sexy attempts at business ensembles, the protagonists were dressed by costume designer Mona May, who was also the brains behind Clueless. Though, nothing else, ever, needs to be written on the clutch that Cher Horowitz has on fashion.
MIDSOMMAR (2019)
Sounding the death knell for "festival" headbands and the word "scandi", was the – actually – cult Swedish film, Midsommar. With Florence Pugh as lead, the A24 movie followed a bereaved Yelena, as she tagged along to a summer barbeque turned unexpectedly sacrificial. Yet, despite all the suicide, inbreeding, and stray pubes – it was quite beautiful. Lovely, light smock dresses, traditional embroidery, and fresh flower garlands. It was an ode to uniform dressing, shall we say. Though costume designer Andrea Flesch worked tirelessly, plundering Swedish folklore for all of its aesthetic marvels, she could have perhaps saved herself a lot of work by simply searching "summer wedding" on Pinterest.
DOOM GENERATION (1995)
What does a goth wear in summer? Well, Gregg Araki's seminal Doom Generation might just have the answer – particularly, a then 16-year-old, Rose McGowan. Dressed in a punk-rock wardrobe to reflect her snappy coming of age, McGowan dons black Dr. Martens, deep-cut vintage sundresses, and oversized leather jackets. An ominous, plastic raincoat (think Patrick Bateman in American Psycho), and a perennial, slick black bob and red lipstick made up the cornerstones of Amy Blue's signature style. "I looked at all the punk rock chicks that I used to hang out with. I was born and raised in Southern California, which has the hardcore scene," costume designer Cathy Cooper told Dazed. "So she was a direct reference to 'that chick' that used to hang out with bands. Not a chick in a band, but a chick that used to hang out with bands. Two different things! That girl whose boyfriend was a singer, and who was completely narcissistic and really didn't give a shit about anyone but herself. And that's her character."
THE NANNY (1993-199)
Not technically a film, but cult nonetheless, and with a wardrobe more than deserving of memorial. The Nanny, a hit US sitcom which ran throughout the 90s, was recently made available on HBO's streaming platform – which meant a surge in attention given to Brenda Cooper's costuming, namely that of Fran Fine, played by Fran Drescher. Rarely without her trademark turtleneck and mini skirts, Drescher has won over a new generation of fans thanks to archival Bob Mackie gowns, garish, fur-trimmed Anna Sui suits, bespangled Todd Oldham skirts, and clown-like vests courtesy of Moschino's Cheap and Chic line.
THE PARENT TRAP (1998)
Perhaps the real villain of The Parent Trap was not Meredith Blake, the stone-faced, soon-to-be, step-mother of the Lohan twins, but the vile, meddling children themselves. Meredith, after all, was gorgeous. She'd lounge poolside in stark white cocktail dresses. She'd go hiking in Prada. And she was villanised because she didn't want to go hiking in Prada. She'd use her swamping shades less as an accessory, but to block out Lohan's incessant nagging. Blake has since been reclaimed on TikTok by teens who have, quite rightly, come to idolise the 26-year-old (!) for securing the bag. "She knew she could use her youth and beauty to get what she wanted," said actor Elaine Hendrix. "Being unapologetic about that probably is appealing these days because this generation is all about owning who you are, whoever you are. Own it and be proud of it."
SHOWGIRLS (1995)

"Thanks! I bought it at Versayse," says Elizabeth Berkeley as Nomi Malone, running her hands down her newly-acquired Versace dress with pride. An iconic one-liner from a film, which is strewn with covetable fashion moments. There's Nomi wrangling for a hitchhike in a sparkling tiger-striped shirt, unbuttoned to the navel, a cowboy hat, and what looks like Ludovic De Saint Sernin lace-crotch trousers; there's Gina Gershon as Cristal Connors in a cookie monster, feather-trimmed negligee, much like those jumpsuits we saw at Bottega Veneta this season; and then there are the showgirls' countless, gloriously trashy stripper looks. Critics lampooned the film as garish – which is a compliment – and misogynistic, which might have some truth. And while the glimmering, glamorous costumes were a raucous success, the film itself crashed and burned at the box office.
ZOLA (2021)
Adapted from a chaotic, newsfeed-engulfing 2015 Twitter thread, Zola tells the story of A'Ziah 'Zola' King and her delirious roadtrip with the enigmatic Stefani. Costumed by Derica Cole Washington, the movie's fashion draws parallels to The Wizard of Oz – all blue gingham dresses and red Nikes – as the protagonist schleps her way to the figurative Emerald City. From vintage Dior bathing suits to dirt-cheap dresses pilfered from Florida malls, cowboy shirts, and denim chaps, Zola's wardrobe is as tumultuous, and engrossing as the story itself.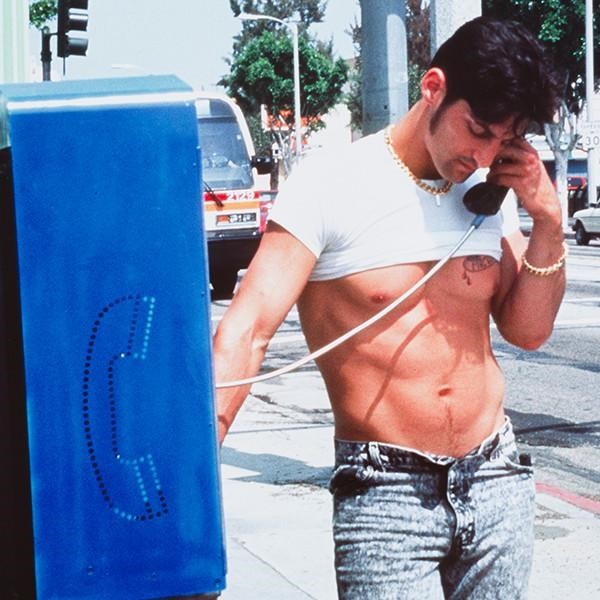 Photography Rick Castro
HUSTLER WHITE (1996)
And now, from the male gaze to the male "gayze". Hustler White, directed by Bruce LaBruce, is an underground, lo-fi black comedy, which offers a buffet of burly meat – look after look. Costumed by photographer Rick Castro, the film's protagonists, two hustlers named Monti and Jurgen, parade the streets of LA in all-white, flesh-baring outfits. Scant t-shirts are folded up above burgeoning pecs while low-slung jeans are left unbuttoned, pheromones let loose, wafting by any potential "trick". The film is heavy-handed in its deliberate symbolism and cameo of the colour white, which enwraps buildings, cars, clothes, and bodies. "Why do hustlers wear white?," Monti asks towards the end of the film – "purity," he's answered. 
JAWBREAKER (1999)
The camp, high-school comedy, which involves the murder of a prom queen – of course – is an exaggerated, twisted take on teen years. With heels click-clacking down hallways, Jawbreaker epitomises the clique of sweeter-than-sweet 90s fashion – all miniskirts, tube tops, and kitten heels. It's a saccharine, though knowingly, performatively cute look which has been in orbit for the last decade. Just think of Olivia Rodrigo at the White House, for its most recent iteration. Within the film, fashion is used to signal the inner workings and hierarchy of the popular gang. Courtney (as played by Rose McGowan) is the school's Regina George, her status decreed by the most vicious shades of pink, while Julie (Rebecca Gayheart) is meant to be capable of empathy – a characteristic embodied by her penchant for baby blues.