With Francesco Risso of Marni taking to the Collina Strada catwalk, we take a look at all the times a designer has crossed
enemy lines
Vivienne Westwood for Yohji Yamamoto
In 1998 Vivienne Westwood walked for Yohji Yamamoto's autumn-winter menswear show. She wore a tweed two-piece which had been festooned with acrylic flowers, clown-like trousers so wide she shoved her arms down their sides, and an oversized mob suit topped with a bowler hat. She swaggered in typical Westwood manner, with a pouty snarl and her hands tucked behind her back, leaning back on her shoulders like an old-fashioned police officer. "If you're a good designer, you appreciate and love the work of another good designer, because they do something you don't do and that's what you really like about it," Westwood told AnOther magazine. "Yohji's work is a look and a big idea. I love Yohji."
Martin Margiela for Jean Paul Gaultier
Last year, in a documentary made by Loïc Prigent, Jean Paul Gaultier revealed that Martin Margiela walked his 1986 Russian Constructivist show. Despite committing to anonymity throughout his career (there are less than a handful of photos of Margiela online) Gaultier decided to unmask the designer 40 years after he emerged on the catwalk. "Should I say who it is?" asks Gaultier. "Is he well known?" replies Prigent. "Yes, but not his face." As is fashion folklore, Margiela's first job in Paris was working under Gaultier, who cast members of his studio alongside models for his AW86 show, explaining to Prigent that "they worked with me, so we're enjoying the party." 
Lee McQueen for Comme des Garçons
In 1997, having relocated to Paris to take the helm of Givenchy, Alexander McQueen made a surprise appearance as part of Comme des Garçons' Homme Plus show. There, he followed in the footsteps of John Waters and Jean-Michel Basquiat, donning a loose-knit black sweater, wide-legged plaid trousers, and shearling booties. Much of McQueen's personal wardrobe was made up of Comme, numbering baggy, striped cotton shirts, raw denim jeans, and unstructured tailoring. That Rei Kawakubo asked the designer to walk was symptomatic of his own cultural cachet and the reverence went both ways: "What's really impressive about her is that she's never backed down," he said, "I believe everyone should be like that."
Victoria Beckham for Maria Grachvogel
When the London designer formerly known as Posh emerged on Maria Grachvogel's AW00 runway, a collective gasp fell over the audience. The pop star was trundled out twice that evening, once in a lime green vest with matching satin hot pants and another to close the show in a burgundy, corseted gown with flamenco ruffles cascading from the hip. At 25 years old, this was back when Beckham was more "Wannabe" than Junya Watanabe, when she hadn't so much as stepped foot in an atelier other than to be fitted for a red carpet look. As she swung her arms like a naval officer and clasped her waist before the front row, the crowd were blithely unaware that they were watching a designer in the making.
Pieter Mulier for Sterling Ruby
Before Sterling Ruby, no major artist had ever produced a fashion line, which he debuted at Pitti in 2019. There were 45 looks in total, modelled by a few of Ruby's friends, like the actress Mackenzie Davis and designer Pieter Mulier. The now-artistic director of Alaïa stepped out in a battered, pink denim co-ord, similar to the kind of thing Ruby had made for Calvin Klein. As Raf Simons' right and left hand, respectively, the duo had forged a close relationship ever since Simons asked Ruby to collaborate on menswear in 2014. 
Olivier Theyskins for Y/Project
Set in the bowels of a distribution warehouse on the outskirts of Paris, Glenn Martens' AW22 show inhabited many characters. There was the spirit of Jean Paul Gaultier, who haunted the cavernous space with a series of trompe l'oeil slips, and then there was the very real presence of stylist Camille Bidault-Waddington and fellow Belgian designer Olivier Theyskins, who both schlepped up and down Y/Project's 5-minute-long runway. Just before the show started, Theyskens told Vogue: "Glenn proposed it to me. I know him and I love him. We work in the same neighbourhood and we both come from Belgium." As he began to pluck stray threads from a nearby model's shoulder, the designer added: "I think Glenn appreciates the freedom of characters."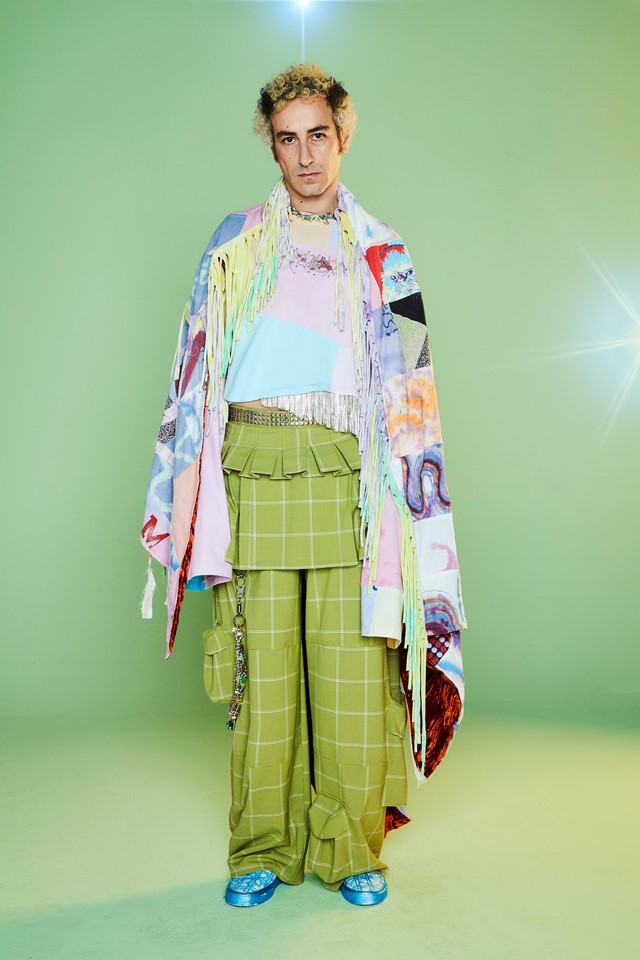 Photography Charlie Engman
Francesco Risso for Collina Strada
Throughout the pandemic, Hillary Taymour found escape in the ditsy, stupid, and frivolous, debuting collections across videogames, animorphs, and rooftop farm sets. And for her AW22 offering, she enlisted the creative industry's coolest figureheads to star in an 00s reality TV spoof, The Collinas. With Tommy Dorfman playing the air-headed lead, a supporting cast was made up of Aaron Philip, Chloe Wise, Jazzelle Zanaughtti, and Marni designer Francesco Risso, among others. But perhaps the Marni and Collina Strada worlds were always in orbit of each other, with both labels serving fashion's community of crafty clowns.