Alexander McQueen descends into the seventh circle, while JW Anderson launches a homoerotic
rugby capsule
KIM JONES GETS *ANOTHER* GIG
Not satisfied with running Dior mens, Fendi, Skendi, Fendace, and a number of other collaborations this year, Kim Jones has bagged himself another side job – this time, designing the Christmas tree at Claridge's in Mayfair. Named The Celestial Snow Globe, the design mixes holographic projections with white toile, while baubles appear to float in orbit and the designer's pet dog, Cookie, hugs Monsieur Dior's star atop the tree. Head to Claridge's from November the 24th to see the most elaborate festive fir of the season.
JACK WOLFSKIN GETS SEXY WITH GmbH
Glampers! Jack Wolfskin, beloved of Mountain Warehouse and dog walkers alike, is collaborating with the subversive Berlin label GmbH. The two German powerhouses have unveiled a capsule collection comprising fuzzy fleeces, second skin tops, fetishy cargo trousers, and soft-wadded two pieces. For Jack Wolkfsin, the offering marks a 40th anniversary and its first venture into high fashion, while for GmBH, it's about spotlighting POCs in hiking and outdoors culture. Check out what's in store on GmbH's website here.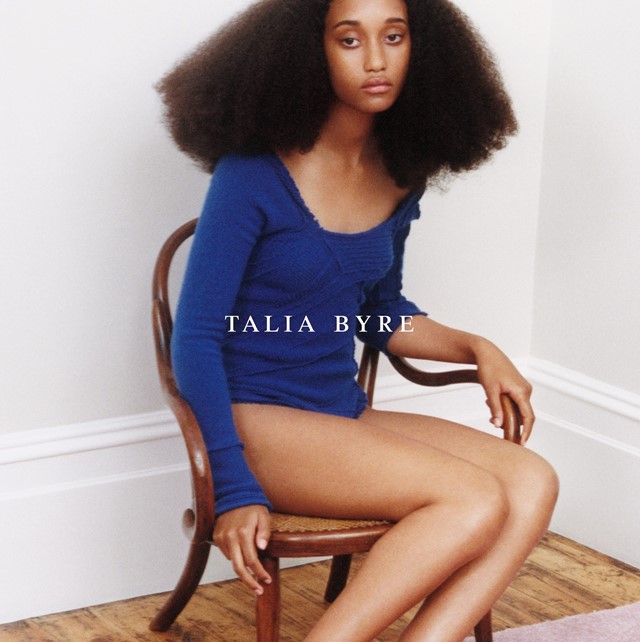 Courtesy of Talia Byre
TALIA BYRE BREAKS BREAD FOR SS22
Rising designer Talia Byre celebrated the launch of her SS22 collection at the former house of artist and flamenco dancer Ron Hitchins in Dalston, where she, quite literally, broke bread with close friends and fans. With giant sculptures of anal beads and Prince Albert piercings in the garden, avant-garde, impossibly uncomfortable chaise longues, and dangling mobiles throughout the house, Talia Byre laid on a spread to rival even the most Midsommar of banquets. Models traipsed around the building wearing her SS22 collection, all spindly, deconstructed bodysuits, split, ribbed cardigans, and witchy, fussily-draped dancer dresses. The offering felt ritualistic, if not provocative, comprising innovatively-upcycled knitwear which nipped and tugged at the body. See more of Talia's sinuous designs here.
GUCCIAGA HACKS SHOREDITCH
The Gucciaga variant arrived in the East End this week at Gucci's Circolo outpost, which has been blasted in convulsive, navy monograms. The Shoreditch destination has been completely transformed to herald the arrival of the labels' Hacker Project, which first got its debut at Gucci's  Aria show earlier this year. In fact, customers can step into a simulation of the runway in an immersive space that mimics its flashing cameras and floral walls. The store will keep its current form until December 5 when it will enter its third and final phase. 
...AND MILAN
Gucci also announced the Italian capital as its next show venue. Having taken a break from the fashion calendar for the past couple of seasons, besmirching the slam of the seasonal circus, the label is returning to fashion week in February 2022.
SUL SUL! STEFAN COOKE SLIPS INTO THE SIMS
While most of its latticed knitwear and embroidered jumpers have now sold out, London label Stefan Cooke has released its signature pieces into Simtopia. A collaboration between EA and the British Fashion Council, The Sims 4 Modern Menswear Kit includes 23 pieces from the label's recent collections and lands on December 2. 
IB KAMARA GETS HIS HANDS ON H&M
Fashion Award winner and Dazed editor-in-chief IB Kamara has created a collection with H&M as part of its sustainability initiative. The Innovation Circular Design Story was teased this week in a Rafael Pavarotti lookbook, styled by Kamara, and comprises Dalmation-dotted tulle gowns, prismatic, triangular-shouldered cocktail dresses, and mammoth faux-fur coats. "It's a really multifaceted, rich collection, and it captures a special feeling for me; the excitement and anticipation of getting ready, of choosing a look and making oneself into a star," he said. The collection officially launches on December 9. 
GIVENCHY DROPS THE REST OF ITS CHITO COLLAB
First seen on the Resort runway back in June, Givenchy has launched its Chito-collaborated accessories, which are available in-store and online now. Bags, shoes, and jewellery have been graffitied in the Mexico-born artist's signature, angsty style – think cartoonish faces, airbrushed stripes, and scribbled monograms. Get a glimpse of the offering here. 
STELLA MCCARTNEY HONOURS HER ROOTS
To celebrate the new documentary by Peter Jackson, The Beatles: Get Back, which follows John, Paul, George, and Ringo in their final recording sessions and last live performance, Stella McCartney is launching a psychedelic capsule collection. Featuring archival graphics indebted to the brand's most iconic artwork, the offering launches today (November 19) and is made up of knit tracksuits, patchwork cardigan coats, galaxy wash cotton, and a nylon bomber inspired by Paul McCartney's own wardrobe. Stella McCartney x The Beatles: The Get Back is available exclusively in Stella stores, online and at Net-a-Porter. 
ALEXANDER MCQUEEN DESCENDS INTO THE SEVENTH CIRCLE
Inspired by poet and painter William Blake, Alexander McQueen's Pre-SS22 collection got its debut this week. Spliced-shoulder blazers, a deconstructed dress with degradé ruffles, and embroidered bodice t-shirt dresses take direct references from Blake's illustrations to Dante's Divina Commedia. An accompanying lookbook has been shot by Chloe Le Drezen, as well as a short Roberto Colombo-lensed film. Watch that here. 
JW ANDERSON AND POL ANGLADA COLLABORATE AGAIN
More than mere collaborators, JW Anderson and Spanish artist Pol Anglada have teamed up professionally for the second time on a homoerotic capsule collection. Inspired by rugby players, the capsule brandishes Anglada's beautiful, sunset-hued illustrations of buffed-up, sparring blokes. The collection is available for purchase at the label's Soho boutique.
MAISON MARGIELA INTRODUCES ITS ICONS COLLECTION
Developed by John Galliano, Maison Margiela launched a new line of genderless wardrobe staples – key pieces which will be re-evaluated and refined season after season. Think frayed, deconstructed trench coats, Glam Slam bags reimagined as swollen puffer coats, and hammered silk evening gowns. To celebrate, the label passed around concrete-looking slithers of grey meringue at its Mayfair launch party, which sounds about Margiela.