Like Addison Rae and her Shakira belly chains or Bella Hadid and her Pucci pedal pushers, those who cannot learn from history are doomed to
repeat it
BELLY CHAINS
It was Shakira who brought the belly chain – and body jewellery – into the mainstream in the early 00s. An overture to her Lebanese heritage, jewels went jangling as she slammed her hips to "Beautiful Liar" and "La Tortura" during vintage VMA performances and buck wild music videos. Now, the accessory is getting a second wind on TikTok's Addison Rae and runways, alike. This past season, Fendi strung mini baguette bags across skimpy navels, while Givenchy latticed chains across the body like cobwebs. 
LURID ANIMAL PRINTS
Blame The Sopranos. Namely, Adriana la Cerva, the family's most brazen dresser. As viewing figures for the landmark TV series began to rocket over lockdown, so did our demand for Adriana's sexy, safari-indebted wardrobe. Think spandex, tiger-striped bodysuits and bias cut, spaghetti-strapped Cavalli dresses. Speaking of, vintage Cavalli has seen a wild resurgence recently (mainly on the back of Doja Cat) but check out this Google trend for further proof. And, our lust for all things animal has been absorbed by today's designers, too. Kim Jones showed snakeskin everything at Dior (as did Blumarine) while Riccardo Tisci went for all-over zebra prints at Burberry.
PEDAL PUSHERS
Just last week Bella Hadid, Depop's secret shopper, snapped herself in archival Dior and a pair of swirly, pastelle, Pucci pedal pushers. The ¾ length trouser first gained momentum in the 60s before seeing a millennium resurgence on the calves of JoJo, Girls Aloud, and the cast of Cold Feet, probably. And, if we look at the most recent Chanel, Jacquemus, and Saint Laurent shows, it would seem even the most illustrious of brands are cottoning on.
SAUCER SUNNIES
Swamping shades, the defining status symbol of every 00s WAG, are back, baby. Though, today's iterations do come slightly more bug-eyed, more Yoko Ono, if you will. Balenciaga made a case for those in its hacking-back of Gucci, much like Stella McCartney, or Balmain. Either way, the itty bitty Matrix glasses of the past few years, and Rihanna's ANTI era, have tumbled back into the ether. 
TEETH GEMS
Over on TikTok, teens are now sticking gems and Playboy bunny trinkets onto their teeth with superglue – which is a great idea, actually. Especially given that Iris Law is sticking jewellery onto her nashers, too. Of course, this is yet another style scraped from the barrel of Y2K fashion, much like Von Dutch trucker hats, which Law has also been sporting. And views for the hashtag #toothgems have reaped over 56.4m views on TikTok. So it looks like they're here to stay.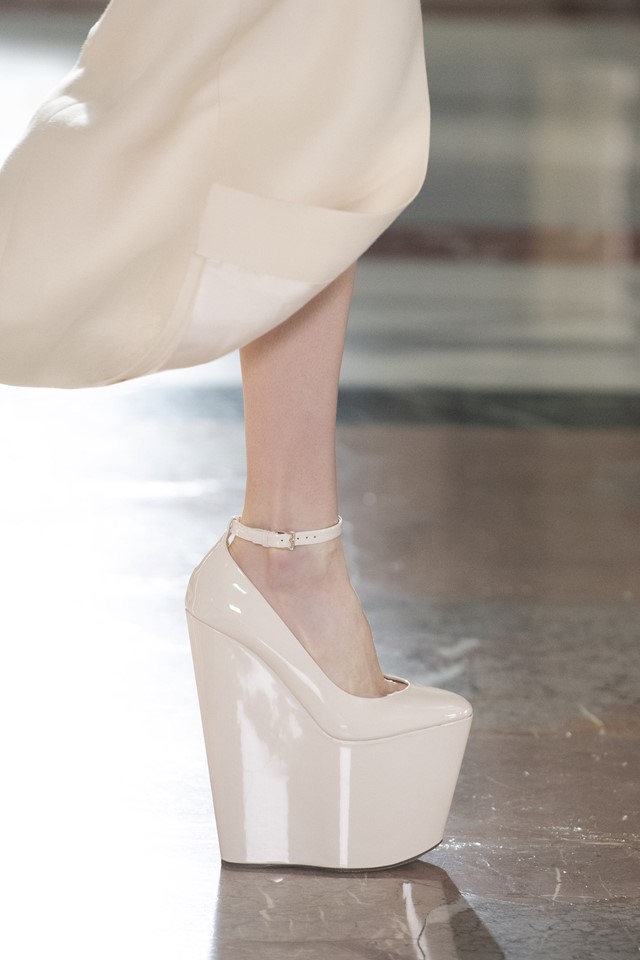 Courtesy of Valentino
JEFFREY CAMPBELL HEELS
It's been too long since we have been loosened from the shackles of Jeffrey Campbell – particularly his era-defining Litas. And, because of this, his clomping heels are surely flying in close orbit. In fact, Valentino's current couture collection boasts a pair of patent, heelless shoes, which are all too reminiscent of Campbell's Foxy Nite shoes. This is not a threat, it's a warning.
NU-RAVE JEANS
It's not just Marc Jacobs – we are all in our mall goth era. Like the debris-hoovering JNCOs of yesteryear, XXL elephant jeans are sweeping back into the mainstream. This season, we spotted church bell denim at Celine, Louis Vuitton, Balenciaga, and Diesel, as designers turned their attention to rave wear. Even Kylie Jenner stepped out in a multi-pocketed pair of hardware-heavy, wide legs. 
THE WEDGE SNEAKER
Isabel Marant relaunched its wedge sneaker last month – well, kind of. Technically speaking, the designer never stopped selling her pillowy Beckett heel, but this summer she decided to up the ante, recruiting Adut Akech to model a taller, more voluminous iteration. The divisive shoe, which once adorned the feet of every off-duty model and Beyoncé in "Love on Top", had a hefty waiting list back in the early 2000s. Jury's out as to whether the Balskee, as it is now dubbed, will engender quite the same demand. 
ENORMOUS, MAXI HANDBAGS
Maybe we're actually beginning to see a resurgence of WAG style, full stop. From Baden Baden in 2006 to Beverley Hills in 2021, the XL bags which once dangled from the crook of Victoria Beckham's arm have been beamed onto the shoulders of Kendall Jenner – who was snapped carrying a Bottega Veneta bag so oversized that she could have practically clambered inside, herself. And as the microscopic Chiqutio bag's star begins to dwindle, many designers are reintroducing the It bags of yore, back onto the runways of today. Demna Gvasalia showed an upscaled Motorcycle bag at Balenciaga, while Dior, Diesel, and Balmain offered comically-proportioned totes, too.
BANDAGE DRESSES
The Hervé Léger bandage dress had the 2006 girls in a chokehold. Usually teamed with a pair of Saint Laurent Tributes and a glowing tan, the sphincter-like wrap dress was papped on every socialite worth their wait in elastic, spawning endless, high street copies. And now, it's making a comeback, though it may be articulated somewhat differently in 2021. Be it worn as a gender fluid halter neck, as Ludovic de Saint Sernin suggests, or perhaps with an actual zip at the back, today's reclamation will happily begrudge Léger, who once said that lesbians and fat women should not step into his creations. 
CHUNKY BELTS
Blumarine, the 90s Italian label recently taken over by Nicola Brognano, has unashamedly rooted itself into the Y2K era. In fact, this entire article could be read as an insightful report on Brognano's recent shows. While Blumarine plunders the turn of the millennium for all its rose-tinted glasses, strappy cami vest tops, fluffy boleros, and low rise trousers, Brognano is unwavering in his allegiance to one trope in particular – the chunky belt. Likewise, "I don't know if you remember but this belt was the president of the United States," Carly Aquilino told her near 300k followers on TikTok. "The belt had a grip on us. This belt was the backbone of our society for years." And, over on Instagram, Kim Kardashian has been uploading archival shots from her pre-Kanye fashion fittings, featuring loads of clunky belts fastened over dressy tops.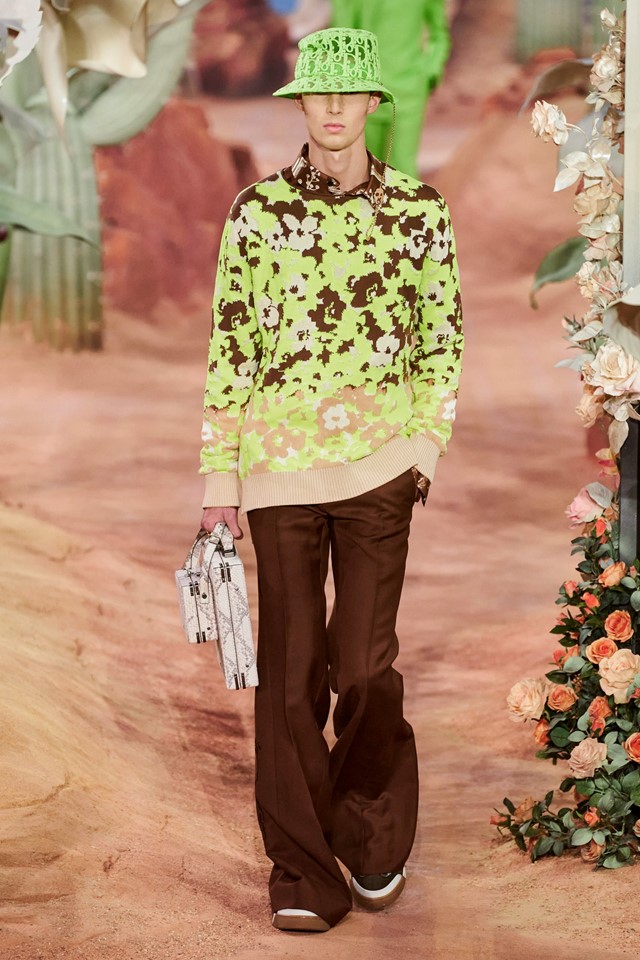 Courtesy of Dior
MEN'S FLARES
Bell bottoms haven't quite had their moment in the spotlight since all those heritage cop-and-robber shows of the 70s, yet, this season in Paris, designers were laying the soil for a fertile reblooming. Dior, Louis Vuitton, Acne Studios, and Celine were just a couple of the labels toying with slightly elaborated, billowing hemlines.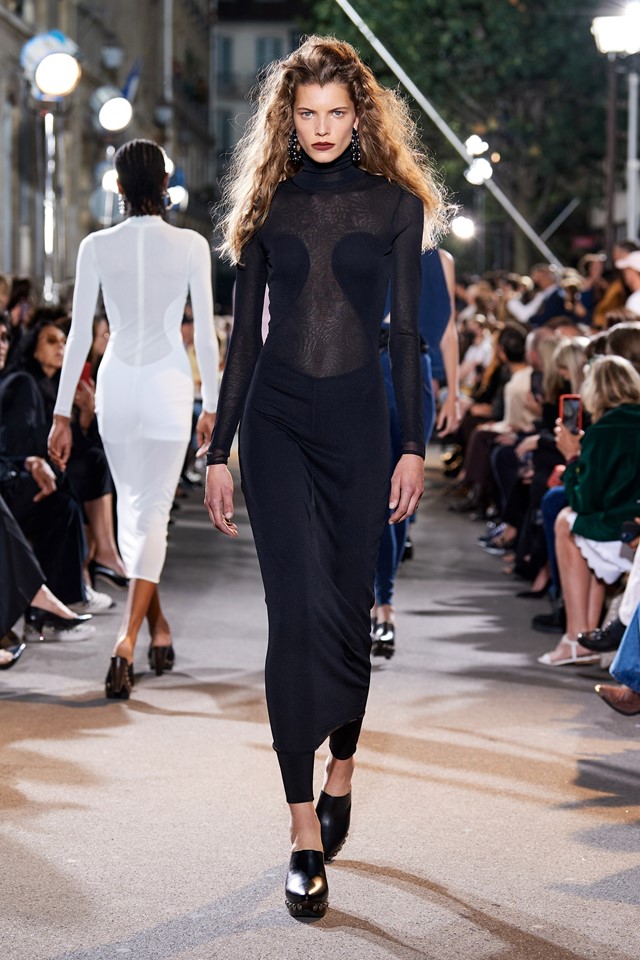 Courtesy of Alaia
LEGGINGS
...And we're not talking about Lululemon, here. No, we're looking at those with a certain panache – ankle length and styled beneath smock dresses, bubble skirts, and with a stinking, bendable ballet pump. It makes sense really, given that UGGs – the legging's longtime bedfellow – also saw a resurgence this year, courtesy of Telfar. While Kendall and Kaia have both been papped in the undergarments, Chanel, Comme des Garçons, The Row, and Fendi sent out a little bit of stretch fabric poking beneath looks in their last runway shows. In fact, as of last month, the legging is now a couture item – as Alaïa can evidence.