As Wednesday gets its big release on Netflix, and life crosses into the dark side, we pay respects to all the hot goths that came
before us
NEWT FROM HOLLYOAKS
It brought unbeknownst pleasure to me knowing that there is a website called hollyoaks.fandom.com, but not as much as it did revisiting the role of Newt in Britain's beloved soap opera. First arriving into the town at the age of 14 as the foster child of Jack and Frankie Osborne, Newt's swept-over fringe and heavy-handed use of eyeliner served as a symbol of his outsiderdom. He's had a rough time of it – dyslexic, framed for burglary, called in for police questioning for having sex as a minor – and the showrunners clearly thought this was best communicated with a lip piercing.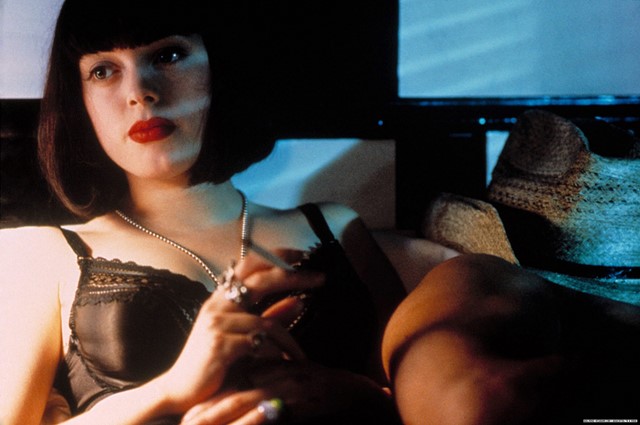 via rose-mcgowan.com
AMY BLUE IN DOOM GENERATION
Gregg Araki's seminal The Doom Generation follows the hyper-sexual, drug-buzzed relationship between Amy Blue and her boyfriend Jordan White, who pick up a handsome third on their travels. Blue, played by Rose McGowan, is dressed in a punk-rock wardrobe to reflect her abrasive coming of age, donning Dr Martens, retro sundresses, and oversized leather jackets. Trapped in a seedy realm of violent eroticism and lurid motels, Blue's disaffection could be mapped across her wardrobe. "That girl whose boyfriend was a singer, and who was completely narcissistic and really didn't give a shit about anyone but herself. And that's her character," said costume designer Cathy Cooper.
LYDIA IN BEETLEJUICE
Winona Ryder's casting as the goth girl Lydia in Tim Burton's Beetlejuice was an odd one. According to Burton, the actor would "walk on the set wearing this little cheerleader outfit and a Hayley Mills-type blonde wig, looking like Bambi" – only to shed her skin and don a wide-brimmed hat, artfully tattered dress, and red-rimmed eyes. So enduring was her appearance in the film, that Billie Eilish, Bella Hadid, Alexa Demie, and Beyoncé continue to resurrect her spiky baby bangs and backcombed updo. 
PARIS HILTON IN REPO! THE GENETIC OPERA
Not a Juicy Couture tracksuit or a sliving glove in sight – in Repo! The Genetic Opera, Paris Hilton was forced to wear a buckled corset, suspenders, and knee-high latex boots. Some critics dubbed the horror film "craptacular" but the sight of Hilton as a surgery-addled singer with black lipstick and a dense, graphic eye only furthered her contributions to the rock music canon. Then there's the TERF-bang wig… maybe the stars are blind after all!  
JANICE IN MEAN GIRLS
But of course!! The weird outsider who makes wigs from other peoples' mum's chest hair was obviously going to be a goth. While the rest of the cast of Mean Girls wore pink on Wednesdays, Janice Ian's 90's grunge – dark make-up, scruffy black hair, slice-sleeved band t-shirts – was only a marker of how far her estrangement from former best friend Regina George had gone; she who spent most of the film calling Ian a drug addict.
TINA FROM GLEE
There's no denying Glee has some… cursed moments. But to balance the singing with some slightly more dynamic characters, they gave us Tina Cohen-Chang. We're going to ignore the fact that halfway through the show, she goes from goth to polka dot princess because in her prime Tina had blue streaks in her jet-black hair and was a misunderstood 'punk rocker'. Soon enough, however, her gothness proved too much for Principal Figinns as he banned her from wearing goth clothing (due to his fear of vampires). So slowly, we see fewer studs, plaid trousers, black beanies, fishnet everything and the only noteworthy goth at McKinley High School became a musical theatre kid.
ANDREA IN DARIA
As the true unspoken hero of Lawndale High, Andrea's screen time over Daria's five-season run was minimal, but when she showed up she served classic goth – long skirt, thick black eyeliner, fishnet gloves, short black bob, and a cross, of course. She got her crowning moment at the opening of Café Lawndale when she went all Tumblr poet on us. In her own words: "I'm here. But where are you? Sure, I see your body. Anybody home in that rotting bag of flesh?" So deep x
THE WITCHES FROM THE CRAFT
When Andrew Flemming released The Craft in 1996, he was probably not aware that the film would influence the style of teenage girls for generations to come. Starring Robin Tunney, Neve Campbell, Rachel True, and Fairuza Balk, the film is a teenage horror which follows four girls' journey through witchcraft and the formation of their own coven. From the PVC coats and Catholic jewellery, to the tartan skirts and witchy black boots, the whole wardrobe was iconic. Speaking on the film's lasting relevance with teens, costume designer Deborah Everton said back in 2015, "in the case of The Craft, everything had to be what was accessible to a teenage girl at that time, so I tended to go to those places. I always try to do that fashion-y thing and try to make it so that the looks can be replicated by kids to some extent."
THE CAST FROM HACKERS
Leather trousers festooned in buckles, clomping military boots, and loads of flailing belt chains: the arrival of Iain Softley's Hackers dovetailed with the launch of Cyberdog – Camden's rave goth honeypot – which opened a year before the film's premiere in 1994. That might be a coincidence, but there was clearly something in the mid-90s zeitgeist that yearned for the cyber phreak. The film offers a more interesting look at the 'alternative' kids in class, with each scene a Skittles bag of clashing reds, yellows, blues, and purples. Alongside Angelia Jolie's jodhpurs and Jonny Lee Miller's harnesses, are rash guards, bondage trousers, tacky tourist tees, and Vivienne Westwood armour jackets, sourced by costume designer Roger K Burton. There's even an homage to John Galliano's AW94 collection in there, too.
COLIN GRAY IN JENNIFER'S BODY
Released in 2009, Jennifer's Body is a film that, despite being famously underrated at the time, gave us so much. Starring Megan Fox and Amanda Seyfried, the movie is full of iconic one-liners: think "hell is a teenage girl," "nice joke Hannah Montana," and, of course, "I am going to eat your soul and SHIT. IT. OUT. LESNICKI!" But what's more, it gave us Colin Gray, the ultimate emo heartthrob. Before Jennifer ate him alive (RIP), Colin's short on-live screen was full of iconic dark eye looks, black nail polish, and a lip piercing.  
KIM DIAMOND IN BOOK OF SHADOWS: BLAIR WITCH 2
Panned by critics as a truly terrible sequel to The Blair Witch Project, perhaps the only redeeming feature within Book of Shadows was Kim Director, who played Kim Diamond. The actor originally auditioned for another role, but director Joe Berlinger saw a goth girl peering out from the actor's strikingly pallid visage. And she embraced the archetype – a stinking attitude, deadpan humour, never without a cigarette between her teeth – to such an extent that her studded collar sold for $225 on icollector.com back in 2015. That might not sound like a lot… but it was a really bad film. 
WESLEY SNIPES IN BLADE
Cloaked in a leather trench lined with scarlet satin, tiny glasses, a bullet-proof harness, and military boots, Wesley Snipes may not have been a goth in the Blade trinity, but he was certainly goth-coded. Based on the Marvel superhero of the same name, Snipes played a Dhampir – a human with vampire strengths – who battled against pure-blood vampires. He was fang-toothed with a graphic fade, and launched a thousand Halloween costumes and an upcoming reboot with Mahershala Ali in the titular role.  
LISBETH SALANDER IN THE GIRL WITH THE DRAGON TATTOO
As the female protagonist of The Girl With the Dragon Tattoo, Lisbeth Salander is the epitome of a grunge intellectual. Played by Rooney Mara in the 2011 English film adaptation of the Swedish novel of the same name, sees Mara only ever in full black, accessorised with facial piercings and a jet black gothic haircut. While Mara never returned as Lisbeth is the sequels, her successors followed suit, reinventing on Lisbeth's iconic look while keeping it as goth as can be.
BRANDON LEE IN THE CROW
In 1989, artist James O'Barr created The Crow, a superhero comic book series which followed a rock musician's quest for revenge after returning from the dead. Four years after the series was released, actor Brandon Lee was channelled to bring the character to life in an on-screen adaptation, and with his full leather looks and pale face paint, Lee did just that. Sadly at the age of 28, Lee was fatally killed on set of filming The Crow by a faulty prop gun.
STOKELY MITCHELL FROM THE FACULTY
"I always thought the only alien in this high school was me," Clea DuVall huffed as Stokely Mitchell in The Faculty – her cropped bob greased onto her scalp, eyes wide smudged with eyeliner. Assumed to be a lesbian, despite harbouring a secret crush on the high school's quarterback, she barely cracks a smile during the film's opening half. That is until she meets school nerd Casey (AKA baby Frodo), who encourages Mitchell to experiment with her sexuality and alien conspiracy theories. Their headmaster turns out to be an alien but, having met a boy who reciprocates her admiration, by the end of the film she drops the ghoulish appearance and starts to wear lavender-coloured cardigans. Good for her!
JENNIFER WILSON IN MY FIRST MISTER
Following the life of 17-year-old Jennifer Wilson, known as J, My First Mister is a story of the unlikely friendship between a young, alienated mallrat and Randall Harris, her 49-year-old manager at a clothing shop. Throughout the film, J is seen in chunky black boots, chains, black lipstick and an overall emo-teen vibe. So much so, that when she first approaches Harris for a job he says, "hire you? For every suit you sell, you're gonna send 30 customers fleeing out of the store." In the end, she got the job and a heartfelt friendship out of it, so it's a win for the goths. 
GINGER FROM GINGER SNAPS
At the beginning of this piece I said that some people were not born with their face smeared in alabaster make-up… but I was wrong. I forgot about ginger people and so I apologise to the red-headed community and will do better. Although she has bleached a segment of her fringe, Ginger, in Ginger Snaps, is ginger. That mallen streak compounds a long-held tradition of witchy no-gooders within culture, and is bolstered by the string she wore fastened around her neck with a skull pendant. The supernatural horror follows two teenage sisters whose bond is put to the test once Ginger is attacked by a stray animal and starts to morph into a werewolf. It's continually reexamined for its feminist themes – Ginger's werewolf also coincides with her first period, so there's a lot to unpack there.
TOSH GUANERI IN URBAN LEGEND
What is a good slasher film without at least one good goth character whose overall vibe predicts the impending doom? In Jamie Blanks' 1998 film Urban Legend, Tosh Guaneri is a manic-depressive goth who unfortunately becomes subject to the killer's rampage. Just before her brutal murder, done Scream-style, she is seen sitting in a mesh long-sleeve black top with matching fingerless gloves on a goth dating sight – so at the very least, she went out in style.