From Alaïa to Gucci, to Rick Owens and Schiaparelli, Beyoncé takes on many guises as she rediscovers herself on
the dancefloor
CHRISTOPHER JOHN ROGERS
Bey's been a champion of Christopher John Rogers since day dot, so it makes sense she'd call on the NY designer to create looks for RENAISSANCE. First up, the singer snarls from behind the veil of a custom-made emerald green headpiece, taken from Roger's 009 collection.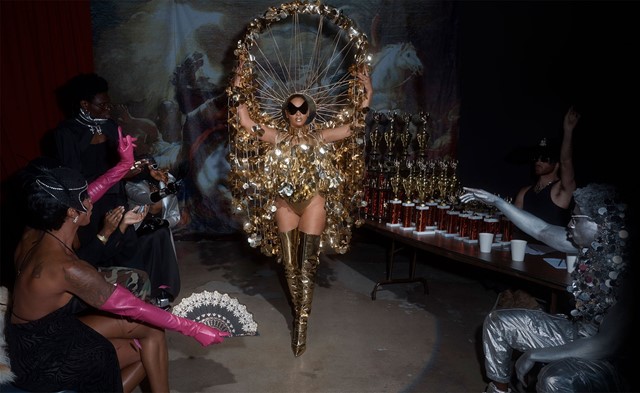 Photography Carlijn Jacobs
MELISSA SIMON-HARTMAN
Looking like an incredibly expensive wind chime, Beyonce wore an exoskeletal structure made by London designer Melissa Simon-Hartman, forged from thousands of gilded floral cut-outs. The duo previously collaborated on Black is King in 2020, an experience that has given rise to link-ups Amaarae, Doja Cat, and Stefflon Don. Peep the Balenciaga sunnies, too.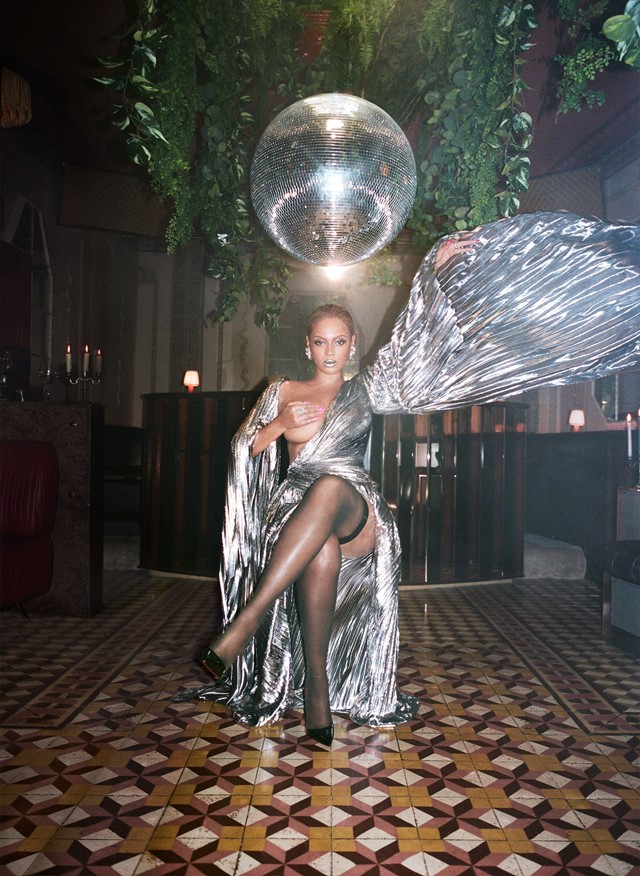 Photography Mason Pool
GUCCI
Taken from Alessandro Michele's Love Paradeextravaganza, one of the most brazen looks to have come from RENAISSANCE thus far is a metallic, asymmetrical gown which Beyoncé fans into a cinematic sweep. Originally emerging on Hollywood Boulevard last November, it was backdropped by the iconic Chinese Theatre, which Michele described as "that temple of the gods." It's now clear what deity he was referencing, too, as the Beyhive preps itself to worship at her altar once more.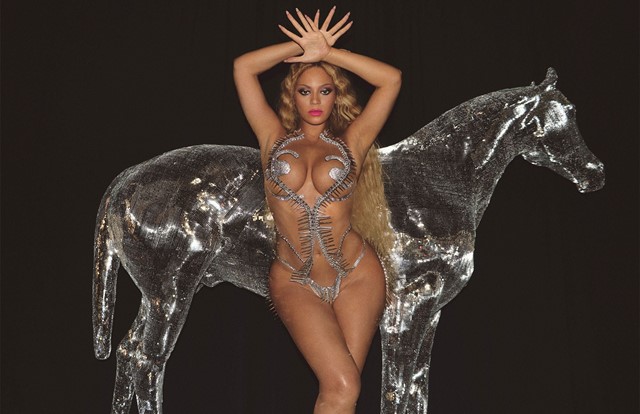 Photography Carlijn Jacobs
NUSI QUERO
Beyoncé could call on literally anyone to create the hysteria-fuelling cover of RENAISSANCE, but instead of going for a mega brand – or even a slightly well known name – she looked to future-facing designer Nusi Quero. Not familiar? The LA-based artist creates avant-garde, otherworldly 3D printed couture that brings its wearer's inner-workings out of the body. As well as creating Bey's glittering skeletal showstopper, he's also the brains behind Grimes' "beautiful alien scars" tattoo, which fans out across her back in white ink.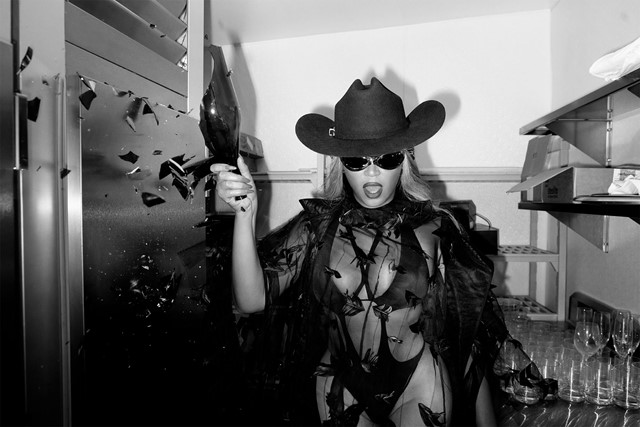 Photography Mason Pool
RICK OWENS
SS22 saw Rick Owens offer up a slightly more romantic side to his hellish world-building, embodied here with a diaphanous cape, delicately embroidered with tiny black feathers. It's a little understated when compared to Owens' past collaborations with the singer – I'm thinking of all those gilded Mother Earth headpieces circa 2017 – but Bey ups the ante anyway with a sinuous, curvilinear body suit.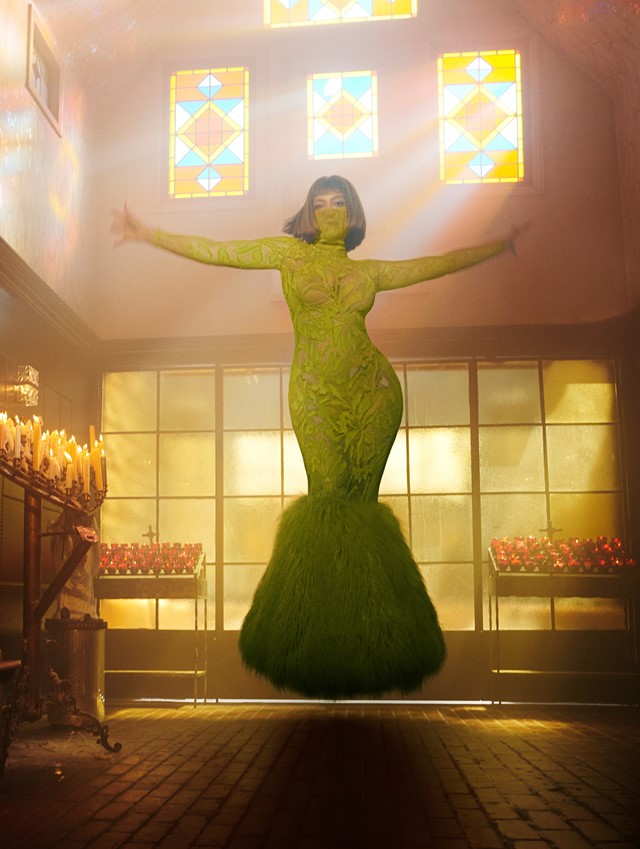 Photography Mason Pool
ALAÏA
Okay, now we are really cooking!!! If ever someone were born to wear Alaïa, it's surely Beyoncé? The star seemingly paid Pieter Mulier's Paris HQ a visit ahead of the launch of the album, given she appears in not just one, but two custom looks, both based on pieces from the designer's AW22 collection. First up is a Shrek-green lace wiggle dress that's pulled up over her face and trimmed with a shaggy fishtail, while coming in close second is a laser-cut second-skin bodysuit, which is also finished with big yeti-esque fur flares.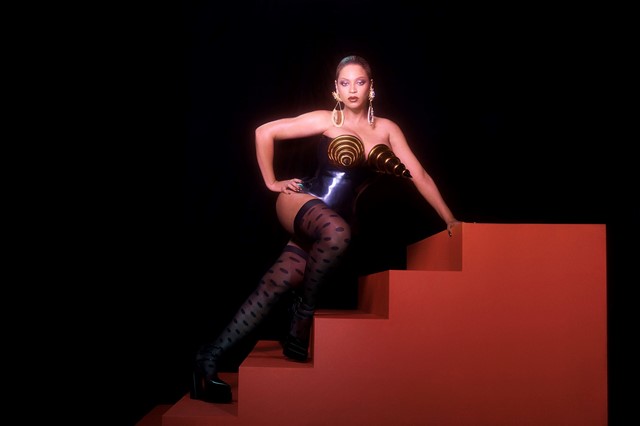 Photography Carlijn Jacobs
SCHIAPARELLI
No surprises that we're seeing Ms. Carter slip into some Schiaparelli, since she was one of the first celebs to give Daniel Roseberry's creations the seal of approval. Here, she's seen in a custom basque with gold spiral cone breasts – a look reminiscent of the Gaultier ones Madonna wore circa her Blonde Ambition tour in the early 90s, and one that's likely to become just as iconic.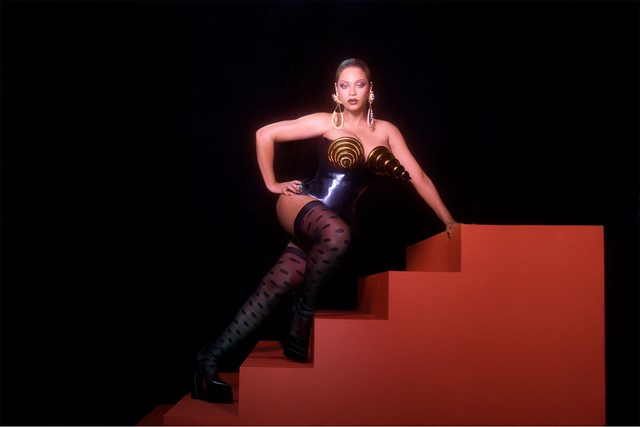 Photography Carlijn Jacobs
VERSACE
Oh to crush an oiled-up Italian Adonis under one of Donatella Versace's vertiginous bitch platforms (not the satin ones though, obvs don't want them ruined by Johnson's Baby Lotion thanks). Seemingly on the same page is Beyoncé, who finished a series of looks with a pair of shiny towering black patent boots. Good luck Jay-Z, and bad luck everyone else – the style has long since sold out.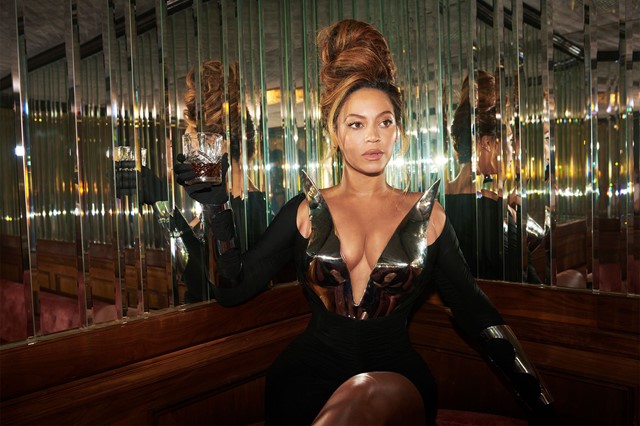 Photography Mason Pool
MUGLER
Casey Cadwallader's custom look feels like a bit of a revisit of Bey's "Single Ladies" era, as she transforms into an uber-glam cyborg via a moulded metal breastplate. The result? Honestly, snap my finger to smithereens à la that crazed chess-playing child-maiming robot.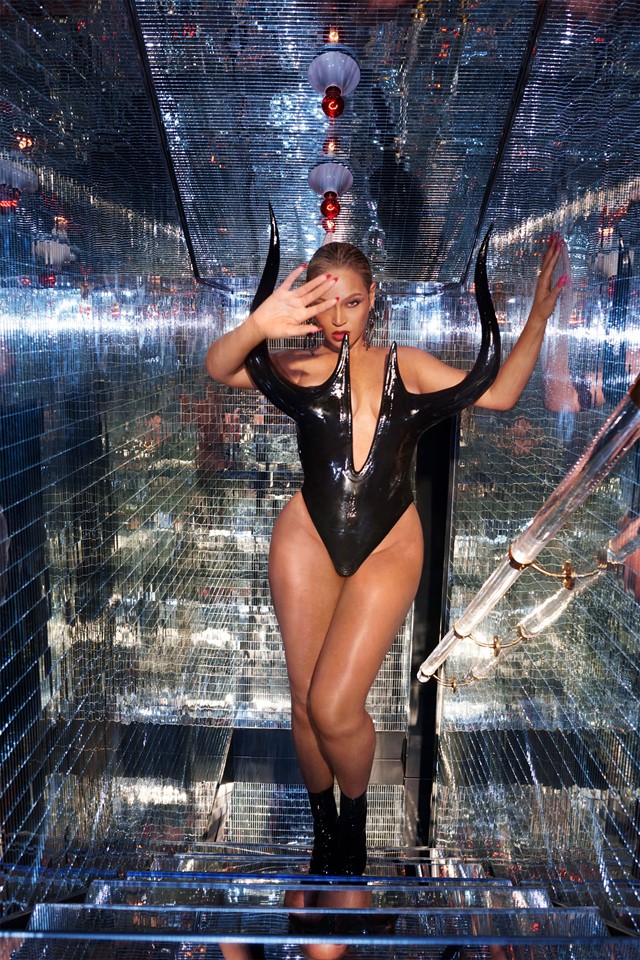 Photography Carlijn Jacobs
LUIS DE JAVIER
With Beyoncé's releases always kept way under wraps, even the designers that made the sartorial cut often have no clue their looks have been chosen until the album actually drops (Designers! They're just like the rest of us!) Case in point is Luis De Javier, who last night spotted Bey wearing one of his showstopping, bull-like 3D-printed corsets on Instagram. The rising London designer is becoming known for his boundary-pushing collections worn by club kids across the world. On spotting Bey in his black lacquer basque, the designer told us "I can't… I died 1005949484848859 times when I saw it!"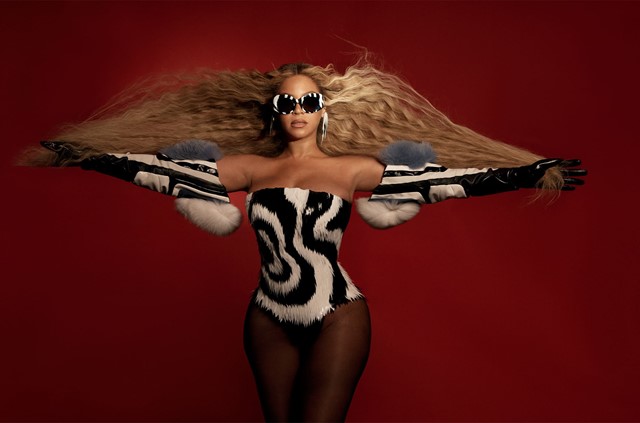 Photography Carlijn Jacobs
BETHANY CORDWELL
Based in Brisbane, emerging designer Bethany Cordwell has built a brand on psychedelic, amorphous swirls, with Beyoncé stepping into one of her monochromatic bodysuits, made from hand cut, layered, and individually-sewn scales. Having platformed the designer on their page earlier this year, @upnextdesigner is taking full credit for this one, with the musician presumably plonking through the page for inspiration months ago.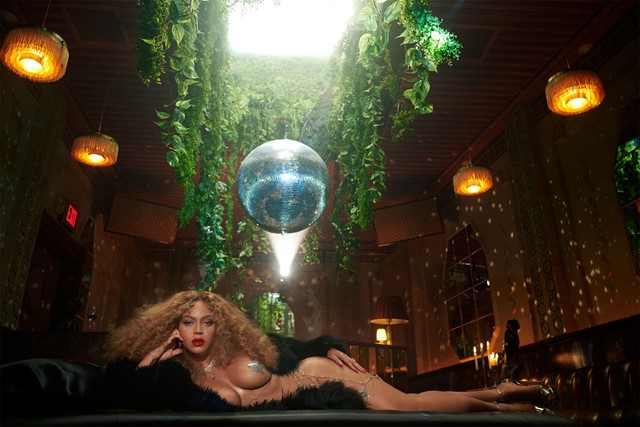 Photography Mason Pool
NATALIA FEDNER
Like a member of the Moulin Rouge, Beyoncé lies supine in a full-bodied fur coat with a Swarovski chain garter set poking out from beneath its enormous plumes.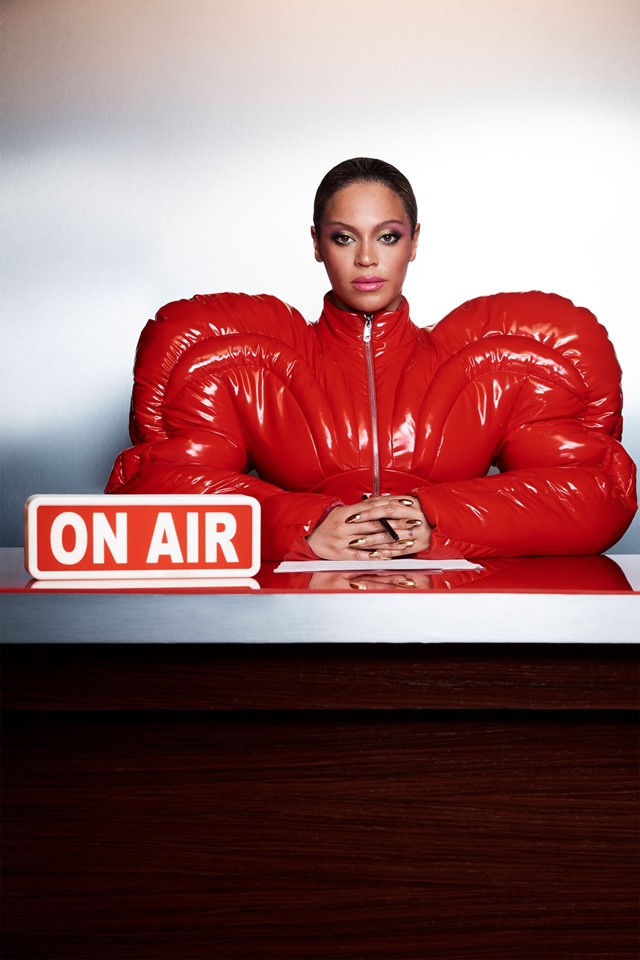 Photography Carlijn Jacobs
DOLCE & GABBANA
Beyoncé returned to longtime collaborators Dolce & Gabbana, plundering their AW22 collection for an enormous, high-shine puffer, sitting atop her shoulders like bright red hillocks. In the shot, she takes on the role of news anchor, though not quite like anything you might see on Question Time.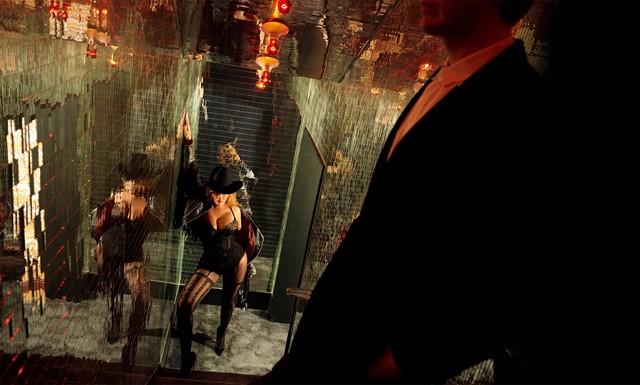 Photography Mason Pool
LA PERLA
Having costumed that "Drunk in Love" performance and the "Best Thing You Never Had" music video, La Perla provided Beyoncé with a black lace corset from the brand's Fall In Love collection, which she styled with a cowboy hat and hulking leather jacket, taking a long, drawn-out drag of a cigar. Fitting, really, for what people are calling Bey's horniest album yet. 
GCDS
Okay, so technically this one is yet to be confirmed as Beyoncé. It's hard to tell given that her face is completely obscured in netting. But the full look comes from GCDS' AW22 collection – look 41 to be precise – an imposing, patent lime trench coat with a matching head-to-toe stocking. Keep an eye out for that in the "Break My Soul" video which is due to drop any day now.