From Leigh Bowery, to Vivienne Westwood, and Balenciaga, the runways have proved the gimp is so much more than just a
hole, sir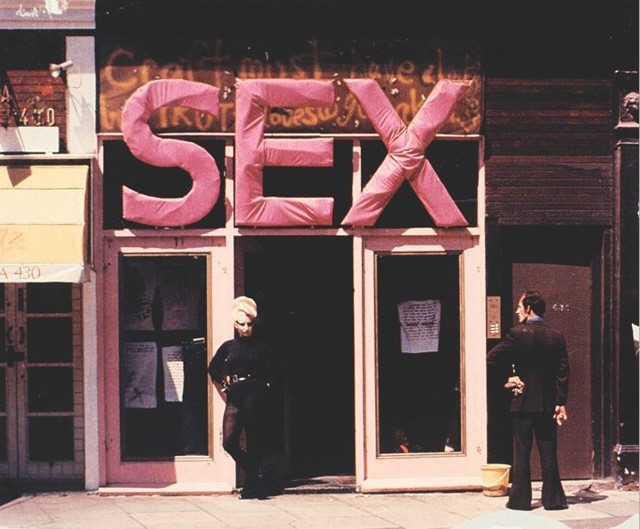 via: whatgoesaroundnyc.com
VIVIENNE WESTWOOD
The gimp mask's progression from fetish to fashion object was introduced by Vivenne Westwood in 1974, selling rubber items, bondage pieces, and studded-leather clothing in her now-iconic SEX boutique on the King's Road. Her then-partner Malcom McClaren even featured in John Samson's Dressing for Pleasure documentary, which chronicled ordinary people with a fetish for wearing rubber.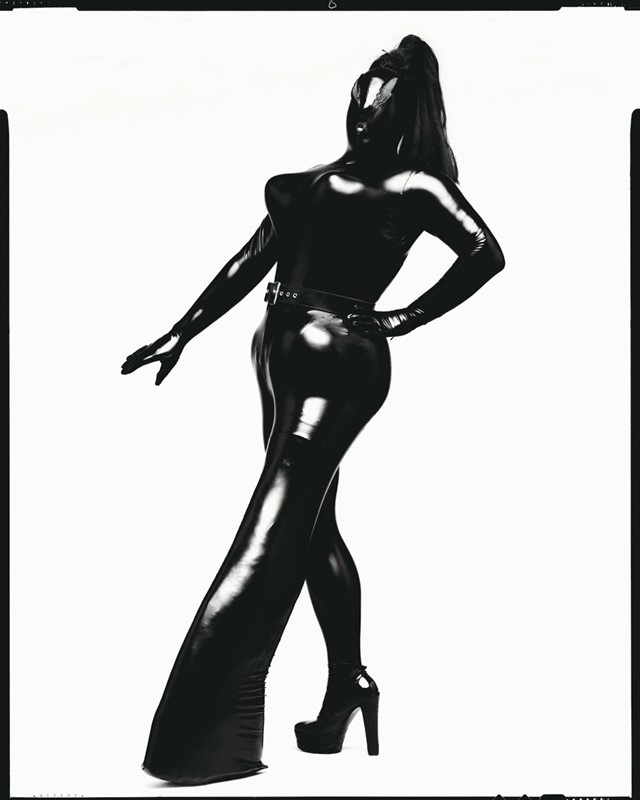 Courtesy of Fergus Greer
LEIGH BOWERY
Famed for monstrously flamboyant looks and controversial performance art, Bowery began to radicalise his appearance in the 1980s, dressing his hulking 6'1 frame in gimp masks, towering platforms, and ratty pubic wigs. Equal parts genius, comic, and terrifying, Bowery would charge around his belovedly dingy Soho haunts in a host of blown-up creations, like Mr. Blobby on gak.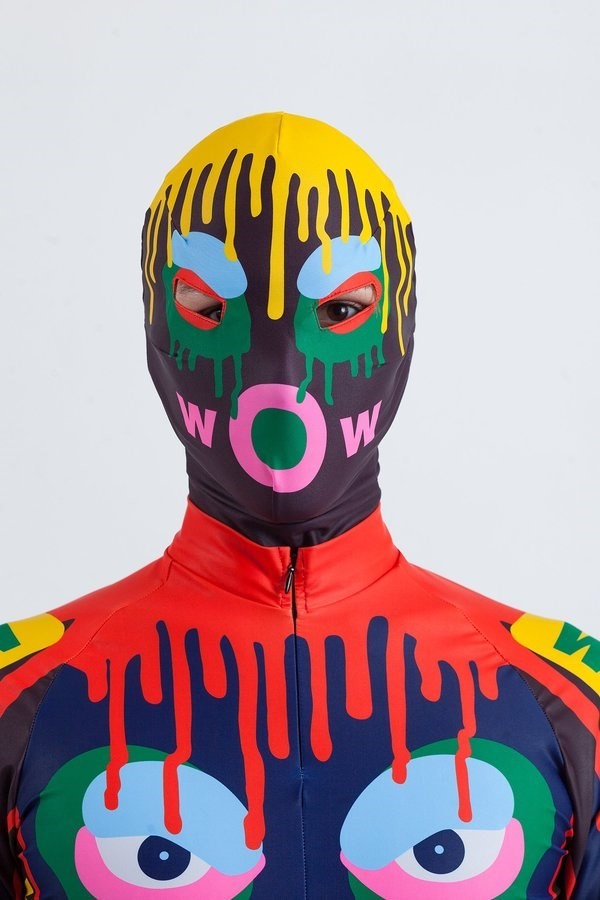 Courtesy of Walter Van Beirendonck
WALTER VAN BEIRENDONCK
Walter Van Bierendonck has explored the power of S&M since his earliest collections of the 1980s, placing an emphasis on fetish fabrics and homoerotic codes. More than some catwalk shock-prop, on Beirendonck's catwalk, candy-coloured latex gimps meet Mexican wrestlers and sci-fi warriors, as he deep dives into the mythic quality of masks in their many guises. In 2004 he even proffered knitted gimps, making the seemingly inhospitable a symbol of twee.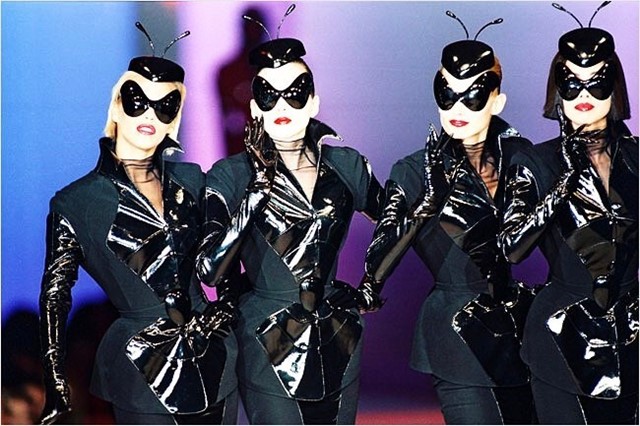 THIERRY MUGLER
Thierry Mugler was an early proponent of BDSM garb, littering his hour-long fashion pageants with full-body latex, whips, canes, and sky-high boots. With swamping bug-eyed glasses and wet-look leather, his use of the gimp mask was more of a suggestion than a duplication, but the inspiration was apparent. In the late 80s and early 90s, Mugler's transgressive approach to sex was fiercely taboo, keying into the rebellious nature of art during the AIDS epidemic.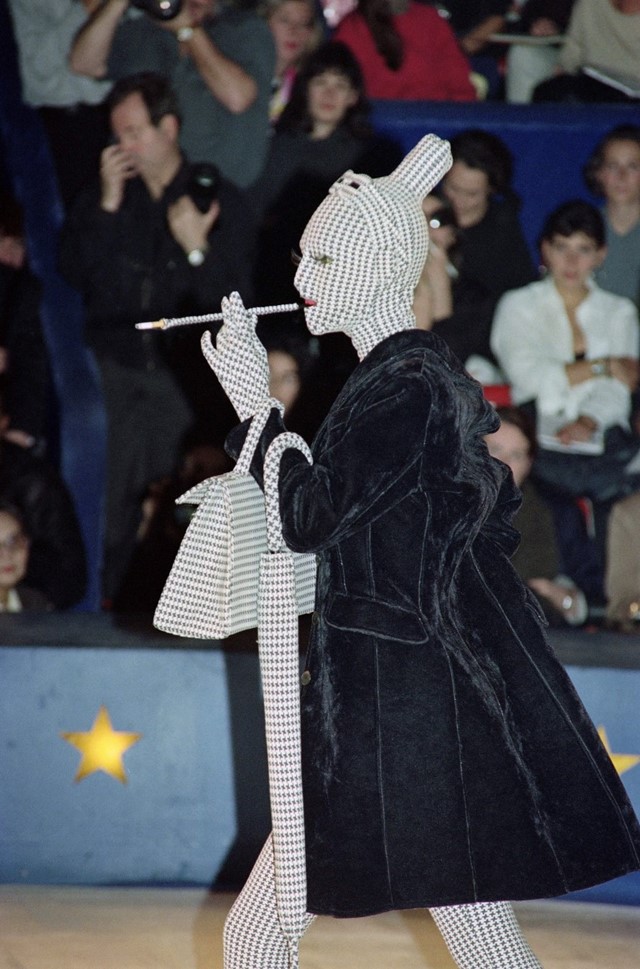 Courtesy of Jean Paul Gaultier
JEAN PAUL GAULTIER
Ever the provocateur, in 1991, Jean Paul Gaultier sent out a business lady gimp suit onto the runway, fashioned from all-over houndstooth. Think Karren Brady at Klub Verboten. Complete with a houndstooth cane, sunglasses, and bag, the designer camped-up the sense of claustrophobia inherent to the gimp, before giving her at least some sense of agency with an XXL cigarette holder.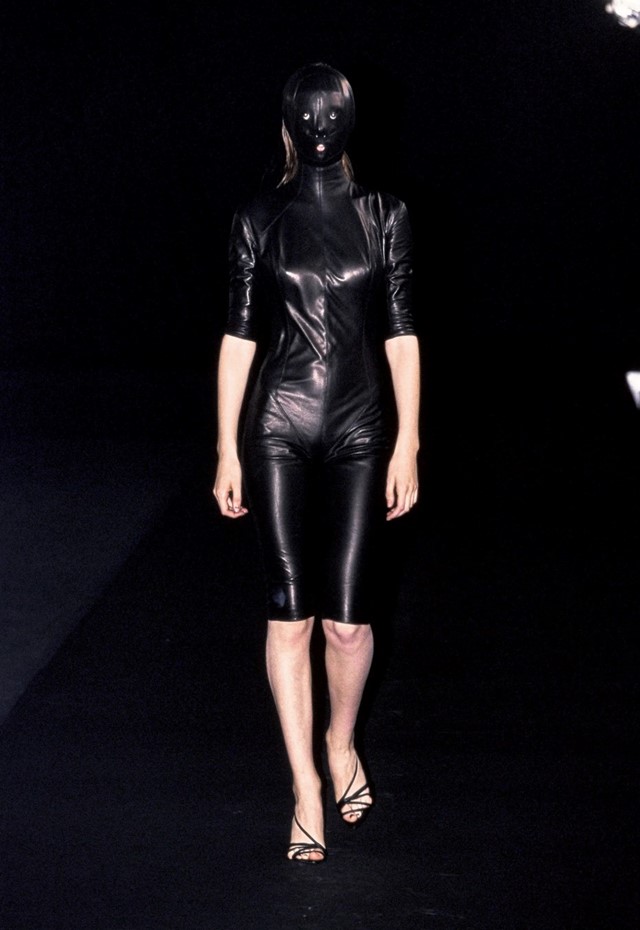 Courtesy of Olivier Theyskens
OLIVIER THEYSKENS
Uploaded to his Instagram stories one day after Balenciaga's SS23 offering, Olivier Theyskens reminded his 108k followers of his second-ever runway outing, which was his SS99 show in Paris, where, beneath pulsing strobe lights, he sent out a gimp in a pedal-pushing, latex one-piece.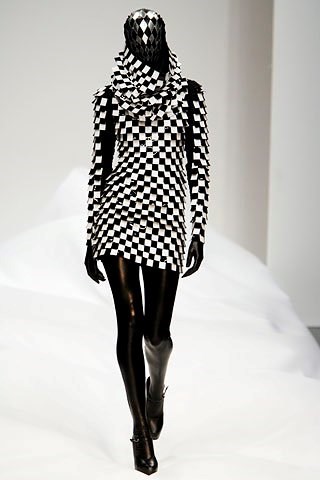 Gareth Pugh SS07
GARETH PUGH SS07
Fresh from his three-season stint as part of the Fashion East fold, Gareth Pugh landed on the SS07 London Fashion Week schedule with a seminal show that served him a standing ovation. But it begged the question, what came first? The gimp or Leigh Bowery? The designer, who often referred to his early collections as "the poodle and gimp shows", styled his pieces with rubberised S&M suits and high-flung ponytails, evoking Bowery's iconic equine-kink creations – particularly that club-footed black cat-suit which covered his entire body, spare a small pin hole at the mouth to breathe through.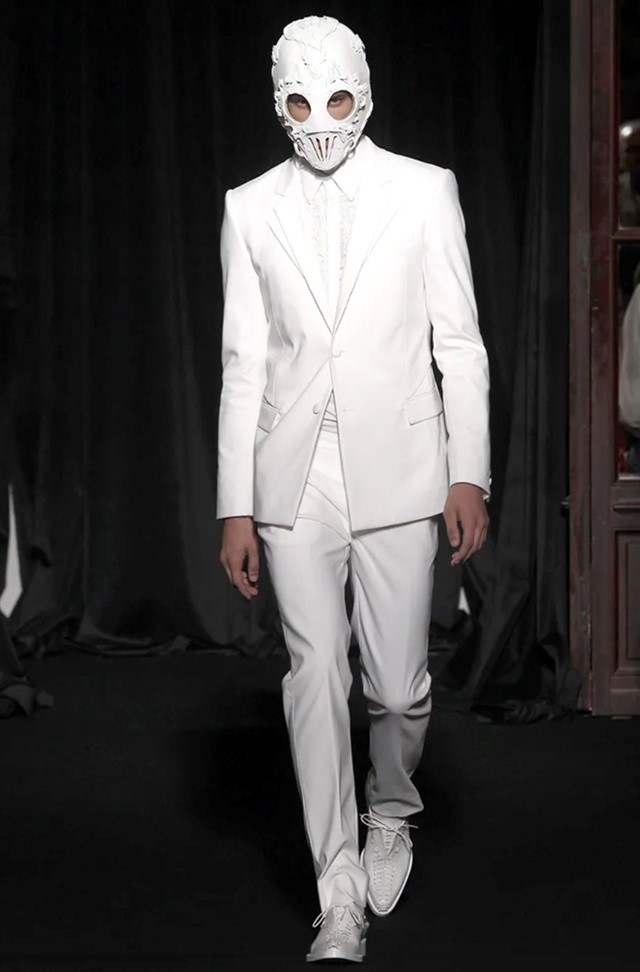 Courtesy of Givenchy
GIVENCHY
Ricardo Tisci's SS11 collection for Givenchy featured models in white, homoerotic, gimp-style masks. Appropriated to evoke a violent, and perhaps dangerous, mood – much like the designer's beloved Rottweiler prints and European gang references – they appeared throughout the label's lookbook without ever going on sale.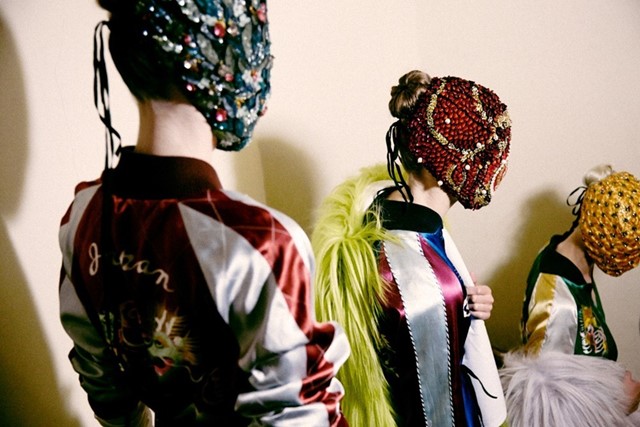 Photography Lea Colombo
MARGIELA
Even the most basic of Margiela's AW13 collection was BDSM-coded, replacing blue denim with high-shine latex, while models walked with heads encased in the same bejewelled masks that costumed Kanye West's Yeezus tour. Some even looked like Leigh Bowery's splodged egghead but, surprisingly, Ye decided to leave those in the atelier.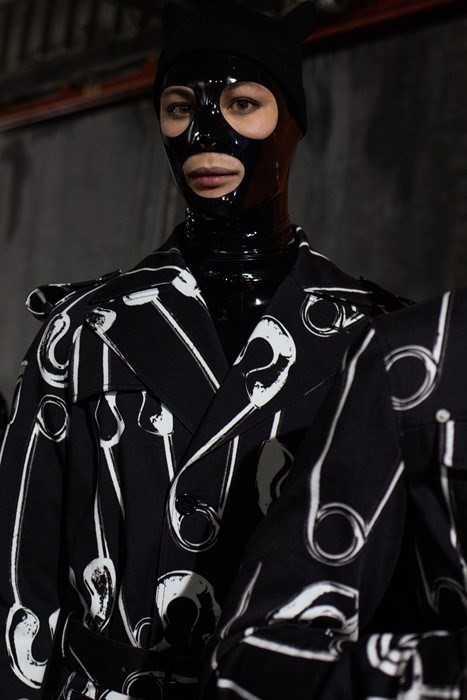 Photography Arnaud Lafeuillade
MOSCHINO
For AW18, Jeremy Scott presented a kink-laden collection which ran the gamut of fetishwear. Alongside The Night Porter braces and stiff-peaked caps, DIY collages of safety-pinned words covered outerwear, reading 'Bottom', 'Lick', 'Thirsty', 'Stud', and 'Daddy'. As models stomped the catwalk in Piss in Boots footwear, they reared their heads, faceless in full-on gimp masks.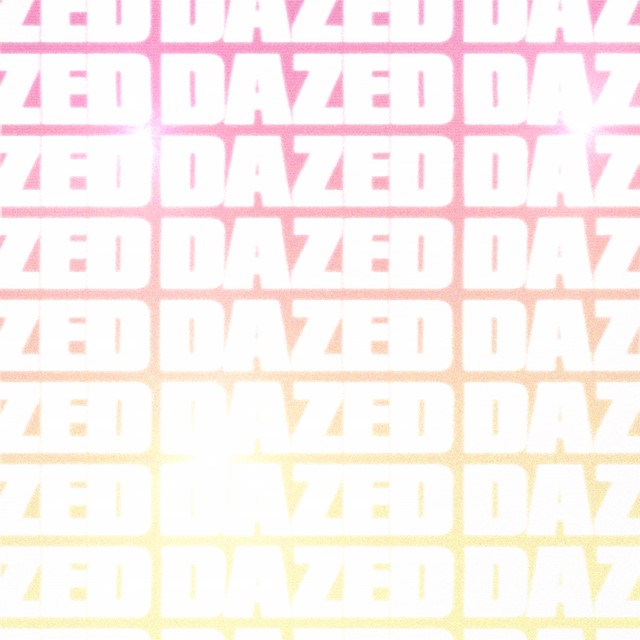 @kimkardashian via Instagram
VETEMENTS
As part of his final show at Vetements, Demna welcomed a male and female gimp to the runway, one crafted from a head-to-toe leather trench, and the other a zip-through hoodie. Having dressed Kim Kardashian in a slew of strikingly-similar looks throughout her divorce with Kanye, the collection was meant to embody the terror he experienced fleeing from Georgia in 1993 – with QR codes directing audience members to the Wikipedia page documenting "Ethnic Cleansing of Georgians in Abkhazia."
CARDI B
 "Cardi B put on a VERY racy display," the sidebar of shame began to declare when the rapper stepped out in a face-obscuring Marine Serre bodysuit in the January of 2020. Burdened with the weight of a thousand found keys, coins, and chains, Cardi looked like a walking magnet as much as she did a harbinger of dark sexuality. But then again, she's always been a fan of an incognito look, first slipping into all-over Richard Quinn and more recently, golden Schiaparelli masks.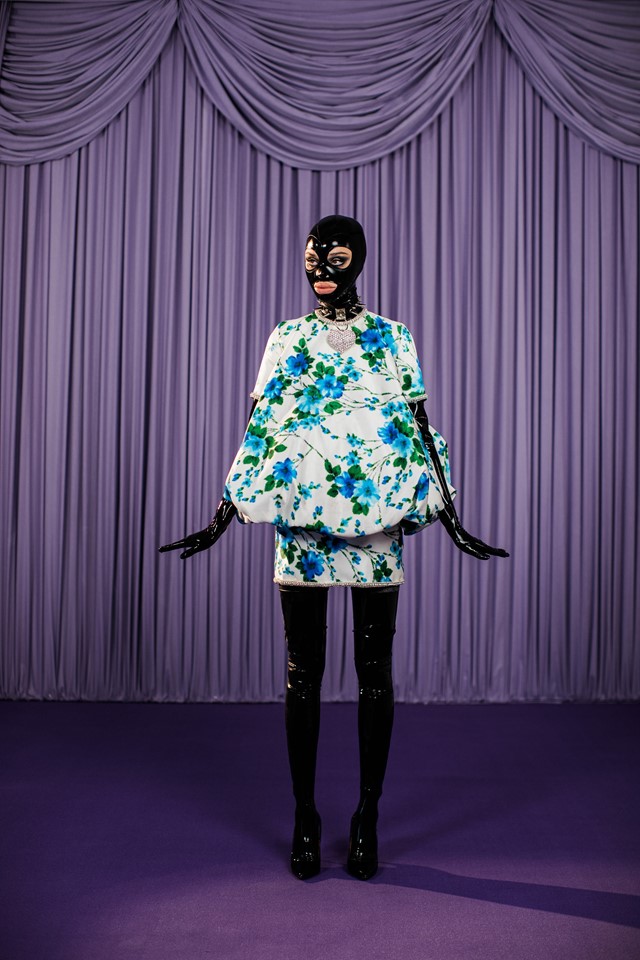 Courtesy of Richard Quinn
RICHARD QUINN
 It would be impossible to discuss the gimp without mentioning Richard Quinn, whose full body chintzy prints, PVC undergarments, and zip-through balaclavas all nod to Leigh Bowery's revolting sexual energy – even though Quinn has said that his designs originally took inspiration from the upholstered figures of artist Paul Harris. His collections have become increasingly sexually-sinister, however, climaxing in Violet Chachki parading her pup gimp on a leash during his AW22 show.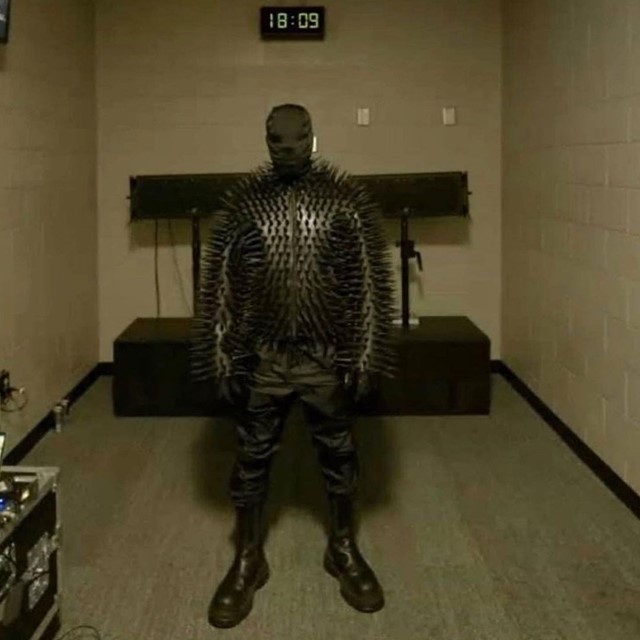 Via Apple Music livestream
KANYE WEST
Perhaps a performance of anonymity or a meditation on the mad-making condition of celebrity, 2021 saw West's erratic public persona amplified by a slew of grand visual gestures. Many of these bordered on menace, like the near-constant rotation of full-face Balenciaga masks that he'd wear while haunting the galleys of an Atlantan football stadium during his Donda tour. In his divorced dad performance art era, these then reached an uncanny zenith when the rapper was papped walking around Venice and Berlin in a full-face slasher mask, redolent of Michael Myers in the Halloween franchise.