Glenn Martens' debut Diesel collection lands in London, while Arca designs a pair
of sunglasses
LN:CC GETS INTO FILTHY FASHION ASMR

There's a whole community online dedicated to fashion ASMR, comprising time-lapsed videos of people using microscopic paint brushes to bring soiled Manolo Blahniks back to life. On the other end of the spectrum however, is LN:CC, muddying Maison Margiela's AW21 collection. British artist William Cobbing steps into the pieces, pristine and never before worn, squelching and smothering Tabi boots in clay and technicolour paints. The Dalston concept store then sold the dirty pieces as custom merch. Check out the video of Cobbing's performance here.
MACHINE-A HAS THE GLENN MARTENS PLUG
Over in central London, Machine-A has been selected as the only UK stockist for Glenn Martens' twisted, topsy-turvy debut at Diesel. The SS22 collection, which includes those jean-boots, launched this week with an in-store installation. Head down to Soho to see it for yourself or shop the collection here.
TOMMY HILFIGER WILL BE CELEBRATED AT THE FASHION AWARDS
The British Fashion Council's annual awards ceremony is set to return after a pandemic-induced hiatus this year, and will honour Tommy Hilfiger with the Outstanding Achievement prize. CEO Caroline Rush said the designer "brings fashion and pop culture together and his efforts to change the world for the better combined with his tenacity, collaborations, and instinct is what truly sets him apart." The awards will take place on November 29 at the Royal Albert Hall.
GUESS REVIVE ANNA NICOLE SMITH
The Euphoria girls have fast become fashion favourites and Barbie Ferreira shed some light as to why in our interview with the actor. Elsewhere this week, Zendaya stepped out in runway-fresh Loewe, while Sydney Sweeney played Anna Nicole Smith in GUESS' commemorative capsule. Emulating the late model's iconic, beach-swept poses, Sweeney embodies the pin-up's playful, insouciant attitude. The collection is now shoppable at GUESS stored and online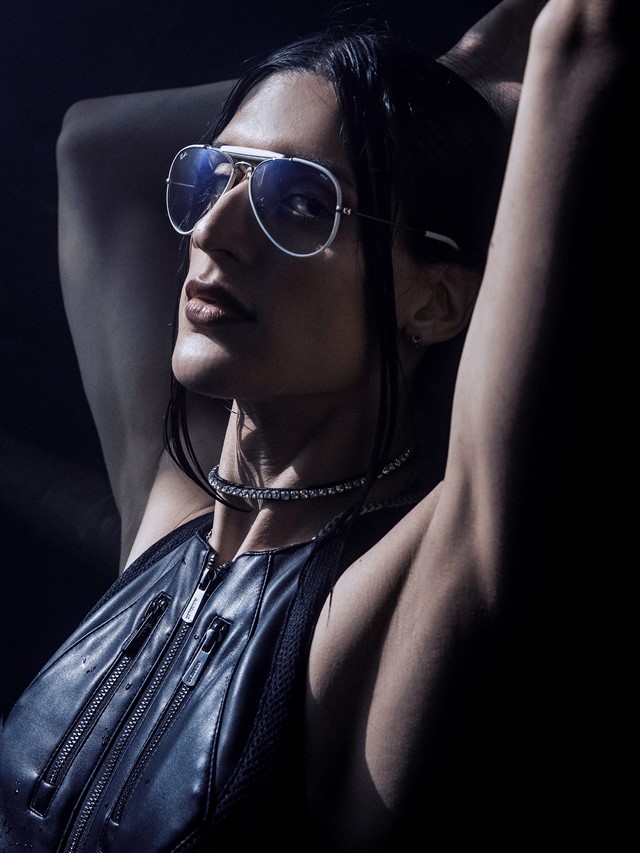 Courtesy of Rayban
ARCA PARTNERS WITH RAY BAN
Ray Ban tapped Alejandra Ghersi Rodriguez (AKA Arca) to apply her genre-bending, disruptive style to the brand's classic Aviator sunnies. The limited edition drop includes two monochrome pairs, which have been crafted with a double bridge, temple tips, and wrapped in shiny leather. At once futuristic and very 70s, there are just 200 pairs available in each colour online.
HERON PRESTON RELEASES HIS FIRST 3D PRINTED SNEAKER
Made with emerging tech firm Zellerfeld, Heron Preston has unveiled a 3D printed shoe, made without factories or supply chains. Tangerine, heather grey, and black, the slip-on sneaker is crafted from textured fabric and comes with a chunky sole. Having been created without toxic glues, the shoe is fully recyclable, spurring a closed-loop production cycle, and can be custom fitted to any foot using an iPhone for a foot scan. The Heron01 sneaker is now live on StockX. For those interested in landing a pair, raffle tickets come at 10 US dollars. See here for more.
THE INSTITUTE OF DIGITAL FASHION NEEDS YOU!
As part of an upcoming exhibition with the MA Culture, Criticism, and Curation students at CSM, the Institute of Digital Fashion is looking for artists, activists, designers, digital creators, and gamers to contribute to Made to Expire: Disrupting the System, which will examine the power structures of the fashion industry. For those interested in joining the revolution, applications can be made here. Successful participants will will receive world-class training in designing digital garments, to be showcased as part of the exhibition.
FARFETCH IS BOLSTERING BLACK CREATIVES
In collaboration with Nataal, an African culture platform, Farfetch is showcasing Parisian, Black visual artists including Alizée Quitman, Alexia Fiasco, Maty Biayenda, Fabien Conti, Josué Comoe, Elladj Lincy,  and Deloumeaux. Partnering with Valentino, the multidisciplinary talents have been shot in the fashion house's AW21 collection in an editorial by Kyle Weeks. "Their diverse practices address their heritage as well as urgent social themes and we hope this story with Valentino brings their work to the world," Nataal creative director Marie Gomis-Trezise said. Check out the collaboration here.