From political pecks to pervy pashing, fashion has never been one to turn down
a kiss
BURBERRY
In one of his last jaunts as creative director, Christopher Bailey's final collection at Burberry was a celebration of gay people and the LGBTQIA+ community. As such, the accompanying campaign, dubbed Wrapped in Love, cast a coterie of couples locking lips. Despite landing in 2018, the snogathon felt like a first for queer representation. Lil Miquela could, quite literally, never.
JACQUEMUS
Aptly titled L'Amour, for SS21 Jacquemus enlisted photographer Tom Kneller and stylist Zoey Radford Scott to shoot a diverse bunch of couples in varying states of embrace. There was kissing, canoodling, hickey hoovering, and it was thought to herald a new age of sexuality in post-pandemic fashion. But Jacquemus has been on it for a while. Although this year's advertising saw models draped in the label's signature slouchy tailoring (or just a chiquito necklace and branded boxers), the designer's AW17 campaign eschewed the need for clothes altogether.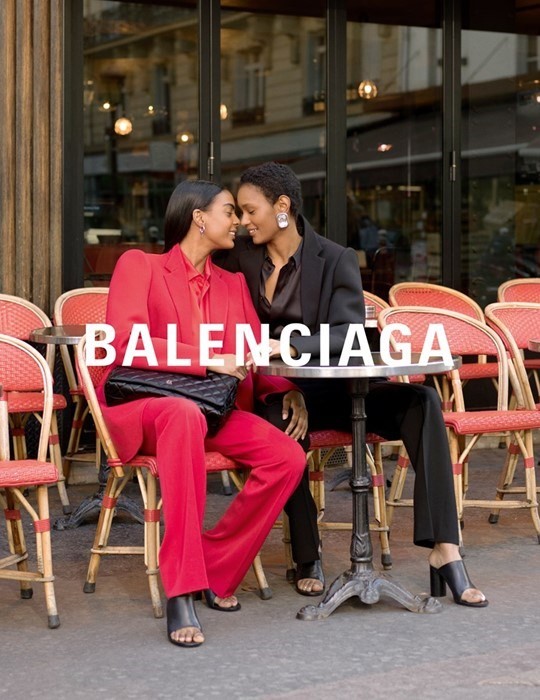 Photography Greg Finck
BALENCIAGA
What's so romantic about Paris? Certainly not the couples who descend on the capital every Valentine's day, blocking roads as they traipse through the city in anoraks, bringing listed bridges to near collapse with their rusty padlocks, paying through the nose for a haunting portrait drawn by an illustrator beneath the Eiffel Tower. Either way, for AW19, Balenciaga took us to the terraces and Metros of Paris, dressing the city's real-life couples as they stared lovingly into each other's eyes, their breath hot on each other's lips.
CALVIN KLEIN
Digital! Avatar! Queerbaiting! A chilling string of words, but for a brief moment in 2019, that's precisely what we were confronted with. "Lil Miquela and Bella Hadid get surreal!", read the advert for Calvin Klein, shot by male director Jonas Lindstroem, which saw the IRL and URL model cop off. Captioned "Is this a dream or real?", it was both, actually – a fever dream cooked up in a marketing boardroom.
SAINT LAURENT
SS17 saw Anthony Vaccarello lure us behind the scenes at what looked like a Raya-organised sex party. The second of the designer's films for the house, the campaign launched Saint Laurent's evening wear line. Beautiful men, dressed in mesh shirts, and women, with the odd boob flopped over a cocktail dress, were caught getting off with each other as the camera panned through the shadowy corridors and boudoirs of a stately home. Back in 2004 Collier Schorr shot a campaign for the brand's Le Smoking jacket, which saw the "androgynous" allure of the blazer culiminate in a smacker, too.
BENETTON
"A grave lack of respect," the Vatican said, following Benetton's 2011 Unhate campaign which involved Pope Benedict XVI  (or at least a rendering of the pope) snogging Ahmed Mohamed el-Tayeb, Imam of the Al-Azhar mosque in Cairo. Also getting their end away was Barack Obama and Chinese leader Hu Jintao, and Angela Merkel and Nicolas Sarkozy. But all the tonguing was really light work from Benetton, which once sent out adverts of a bloody, screaming newborn, a man tattooed with "HIV positive", and a soldier brandishing a human bone.
GIVENCHY
Riccardo Tisci had been taking cues from the early days of Calvin Klein for his old Givenchy Jeans campaigns – albeit amped up significantly. In 2016, a topless Irina Shayk locked lips with Chris Moore, their sinuous bodies curving over one another in a series of monochromatic tableaus.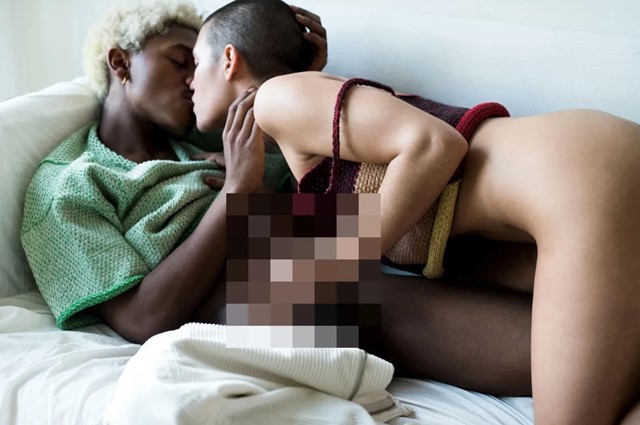 Courtesy of Eckhaus Latta
ECKHAUS LATTA
Your boyfriend has a theory that fashion is actually "all about sex". "It's carnal,"  he says, "goes back to the neanderthals and stuff, you know? It's human nature, babe," he deduces, adjusting his Carhartt beanie. New York label Eckhaus Latta, however, took this further, photographing IRL sex in their AW17 collection. Cast via Craigslist, there was both necking and noshing involved, which countered the highly glamourised vision of sex within fashion advertising – legs splayed in passion across the lens, dignity assured only by giant pixelated smudges and the label's half-worn knitwear.
DIESEL
When it comes to fashion shaggers nobody is quite doing it like Diesel. The famously irreverent denim brand, recently taken over by Glenn Martens, has featured deep-tonguing couples across much of its advertising. Earlier this year, the Belgian designer's first campaign, When Together, featured real life couples in heated embrace. Back in 2017, the brand featured some homosexual kissing for its Make Love Not Walls ad, though it was in 1994 when Diesel really set hearts a flutter when David LaChapelle snapped two sailors mid-tonsil tennis. It was very Tom of Finland without all the (redacted). 
TOM FORD
If sex really does sell then Tom Ford is its merchant in chief. The designer's tenure at Gucci brought fashion photography ever closer to the tenets of soft porn – there, in glossy magazine spreads and billboards, were oil slicked models sniffing out each other's rampant hormones, lips quivering at the open. Fall 2016 at his namesake label also saw another round of smooches, while his notorious beauty campaign in 2018 made a point of smothering faces in lipstick stained kisses.
JEAN PAUL GAULTIER
In 2012 Jean Paul Gaultier released a video titled L'art Du French Kiss (nil points for guessing what that means) and in doing so, was perhaps the only fashion house brave enough to show real, close-up tongue smacking, lip biting snogs. The ad was created to promote JPG's line of fragrances – because if fashion is, in any way, about sex, then perfume is surely about fucking? While this may have been the brand's most graphic kiss, it wouldn't be a Jean Paul Gaultier ad without some kind of lip-locking. There was Le Baiser (meaning, the kiss) in 2010 and in 2016 the brand's perfumes relaunched with a Lindsey Wixson campaign – both of which saw the woman spin her boy around in a passionate kiss.