Essential reading for everyone
except Rihanna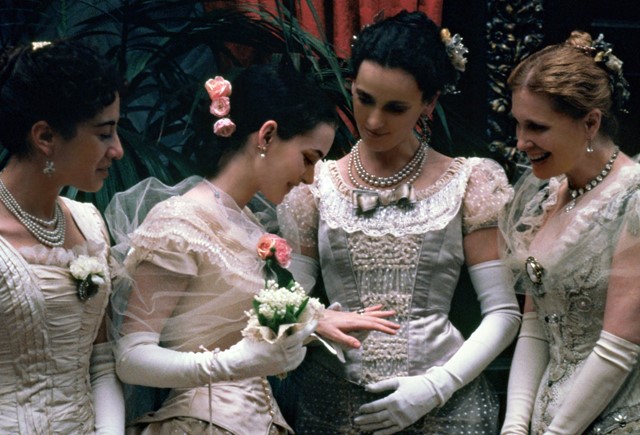 The Age of Innocence (1993)
The Age of Innocence
On the night, gala attendees will no doubt be split between literal interpretations of the era's styles and more loose representations of glittering, gilded glamour. Those more literally-minded can look to Martin Scorsese's 1993 film The Age of Innocence. Based on Edith Warton's novel, the story is set in 1870s New York high society and follows the romantic entanglements of Newland Archer.
Guests can take inspiration for their beauty looks from this description of the ethereal Countess Olenska and load up on the highlighter: "Everything about her shimmered and glimmered softly, as if her dress had been woven out of candle-beams, and she carried her head high, like a pretty woman challenging a roomful of rivals."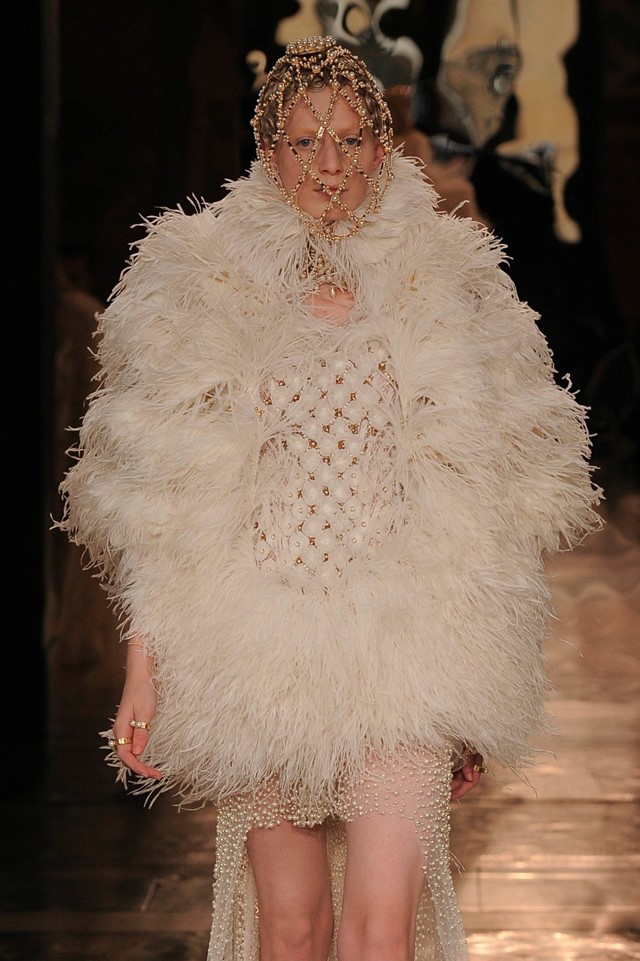 Alexander McQueen Fall/Winter 2013
Alexander McQueen Fall/Winter 2013
The guests could also interpret the dress code by wearing this golden headpiece from Alexander McQueen's F/W13 collection.
Inspired by the excesses of Catholicism, several of the models in the show walked the runway with face-framing pearl and jewel-encrusted head cages in silvers and golds. Afterall, what metaphor encapsulates celebrities more perfectly than the bird in the gilded cage?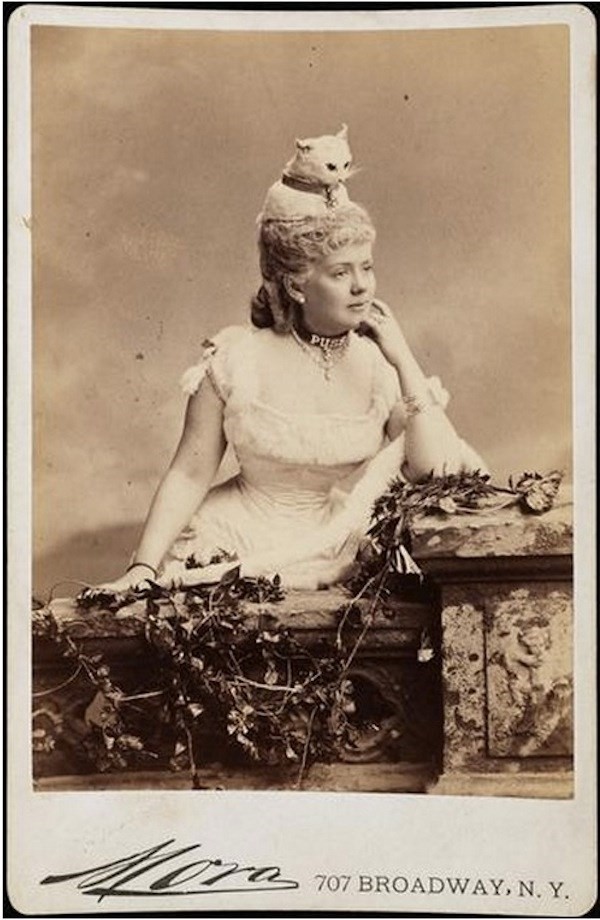 Miss Kate Fearing Strong AKA Puss
Miss Kate Fearing Strong AKA Puss
In a 1941 issue of Vogue, Frank Crowninshield wrote that the Vanderbilt ball was "the most extravagant affair of its kind which America had ever seen." Hosted by Alva Vanderbilt, the ball was rumoured to have cost roughly $7 million in today's currency and hosted hundreds of New York's high society in their most outrageous fancy dress costumes. 
Met Gala attendees can take inspiration from the outfit worn by Miss Kate Fearing Strong – who was described by Henry James as "youthful and precocious" – which referenced her nickname "Puss" and featured a large taxidermied cat head as a hairstyle and seven cat tails sewn onto the skirt.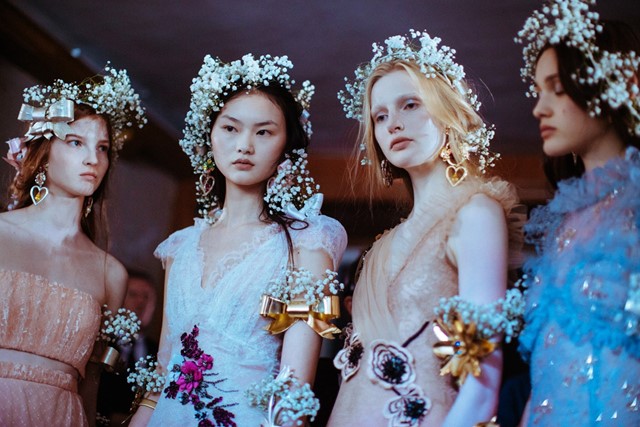 Rodarte Spring/Summer 2018
Rodarte Spring/Summer 2018
Rodarte's SS18 show was a modern day take on the Gilded Age's love of embellishments. Piles of fresh baby's breath were loaded into the hair of the models, each of whom were also adorned with barrettes, wreaths, satin ribbons, bows and petals.
The dresses themselves were dreamy creations of exquisite tulle, lace and chiffon. 
Christian Dior Haute Couture Fall/Winter 2005
Christian Dior Haute Couture Fall/Winter 2005
Guests wanting to go down the high fashion road need only to look to Dior's Haute Couture show from Fall 2005. The collection featured several fin-de-siècle-inspired looks in ghostly sheer greys with matching make-up. Pair your silver smokey eye with a dark grey lip and a neck-load of pearls.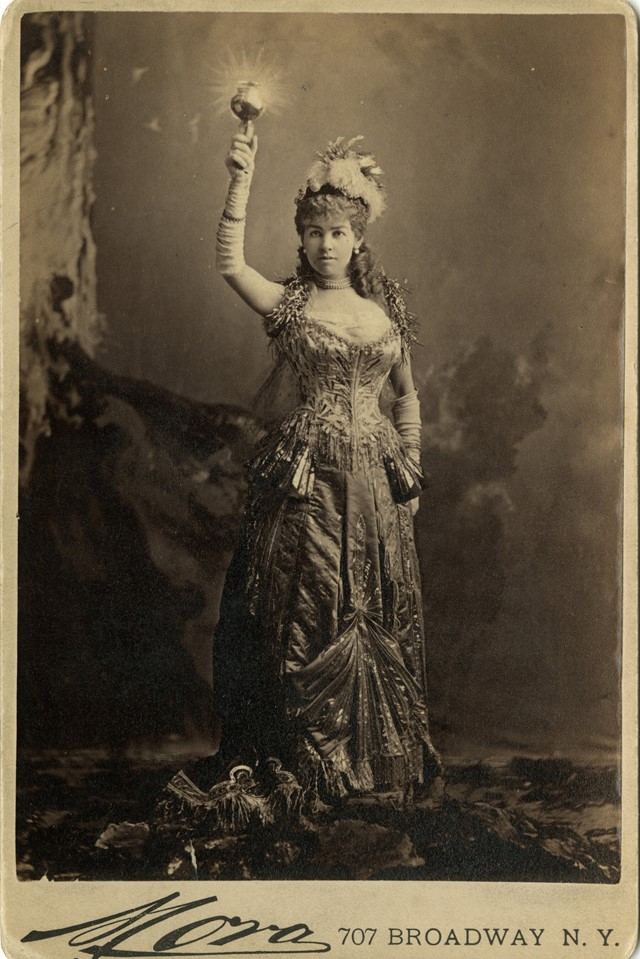 Alice Claypoole at the Vanderbilt ball
Alice Claypoole Vanderbilt
"Since the announcement that it would take place," wrote the New York Times of the Vanderbilt ball, "scarcely anything else has been talked about." Along with Miss Smith's feline look, other costumes at the ball included Alva Vanderbilt's Venetian princess outfit complete with live doves; Alva's sister in-law who showed up as a hornet; and Mrs Ada Smith who wore a look covered in peacock feathers. 
Alice Claypoole Vanderbilt was arguably the star of the show – she came dressed as the (newly-invented) light bulb in a satin gown trimmed with diamonds with a diamond headpiece.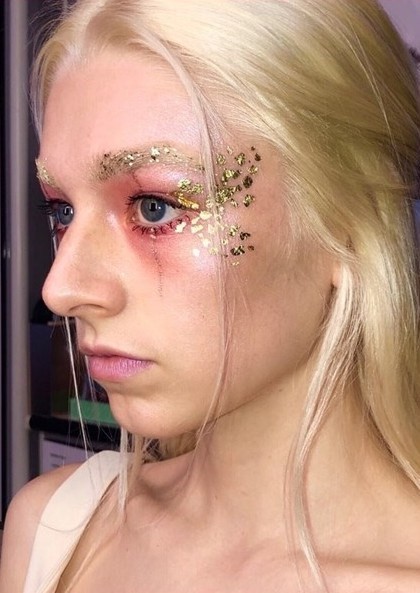 Jules's Gold Leaf Look (Euphoria, 2019)
Jules's Gold Leaf Look
Running with the gilded theme, we'd be surprised if there isn't at least a bit of gold leaf incorporated into the beauty looks at the ball. For a subtle look, guests can take inspiration from the ethereal look Jules wore in the Euphoria Halloween episode as Juliet which featured glitter brows and gold foils around her temples.
"These gold flakes really took me on a ride," Doniella Davy wrote about the look. "Don't laugh or breathe too hard while holding the container nearby or the flakes will take flight."