The Dior and Hadid-approved makeup artist shares his creative inspirations, from Blade Runner and architecture to old
Hollywood glamour
Converse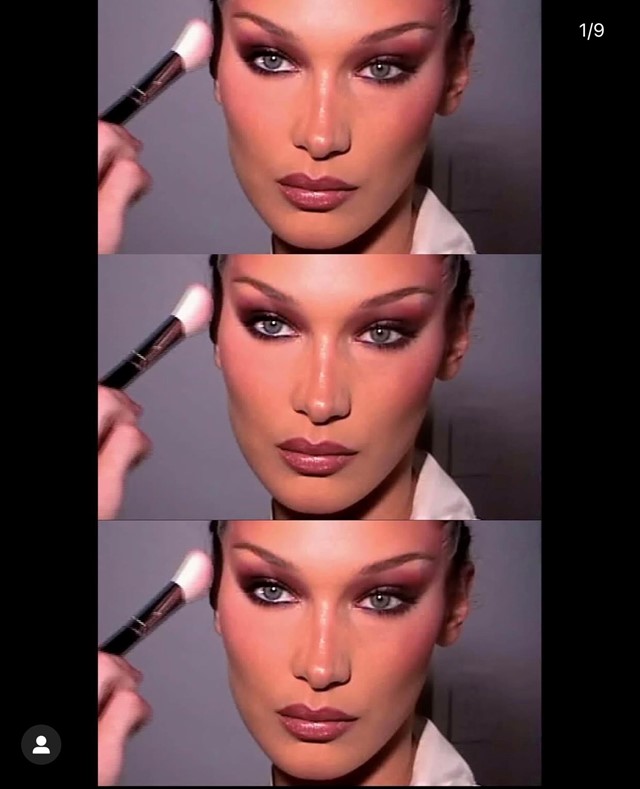 Courtesy of the artist
BELLA HADID
Bella is such a muse to me. That face is just so unreal. She has such a fantastical bone structure to create off of, as a makeup artist it's the most, it's something that's very different than anybody else. We met because I was doing her makeup, and we kind of had this understanding of each other's ideas of glamour and beauty and makeup and fashion. We really bonded over that and then it led us to working together more and more. She understands glamour, and she understands not being afraid of trying something new, that no one else is. I think that's why she herself has become so much of an enigma, because she is someone who's unafraid to embrace those nuances, and be open about that in beauty as well.
This image we created for Dior in December 2020, and we just wanted to be, not outrageous, because I wouldn't say the makeup was outrageous, but you see the blush in the temples and the cheeks, it was kind of this revitalisation of not being able to show your face. It was almost a rebellion; "OK, let's be super glamorous because we've had to be so laid back for so much of the year."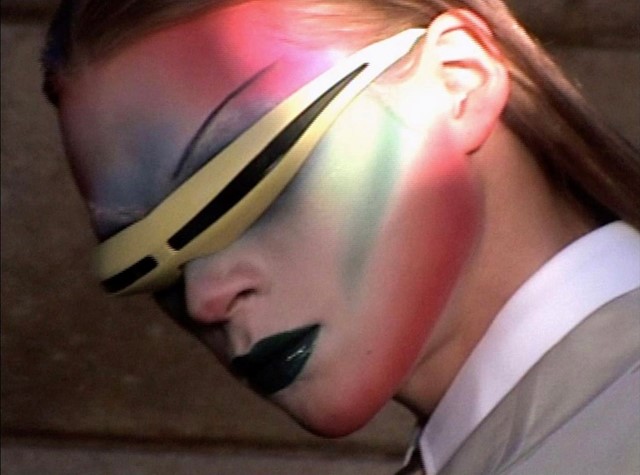 Courtesy of the artist
INSPIRED BY THE JOHN SOWDEN HOUSE
This character reminds me of the art and digital world, and the fact that now we have the physical world but then we also have the digital world, which is completely made up of pixels. This makeup reminds me of the colours that I would see of pixels on the screen, and this concept of the 'glitch'. Maybe this is an older TV set where the colour tones were blue, red and green, and that makeup is the glitch. 
I don't pull references directly from the 80s but as a period it's kind of embedded in me, because I've looked at so much 80s inspiration, and it's the time that I identify with, more than I do with our time period now really. 
The significance of the setting is really important for this image too. The house we shot in is a 1920s Hollywood legend, it's called the John Sowden House,and it was built in 1926 by the architect Frank Lloyd Wright. It's been sitting there for almost 100 years on the edge of this hill in Los Feliz, Los Angeles. 
This was the house that they filmed Blade Runner in, so this image is very reminiscent of that kind of new wave, futuristic aesthetic. It's very abstract, often, how I pull inspiration together, sometimes it's from architecture for instance. I think that we live in a very reference-heavy time right now, where we have so much access to imagery on Tumblr, Pinterest, all the platforms, and maybe I have this other perspective because I want something new from makeup, that maybe isn't so driven from makeup itself.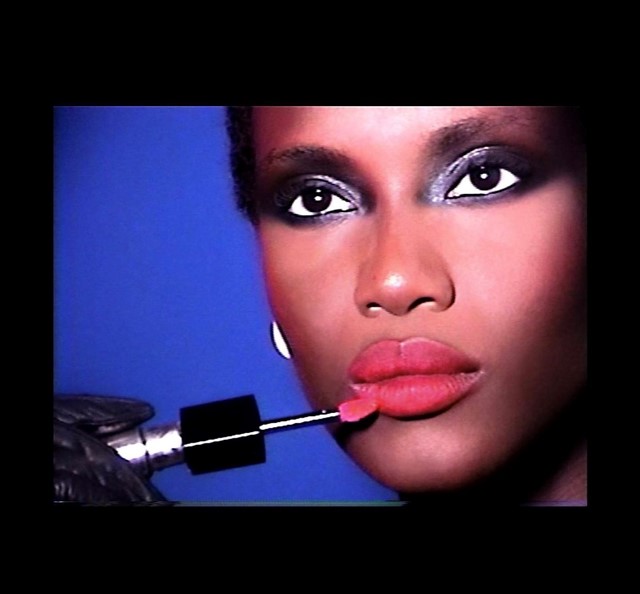 Courtesy of the artist
COBALT BLUE
First of all, the background. So that cobalt blue is my favourite colour, I don't know why. It's had some sort of significance in my life, it's kind of always followed me since I was a kid, and I just love it. I decided to make it the essence of my colour family, really. 
Now classic makeup has been so classic for so long that it's almost a rebellion, because it's almost like that's the edge of it. The fact that it's been done for so many decades, now it's like we've come to the edge of it; it's been done again and again and again, it's like a repeat of itself. 
Except for the photo of Bella, all these photos have been made in Hollywood. I find there's this air in Hollywood, the golden age to me is still alive, and I just feel it when I'm making something. I'm in New York right now, and I'm here a lot, and I love it and it does inspire me for so many reasons, but Hollywood has this significance to me for some reason. When I was a kid I was so obsessed with movies, and now it just translates in my work, and I'm just compelled to make things here.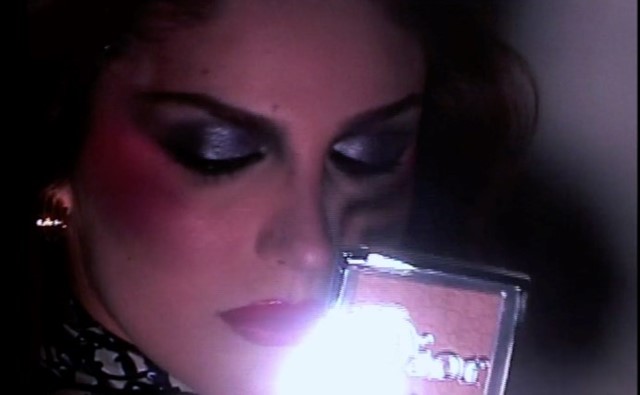 Courtesy of the artist
THE EUPHORIA OF PUTTING MAKEUP ON
This was very inspired by glamour, and just high glamour and really looking almost ridiculous, because there's so much dedication to the act of it. It's like the hair, and the makeup, and the clothes, and the nails; every single thing being considered in the image. 
And that is one of my favourite, favourite, favourite muses. Her name is Ella, and I grew up with her, and she is just one of the most lovely, beautiful women I've ever seen. I have this photo I love, of this other woman, and the photo is in black and white, and she's a model from, I think the '80s, and she looks identical to Ella, it's pretty crazy. 
With this, we wanted to slow down the feeling of applying the makeup. That was a real definite inspiration; the euphoria of putting makeup on, and how that can feel.  
Across these images, all these people live in the same world, maybe not the same city, but they all live in the same time period, same world, whatever that might be. An alternate glamour dimension – the one I want to live in.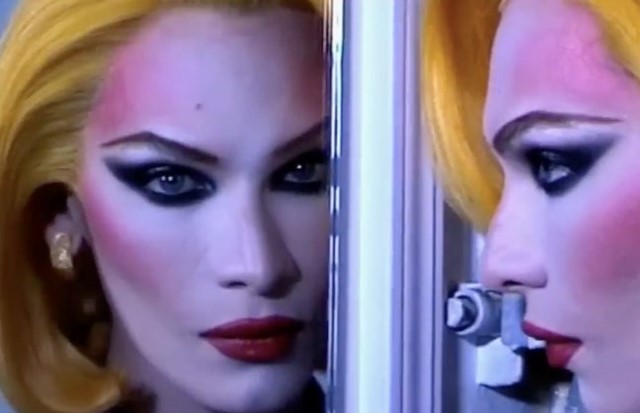 Courtesy of the artist
MISS FAME
Miss Fame is one of my favourite, favourite figures, and her look is so epic. Her makeup she usually does herself, her hair she usually does herself, and then she came over one day and said, "I'm going to let you do my makeup, you can choose my hair, you can choose my outfit, you can choose my nails." And that was something that I don't think she's ever really done before, and I was excited but also very nervous, because I think that a drag queen has a definite relationship with makeup. It's funny, it sounds weird calling Miss Fame a drag queen because I feel like she's not really a drag queen, she's just this figure of glamour and beauty and it's very genderless in a lot of ways. 
So I was quite nervous, and then we started putting the makeup on, and it just fell into this thing, and it became so powerful looking. I think that the image really came together, it ended up working out so well, and she loved it. She felt really, really good. And that's really what makes makeup so important as well, all these looks I think people feel very good in. 
I also put this in here because this was one of the first ever video moments I ever had, which was October 2019, and it kind of sent off, from that video on it just spiralled into what it's become now. It's funny, I think a lot of makeup artists are a bit, "Do something new! Do something new!" all the time. And I'm a bit different, where I'm like, "I want this same thing, I love the same thing." And maybe that's just me being, I mean even with movies say, I love watching the same movie again and again and again.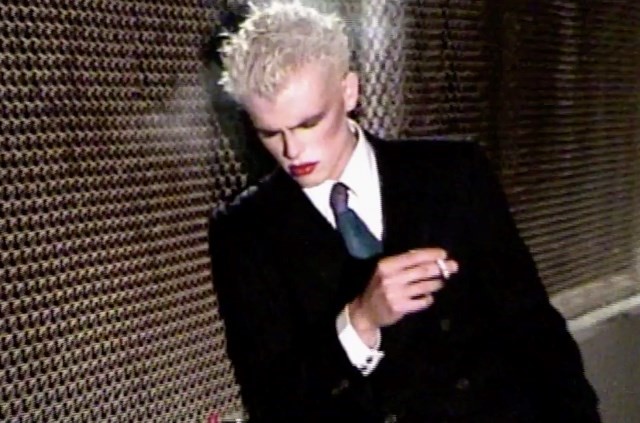 Courtesy of the artist
HOLLYWOOD BOULEVARD
The makeup read very well on him, and it made him feel very powerful. He had these dark eyes, and these shaded cheek bones, and these bright lips, and it became this kind of saturated, sexy makeup, and he felt very good and comfortable in that makeup. 
The storyline of this video is something about being in Hollywood and again this is more of a fantasy taking place in another time, because I think the reality today is sometimes similar, but you don't just show up to Hollywood and become an actor anymore, it's not that world anymore. 
So this video is kind of alluding to the fact of what the downfall of Hollywood can be, of ending up on the side of the freeway basically, where he is here. Looking over for the exit for Hollywood Boulevard and longing for the dream of stardom, and being something in the world of Hollywood. We wanted to make someone that felt a little bit solemn about the circumstances of life.