From Dick Jewell at Piccadilly Circus to seven decades of African fashion at Brooklyn Museum, and unpacking the concept of the 'American girl' in downtown LA, we take a look at August's
must-see exhibitions...
Courtesy of @elephantmagazine
42, NICOLAS COLEMAN, PM/AM, LONDON, UK
American artist Nicolas Coleman spent the early summer at PM/AM's London residency programme, painting an autobiographical account of his daily life as he explored the city. From the moment he arrived with a suitcase tagged LHR to reading a book on fellow artist Peter Doig in the park, whose exhibition at The Courtauld he visited, or sitting leisurely in a Camden cafe. It unfolds almost like a diary – we observe him as he observes himself. These meditations on the daily and the mundane are fascinating self-portraits of how Coleman sees the world around him but also his place in it.
43 is running at PM/AM until September 19, 2023
AMERICAN GURL, HAUSER & WIRTH, LOS ANGELES, USA
Co-curated by Zehra Zehra and Kilo Kish, Womxn in Windows' American Girl is a group film exhibition that "unpacks and re-envisons the American dream through the eyes of women". Hosted at Hauser & Wirth's Downtown LA outpost, the exhibition highlights the plurality of the 'American girl' through eight film works by intergenerational womxn of colour and artists, from Lorna Simpson to Carrie Mae Weems, Ja'Tovia Gary, Martine Syms, and more. 
American Gurl is running at Hauser & Wirth until August 20 2023
Courtesy of @victoriacantons
HOLDING SPACE, HAUSER & WIRTH, LONDON, UK
It's a double-whammy on this month's list for Hauser & Wirth. Over at its North London location, the gallery continues a three-year partnership with arts and mental health charity Hospital Rooms to raise £1 million for the charity with the launch of Holding Space. Opening mid-August, the multisensory exhibition draws on components from artist programs developed within NHS mental health services, so expect immersive commissions, mixed media artworks, and site-specific installations. 
Holding Space is running at Hauser & Wirth from August 17 2023 until September 16 2023
MY BEATING HEART/MI CORAZÓN LATIENTE, PEPÓN OSORIO
Bringing a background in theatre and performance, as well as his experience as a child services case worker and professor, Puerto Rican artist Pepón Osorio's exhibition at New York City's New Museum examines political, social, and cultural issues that affect Latinx and working-class communities in the US. Since the 1990s, Osorio has been crafting elaborate, large-scale multimedia environments informed by personal experiences and conversations with people living in neighbourhoods where he debuted the works. The title My Beating Heart/ Mi corazón latiente alludes to the "simultaneous resilience and fragility of human life, the values and desires that propel humanity, and the fundamental urgency to better care for one another." It's the first time these works are being brought together, poignant in a time of rising nationalism and migrant and minority scapegoating. 
My Beating Heart/Mi Corazón Latienteis running at the New Museum until September 17 2023
WAYWARDLY IN LOW TIDE, JESÚS HILARIO-REYES, FRIEZE
London curator Ben Broome is taking over Frieze, No.9 Cork Street and opening two spectacular solo shows. The first showcases a series of sculptural works inspired by Pietro-Rican and Dominican artist Jesus Hilario-Reyes' exploration of "futility through the modes of queer nightlife, the carnival, and destierro (an untranslatable Spanish term akin to 'being torn from the land')". It brings forth motifs of the mangrove, the hurricane, and the carnival, as a means for further examination. Essentially, the exhibition "constructs a shrine to the fugitive, the migrant, and the raver – acknowledging the common transience of each position and attempting to find sovereignty for the drifting body."
Waywardly in Low Tide is running at Frieze, No.9 Cork Street until August 12 2023
NOTRE DAME DES LAVES, STÉPHANIE BROSSARD, FRIEZE
The UK debut of artist Stéphanie Brossard, Notre Dame Des Laves concerns itself with the anthropology and ecology of the artist's home, La Réunion, a volcanic island and French colony in the Indian Ocean, and "addresses the violence of displacement and upheaval" as "the natural world collides with the socio-economic conditions". The title, Notre Dame Des Laves, pays homage to a church that survived the lava flow from a volcanic eruption, which split around it and caused "mutations", physically in the earth, but also culturally, as the church transitioned into a place of meeting rather than worship.
The artist also explores displacement further and "the realities of assimilation" she experienced when arriving in France, a place "heralded as a land of promise" for the Réunionese. Visitors are confronted with a pile of sand on a steel table that shakes violently as a computer registers earthquakes in real-time upon entering the gallery. Shattered marble covers the gallery floor – a foreign material in her native La Réunion. Its weight, more than one tonne – which poses a physical challenge for moving and installing it – reflects the "weight of her own displacement" and the mutations she endured".
Notre Dame Des Laves is running at Frieze from July 28 2023 until  August 12 2023
UNRULY BODIES, GOLDSMITHS CENTRE FOR CONTEMPORARY ART
Thirteen women and non-binary artists feature in Unruly Bodies, which explores the "experience of embodiment today" and "the body as monstrous, abject, grotesque, and liminal". Shadi Al-Atallah, Frida Orupabo, Paloma Proudfoot, and more question how the 'unruly body' has become ubiquitous in contemporary art as "a site of resistance in which monstrosity is reclaimed as a subjectivity that disrupts normativity and contests power." 
Unruly Bodies is running at Goldsmiths Centre for Contemporary Art until September 3 2023
WAR & PEACE, DICK JEWELL, CIRCA, WORLDWIDE SCREENS
CIRCA, aka The Cultural Institute of Radical Contemporary Arts, is notable for its global takeovers of art on giant video screens. Laurie Anderson to Pussy Riot, Anne Imhof, Yoko Ono, and many more have headlined its program since its 2020 inception. Now it's the turn of multidisciplinary artist Dick Jewell, whose WAR&PEACE takes inspiration from the first time Winston Churchhill used the 'V' hand gesture to signal victory, through to its use during the Vietnam War as an anti-war symbol of peace and more recently, in East Asia as a symbol of cuteness. The work, which screens on CIRCA's global screen at 20:23 (London's location is Piccadilly Lights), is in classic Dick Jewell-style, an artist who has been fascinated with collecting and remixing photographs, we witness a sea of people, cut out of their original context, giving the ✌️ sign.
War & Peace is running at the Cultural Institute of Racial Contemporary Arts (CIRCA) until August 31 2023
THE BLUE HOUR, WORKPLACE GALLERY, LONDON, UK
An all-woman group show from Workplace, a gallery whose roots are in Newcastle and one of the few galleries continuously championing connections between London and the northeast of England. Currently on show is a majestic showing of ten artists titled The Blue Hour. Across painting and installation, artists explore the 'blue hour' just before dust, where everything feels different. Taking on themes of psychology, the supernatural, and the surreal, it's a must-see show if you keep an eye on emerging artists outside of London. And if you're in Newcastle, stop by the original gallery, which also facilitates community and social events.
The Blue Hour is running at the Workplace Gallery until September 2 2023
Courtesy of @thebrooklynmuseum
AFRICA FASHION, BROOKLYN MUSEUM, NEW YORK CITY, USA
Art and fashion fuse in Africa Fashion, which is currently on show at the Brooklyn Museum. In the largest-ever celebration of the brilliant creative expression coming out of the continent over the last seven decades, Africa Fashion features more than 180 works, from ready-to-wear and haute couture, photographs, literature, sketches, music, film, footage, textiles, and jewellery. Over 40 designers and artists represent 20 African countries from the 1950s until today – many of whose works are on view for the first time in the US.
African Fashion is running at the Brooklyn Museum until October 22 2023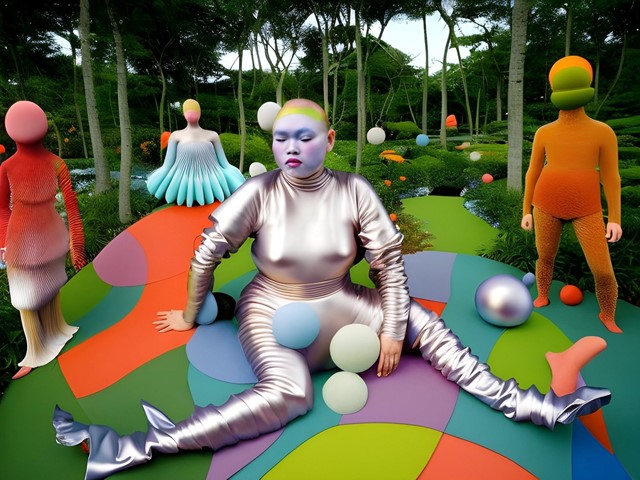 KIRA XONORIKA, "SYMBIOSIS" (2013). Courtesy of Arebyte Gallery and Kira Xonorika
MINIMAL RITUALS, AREBYTE GALLERY, LONDON, UK
An online exhibition that collapses the boundaries between humans, animals, and machines and examines how we can use technology to reconnect with ourselves and that which surrounds us opens in late August, courtesy of Arebyte Gallery and co-curated by Doreen A. Ríos. Titled Minimal Rituals, the exhibition celebrates the work of a selection of Latin American artists and celebrates "the delicate encounters and serendipitous rituals that unfold at our fingertips while navigating the web." Expect video, AI, sound, text, and performance that will transport visitors to different worlds to discover new forms of connection and community. Minimal Rituals employs the arebyte Plugin, a new Digital tool developed in partnership with digital and tech studio 10PM that delivers online exhibitions as a series of automatic pop-ups across a period.
Minimal Rituals is running on Arebyte.com from August 27 2023
CAPTURING THE MOMENT, TATE MODERN, LONDON, UK
Described as "an open-ended conversation" between some of the greatest painters and photographers from the last century, Capturing the Moment, currently on at Tate Modern, explores the dynamic relationship between the two mediums through some of its most iconic works. From Piccaso to Paul Rego, Jeff Wall, Andy Warhol, Gerard Richter, Andreas Gurksy and more. It's a fascinating exploration of how artists have captured moments in time.
Capturing the Moment is running at Tate Modern until January 28 2024