As ABBA's comeback album Voyage drops, here's a brief history of the band's cinematic highpoints, from ABBA: The Movie to Bergman Island, via Paul Verhoeven and
Spike Lee
ABBA: The Movie, Lasse Hallström (1977)
Released in cinemas just after "The Name of the Game" topped the charts, ABBA: The Movie blends live concert footage with the band gamely participating in silly skits. Unlike, say, Radiohead's Meeting People Is Easy, Hallström's tour mockumentary presents hotel junkets as fun, social events. A journalist chases the band around Australia, trying to snag an interview, while their chat-and-mouse routine is punctuated by clips of ABBA belting out the hits on stage. However, like in the songs, darkness lurks beneath the shiny exterior; jetting around the world is evidently exhausting, as is being a woman in the public eye, with a reporter asking Fältskog if she has "the sexiest bottom in Europe". Tellingly, for their 2021 comeback, Fältskog and Lyngstad have refused to do press, and the pre-recorded VR concert allows for zero travel.
The songs: all of them!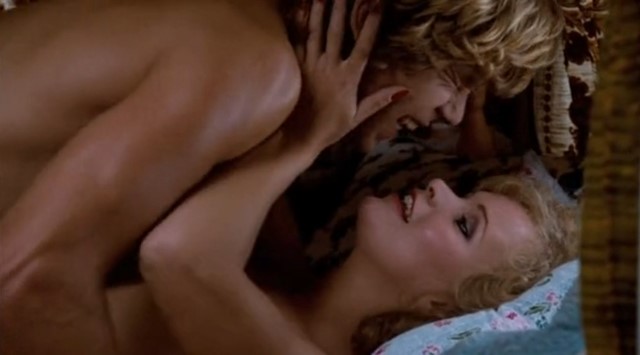 Spetters, Paul Verhoeven (1980)
In Verhoeven's Dutch-language version of Saturday Night Fever, "Chiquitita" plays on the radio during an explicit sex scene to heighten the mood. The guy gets on top of the woman, she tells him where to stick his Super Trouper, and he shoots his load too quickly – the lovemaking is over before the chorus kicks in. As always, Verhoeven is ahead of the game, capturing the band's disco energy before their critical reassessment, and predicting that ABBA's music will soundtrack many a premature ejaculation for decades to come.
The songs: "Chiquitita"
Montenegro, Dušan Makavejev (1981)
Similarly to Verhoeven's appreciation of ABBA as free-love, party music, Montenegro drops in "Why Did It Have to Be Me?" during a montage of an elderly man auditioning younger, potential wives. Makavejev, a Serbian provocateur whose previous movies were banned in several countries, disguises the sleaziness of the storyline with ABBA's seemingly wholesome, family-friendly sheen. When the auditioning women dance to ABBA, it makes sense: a successful relationship is discovering someone who will pretend to love ABBA as much as you do.
The songs: "Why Did It Have to Be Me?"
Muriel's Wedding, PJ Hogan (1994)
Ridley Scott, who included "Waterloo" in The Martian, called Muriel's Wedding the greatest film of all time. While that's a bit extreme, Hogan's comedy boasts an all-time line from Toni Colette's Muriel: "My life is as good as an ABBA song. My life is as good as 'Dancing Queen'." Until then, Muriel's depression is visualised by ABBA posters and ABBA-inspired outfits – until she bonds with a new BFF over "Waterloo". In the triumphant closing scene, Muriel and Rhonda run off to "Dancing Queen", a song that somehow soundtracks both the darkest and brightest moments in their life.
The song: "Dancing Queen"
The Adventures of Priscilla, Stephan Elliott (1994)
There's so much adoration for ABBA in Priscilla, it leads to a small request: "I've said it before and I'll say it again – no more fucking ABBA!" Indicating ABBA's growing popularity with the LGBTQ+ community, the cult Australian road movie follows drag queens who perform, amongst other songs, "Mamma Mia" on stage. "It was the gay community who underpinned the comeback," Björn Ulvaeus told Gay Times. For similar reasons, "Dancing Queen" was used in I Now Pronounce You Chuck & Larry – though not as sensitively, of course.
The song: "Mamma Mia"
Summer of Sam, Spike Lee (1999)
Set in the summer of 1977, when the Son of Sam killer was on the loose, Lee's drama inserts "Dancing Queen" and "Fernando" to establish the period setting, while also ironically juxtaposing the upbeat melodies with the threat of being a killer's next victim. Here, Mira Sorvino and John Leguizamo furiously argue for three-and-a-half solid minutes: she yells that he's a "perverted sick fuck", she kicks him out of the car, and then she speeds off on her own, all while "Dancing Queen" blasts on the stereo in full. When ABBA plays, it's like texting when drunk – your emotions are exaggerated.
The song: "Dancing Queen"
Dick, Andrew Fleming (1999)
If you're short on time, you can fast-forward to the end of Fleming's Watergate satire in which Kirsten Dunst and Michelle Williams rollerskate around the Oval Office, under a disco ball, to "Dancing Queen". Because why not? But pause around two minutes in when, mystifyingly, it switches to Sixpence None the Richer's cover of the same song.
The song: "Dancing Queen"
Together, Lukas Moodysson (2000)
Like "Dancing Queen" in Muriel's Wedding, "SOS appears twice in Moodysson's comedy-drama, symbolising the emotional highs and lows of its key characters. Four minutes in, a mother leaves her abusive husband, he collapses on the floor, and their two children try not to cry – then "SOS", an apt song about heartbreak, kicks in. For the supposedly happy ending, "SOS" reappears, undermining the idyllic image of a family playing football in the snow. If there's any doubt, Moodysson told Sight & Sound, "For me, it's a really serious, sad song about breaking up."
The song: "SOS"
And Then We Danced, Levin Akin (2019)
Akin's tender romance about a gay, Georgian dancer earned acclaim at Cannes for two musical sequences in particular – one a sexy, seductive dance between two men to Robyn's "Honey", the other a party scene in which a lively ensemble leap around to "Take a Chance on Me". The song is significant, not just because Benny Andersson's son produced the film, but due to how ABBA and their harmonies encapsulate a better world. "ABBA is really popular in Georgia with young kids and older generations," Levan Gelbakhiani told Dazed last year. "They know ABBA. It's not just a random song – it has meaning for society, and shows the union between these two groups."
The song: "Take a Chance On Me"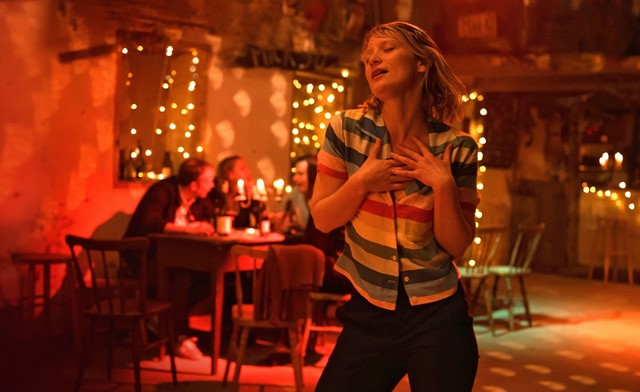 Bergman Island, Mia Hansen-Løve (2021)
When ABBA appears in Bergman Island, it's in a film-within-the-film. Wasikowska's character, Amy, is a fictional creation of Chris's (Vicky Krieps), and thus her emotions are manipulated by an external force. Likewise, Agnetha Fältskog sings the poignant, breakup-related verses of "The Winner Takes It All", yet the lyrics are penned by Björn Ulvaeus, whom she divorced the month the single was released. For much of Bergman Island, Hansen-Løve's screenplay treats Bergman and his reputation among cinephiles with scepticism; Amy's true emotional connection, ultimately, isn't with Bergman, it's with a few blissful, melancholic minutes of "The Winner Takes It All". In the end, Bergman Island is a rich, layered celebration of one of the great Swedish artistic icons – just not the one in the title.
The song: "The Winner Takes It All"