LFW responds to Queen Elizabeth II's passing, as Random Identities makes
its comeback
LFW RESPONDS TO THE QUEEN'S DEATH
Given the 12-day period of mourning that follows on from Elizabeth II's death, London Fashion Week has been forced to change tack. The BFC has already encouraged organisers to scratch any non-essential events (which means no parties) and Burberry – a member of the Royal Warrant Association – has officially cancelled its SS23 show as of this morning. While exact plans for the Queen's funeral have yet to be announced, it's expected that all runway shows coinciding with the official day of mourning will be postponed. Needless to say, it's just as important as ever to support the work of young designers who have put money, time, and effort into debuting their upcoming collections.
RANDOM IDENTITIES MAKES ITS COMEBACK
After nearly two years on hiatus, Stefano Pilati is back with Random Identities, his SS23 collection getting its big debut at Dover Street Market. A vision of chic, masculine elegance, the brand was established in 2018 as an antidote to the bragaddocio of logo-strewn menswear that dominated the market. "My line wants to express my sensitivity to good taste and style. This is for what I am recognised," he told us back when he first launched the label – read the full interview here.
YOU GET A TELFAR, EVERYONE GETS A TELFAR!
When Telfar Clemens said "It's not for you – it's for everyone," he was VERY serious. While the brand has previously made it quite tough to get your hands on one of its signature totes, fans will now be able to shop any size and shape during a one-day takeover. This week, Telfar announced on its Instagram that "thousands and thousands" of the shopping bags will be made available at Rainbow Shops in downtown Brooklyn on Sunday September 11.⁠
THEORY HOOKED-UP WITH LUCAS OSSENDRIJVER
Launching globally this week, Theory has unveiled its debut capsule collection designed by Lucas Ossendrijver. The collaboration with the ex-Lanvin, Dutch designer will live under the Theory Project – a platform to invigorate the brand's offering through link-ups with top talent. An accompanying lookbook shot by David Sims showcases a "dynamic city wardrobe designed for modern life." See more of that here.
STÜSSY'S CRYING DENIM TEARS
Gone are the days of dual link-ups, apparently: fashion is in its poly era! This week, Stüssy, Denim Tears, AND Our Legacy announced a collaboration. The monochromatic collection of trucker jackets and 501's come adorned with each of the label's hometown crests – Laguna Beach, Queenstown Jamaica, and Stockholm, respectively. From today (September 9), the Denim Tears x Stüssy x Our Legacy pieces will be available globally at select stores, select Dover Street Market locations and online at Our Legacy, Denim Tears and Stüssy.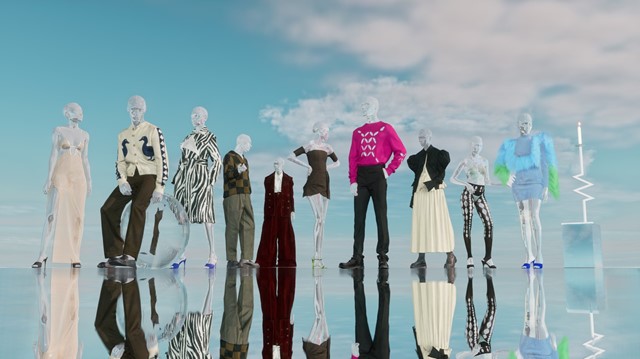 Artwork Younji Ku
MATCHES IS INNOVATING, AGAIN
Alongside SS Daley's womenswear collection, Matches Fashion are welcoming three new designers to its innovators programme: Ashlyn, Connor McKnight, and Jermaine Gallacher. To coincide with the launch, the retailer is hawking its wares in a multimedia campaign devised by artist Younji Ku. With garments 3D scanned and recreated digitally using digital software, the whole thing looks like what the metaverse should be, but definitely is NOT. 
NET A PORTER VANGUARD
The girls are fighting!! Hot on the heels of Matches Fashion is Net a Porter, which announced the winner of its inaugural Vanguard Education Fund: Ben Davis, BA Fashion Design with Industry Placement, Kingston School of Art;  Renato Bras, BA Fashion Design with Marketing, Central Saint Martins; Finlay Roberts, BA Fashion Design, Falmouth University; and Maissane Zinai, BA Fashion Design Womenswear, Central Saint Martins. An extension of The Vanguard, the company's mentorship and business-support program for womenswear designers – Miss Sohee and Grace Ling being this year's designers – this new Education Fund provides financial support and mentoring to final-year students as they embark on their careers.
REFERENCE FESTIVAL STRIKES 6
The 6th edition of Reference Festival launched this week. Nestled between Berlin Fashion Week and Art Week, the festival will see Michèle Lamy and Matt Lambert come together in live performance, the world premiere of Miles Greenberg's new video project, and a slew of exhibitions showcasing Berlin's next wave of emerging designers and artists. The whole thing takes place between September 6 and September 13. Head here for more information. 
LFW ISN'T FOR YOU, IT'S FOR EVERYONE
On September 10 and 11, Rooftop Film Club will team-up with fashion rental platform LOANHOOD, screening Grease and Breakfast at Tiffany's at the Bussey Building in Peckham. Alongside a behemoth TV, there'll also be a curated edit of second-hand items to shop inspired by iconic films, cocktails and lots of other apparel pop-ups. Across town, Roof East in Stratford will be doing the same, only with a slightly more interesting line-up of films, among them Queen and Slim, Sex and The City, and The Devil Wears Prada. Book your place here.