The singer's latest music video takes style cues from Y2K pop cultural heroes including Britney Spears, Gwen Stefani, and Cher from
Clueless (duh)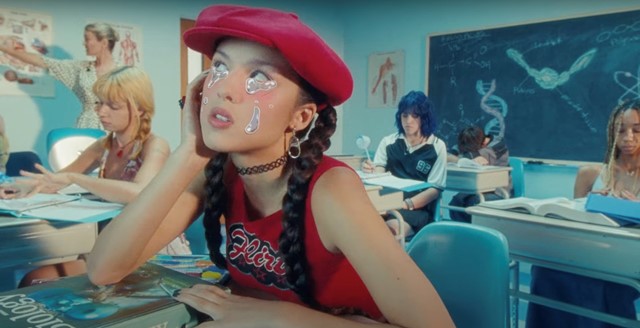 BRITNEY
In the music video's opening scene, Rodrigo appears as four avatars in an early internet dress-up game, encouraging viewers to choose their fighter. The cursor lands on ballerina Olivia, which includes a pale blue, terf bang wig, and a corset dress draped in chiffon and bead fringe, from Roberto Cavalli's SS03 collection. A replica of the very dress Britney Spears wore in 2003. A couple of insouciant eye rolls later and we find ourselves in a secondary school classroom, where Olivia sits staring at the clock, with plaited pigtails, and filter-effect tears streaming down her face. She sings, "I'm so sick of seventeen / Where's my fuckin' teenage dream? / If someone tells me one more time, 'enjoy your youth' / I'm gonna cry," and it's all very reminiscent of Britney's "... Baby One More Time".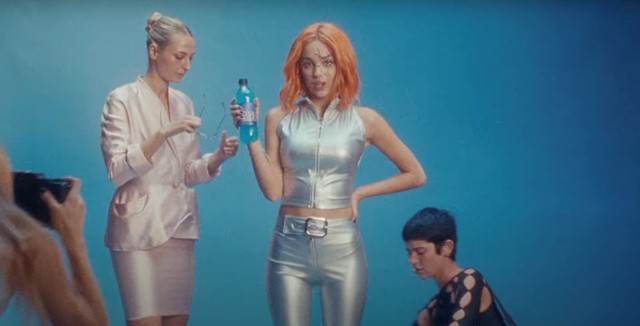 FIFTH ELEMENT
The Britney references don't stop there, however. Eagle-eyed pundits have drawn parallels between a scene in which Rodrigo is forced to shoot a celeb-style campaign shilling fizzy drinks, and Britney's throwback ambassadorship for Pepsi. Both 17 when starting their careers, Rodrigo has been vocal about the horror of watching the #FreeBritney movement unravel, telling GQ that she had "been following it very closely". "I think it's just so awful. I think, as an industry, people are getting better at not taking advantage of and manipulating and bullying young women. But it's still so apparent, and I witness that too," she added. In the same scene, Rodrigo wears a futuristic two piece, which wouldn't look out of place in Jean Paul Gaultier's wardrobing for Fifth Element – not to mention the scraggly cut orange bob, which is a clear ode to Leelo.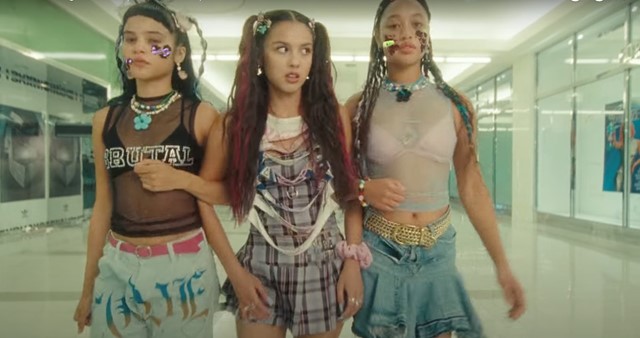 CHER HOROWITZ
Though Clueless is perhaps the hardest working reference in fashion, Rodrigo's plaid skirts, rimless Chanel sunglasses, and bitchy sidekicks, could just as easily have been an homage to Jawbreakers or Mean Girls. After all, the singer famously struggles to parallel park, yet finds herself a natural fit in the music video's "get in loser, we're going shopping" convertible. This is no overture to the Plastics, however, Rodrigo's varsity t-shirt has been shredded to Avril Lavigne effect – the work of Left Hand LA – and on her feet, are clomping leather Cyber Dog-esque boots, with buckles ascending all the way up to her knees…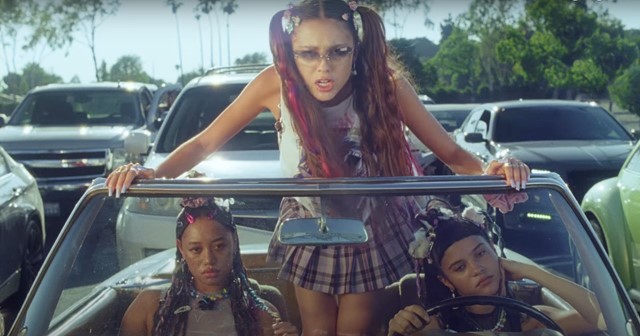 HARAJUKU
… which brings us onto the biggest reference point within "Brutal" – Harajuku culture. Though the Tokyo style tribe had long been documented by the likes of Fruits magazine (an iconic 90s Japanese style bible), it wasn't until Gwen Stefani brought in her – now problematic – Harajuku back-up dancers that the subculture reached its mainstream zenith. Defined by a hyperactive blend of gothic, Americana, and kawaii aesthetics, the look comes together here in clashing and clunky combinations. It can be seen on the Rodrigo's stompers, eyelet-strewn plaid mini dress, and her hair, which hangs in two, XL Lolita pigtails, festooned in clips and accessories.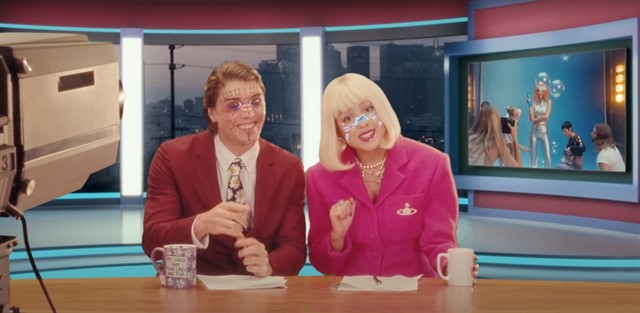 VIVIENNE WESTWOOD
It wouldn't be a punk revival without Rodrigo's "wardrobe scientists" Chloe and Chenelle Delgadillo, pulling some vintage Westwood. Two fuchsia looks appear in separate scenes within the video – first there's an oversized blazer which Rodrigo dons to play a saccharine news anchor, followed by a mini, ruched handbag (the label's recycled polyester Sara Pumpkin Bag, to be exact) as worn by Rodrigo's tearful influencer. Clock TikTok's favourite Vivienne Westwood pearl necklace, too, for added relatability.