As Mother Monster's seminal album turns ten, we revisit some of the singer's wildest outfits from
the era
The Grammys Egg
Sorry, not an egg, a "vessel". In 2011, Lady Gaga was transported down the red carpet and onto stage at the VMAs in a vessel designed by Hussein Chalayan. Wearing a full Mugler look on the inside, Gaga's entrance is one of the most fervent examples of a contemporary artist using fashion as performance art. It was surreal, shocking, and gruesome. And it came at a point in Gaga's career when fashion served those very purposes. In preparation for the VMAs, one of Gaga's creative directors said she spent three days living inside a coffin. "She was incubating and, in birthing the new race, she had to go through a DNA transition, so before she was born we had to actually transfer her in a mesh box to keep the process going," said Laurieann Gibson explained. As you do!
The entire Jo Calderone persona
"We introduced Jo Calderone in Vogue Hommes Japan, which I created with Nick Knight. We didn't say it was Gaga," Nicola Formichetti remembers. "It was Jo, and I put that on the cover, but people knew". Jo Calderona was Gaga's drag persona – a sullen, cig-swindling rockstar alter-ego who starred in the singer's "You and I" video (and wouldn't look out of place on a Hedi Slimane runway). Mysterious and oh-so-brooding, Gaga explained Calderone's origins in a column with V magazine: "In a culture that attempts to quantify beauty with a visual paradigm and almost mathematical standard, how can we fuck with the malleable minds of onlookers and shift the world's perspective on what's beautiful? I asked myself this question. And the answer? Drag."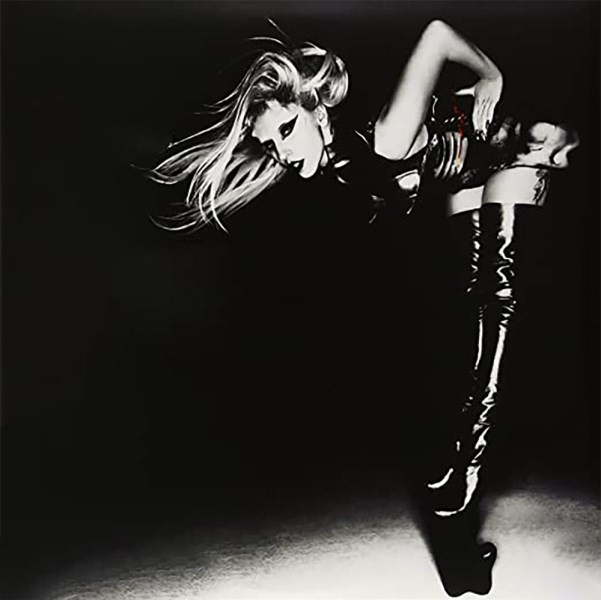 Photography Nick Knight
The Born This Way album cover looks
While the front cover saw Nick Knight transform Gaga into a screaming half-human, half-motorcycle hybrid, the rear presented Gaga in one of her most iconic iterations, complete with bleached brows, prosthetic horns, and cheekbones courtesy of Val Garland. Everything was patent, sharp, and peculiar – the calling card for Gaga's "new race" – a red thread throughout her Born This Way endeavours. The singer's wore a leather sculptural piece by Thierry Mugler, which took the human anatomy to an extreme with its pointy breasts and monstrously elongated heels. Teamed with a ratty, rockstar wig, the look was later reincarnated in mesh during her turn on the Mugler catwalk that same year.
The "Edge of Glory" Versace number
For the singer's "Edge of Glory" video, the Haus of Gaga dug through the Versace archives and landed on a hardware-heavy, studded leather two-piece. It was the first time Gaga and Donatella had worked together and marked the beginning of a lifelong collaboration between the two Italian icons. "I am a great fan of hers and I believe that my brother Gianni would have appreciated her talent," Donatella remarked at the time. "Like him, Lady Gaga is unafraid to push boundaries and she has created an original vocabulary by merging fashion, music, theatre, and art. For me, this video represents a wonderful tribute to anyone who is unafraid to take chances". It's also one of the only Gaga videos where she wears the same designer throughout – an unusually stripped back venture void of wild plot or dancer troop, meaning Gianni's S&M indebted outfit is second only to the popstar herself.
The "Marry the Night" video
Gaga opens the "Marry the Night" video while unconscious on a hospital trolley. In her head, we hear the eerie ramblings of a fashion obsessive, in which she lauds the transformative and fantastical nature of clothing. "Those nurses are wearing next season Calvin Klein, and so am I," she says. "And the shoes – custom Giuseppe Zanotti. I tipped their gauze hats to the side like Parisian berets because I think it's romantic and I also believe that mint will be very big in fashion next spring." Throughout the video Gaga is master margherita, the creative director of her own fever dream, in which fashion has as much a role as the music. The looks that follow jump from rhinestoned Versace cowgirl, to a twisted ballerina in 12-inch platforms, to structural black patent underwear, and a nude Gaga festooned in Cheerios.
Basically the entirety of "Judas"
The artwork for "Judas", Gaga's heretical ode to our most inescapable of inner demons, was designed by the singer herself on Microsoft Word. Truly, a Clip Art queen. And the video's looks equally demonstrate Gaga's creative finesse. Here, she stands in a floor length latex dress on a rock in the middle of the ocean, like Botticelli's Venus if she had a piss kink. She soon transforms herself, though, launching into manic choreo in Middle America biker gear, while taking a brief interlude to writhe about in a baptismal font wearing a boob tube. The stand out look, however, comes at the end of the video when Gaga is stoned to death in a raccoon wig, an archive Christian Lacroix wedding gown, and Camden Market worthy creepers.
The Mugler Fashion Show
Tapped by collaborator Niccola Formichetti, Lady Gaga showed up twice during the Mugler SS12 show. Debuting "Government Hooker", the singer traipsed about in towering platforms and a triangular fascinator, grinding on the show's colonnade set with a real life cig dangling from her high fashion grimace. Gaga then closed the show to the booming backdrop of "Born This Way", dressed in all white, whipping her stole and Rapunzel pig tails about in deranged fervour. Also on the catwalk was the late Rick "Zombie Boy" Genest, who played Gaga's tuxedo twin in the "Born This Way" video. 
The Tetsuko no Heya chat show
Teamed with a Sister Sister beehive, Gaga's Saphir East creation, which she wore during an appearance on the Japanese chat show Tetsuko no Heya, is peak "Born This Way" Gaga. The look was a circular, sleeveless, black leather mini dress, which she wore with the classic, vertiginous, Noritaka Tatehana heelless platform boots. Absolutely nothing about this look was accommodating – it was the kind of avant-garde design which just looked thoroughly uncomfortable (for both Gaga and those sat with her). Towering above the show host, who was dressed in a traditional floral kimono, Gaga looked as if she had been birthed from some kind of dark comet and sent to burn through planet Earth. But then again, she wouldn't have it any other way.
Gaga, phone home!
Lady Gaga finally returned home during her appearance at the EMA's in 2011 – not to New York, nor Belfast, where the awards were held, but to the moon, on which Gaga was chained to during her performance of "Marry the Night". Wearing a fanned, disc dress by Paco Rabanne, the singer was completely obscured save for a pair of eye slits in an iridescent, saucer shaped hat by Philip Treacy. But once she took the shackles off her feet, Gaga emerged into the light like a celestial salamander, climbing down from the pockmarked moon so she could thrash it out with some topless, leather-trousered dancers. During the song's final refrain, Gaga, now in a metallic two piece, turned around and shoved up her skirt, revealing the diamante g-string she had stowed beneath. Put your paws up!