This year's MA cohort have proven that creativity will prosper even in the most difficult
of times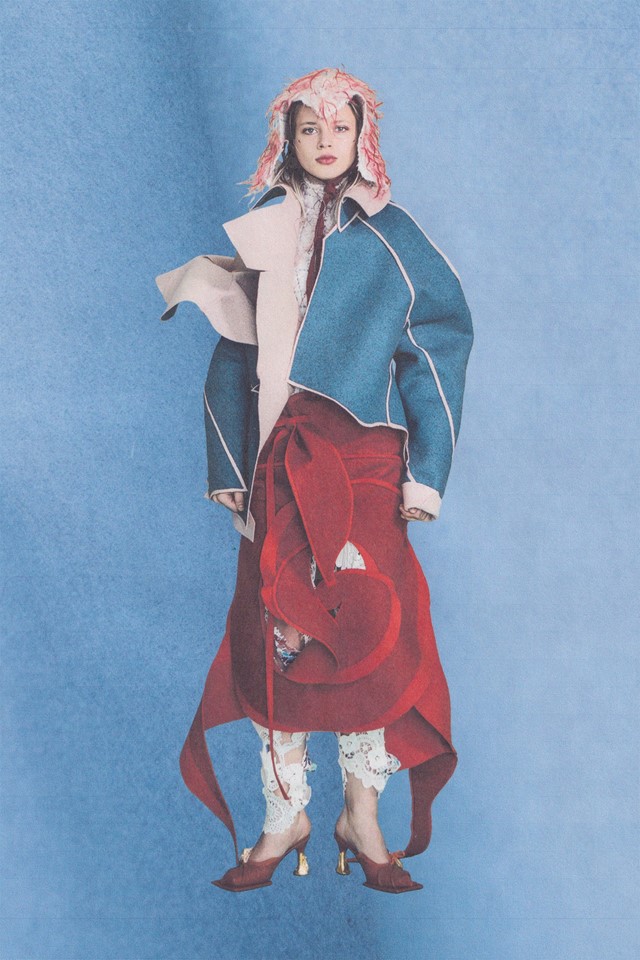 Courtesy of CSM
SÓL HANSDÓTTIR
Joint recipient of the L'Oreal Professionnel Scholarship this year is the Icelandic Sól Hansdóttir, who's graduating from CSM's MA Womenswear course. Hansdóttir's collection is rooted in a fear of the unknown and her ten piece collection excavates the gamut of anxieties that often burrow into our subconscious. Repetitive pleats, asymmetrical structures, and handcrafted copper rings spiral around the body in Hansdóttir's attempts to excavate irrationality.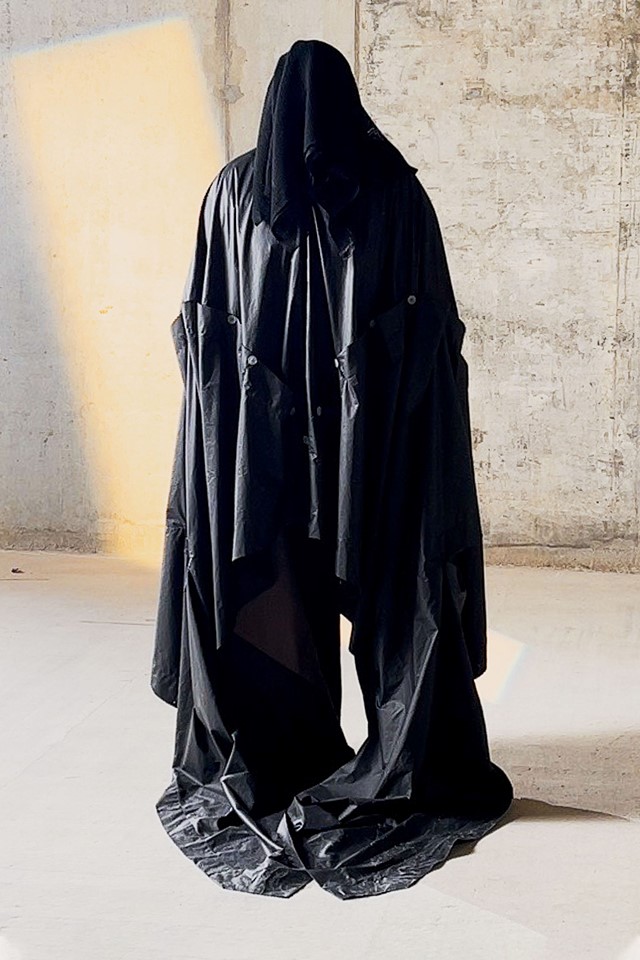 Courtesy of CSM
ADAM ELYASSÉ
A hard and fast menswear designer, Adam Elyassé was born in East London but his nine-piece outerwear collection is a dialogue between his Morrocan heritage and British upbringing. For Elyassé, colour was really the driving force behind any messaging, with red and blue representing not only the geographical divide within his life, but opposing political agendas. Meanwhile, the wind that swirls around his presentation room is said to represent the African diaspora. Uniting Elyassé's inner dichotomy is his standout finale piece, an all black structural, cape-like robe that offers a shelter for both his communities to nestle beneath.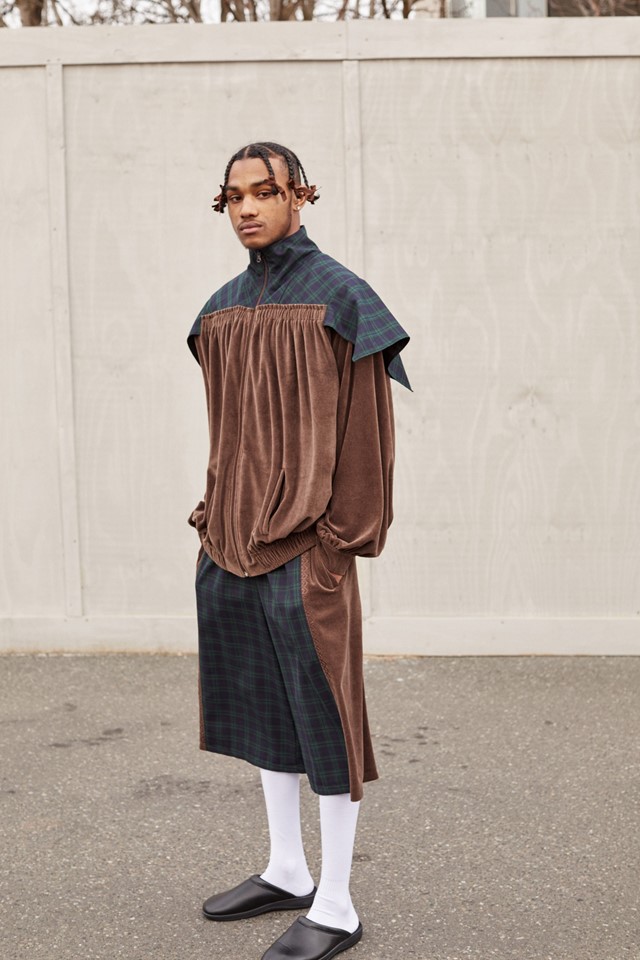 Courtesy of CSM
CHLOE NARDIN
Chloe Nardin, who is leaving CSM with an MA in womenswear and menswear, seeks to reflect the Parisian values of today in her collection. This is no Emily in Paris fantasy, but a realistic portrayal of the contemporary, urban lives of Parisians. Having grown up in the city's outskirts, Nardin hopes to bring a whiff of romanticism to sportswear, softening athletic silhouettes with embroidery and provençal fabrics. Smocked cotton, delicate prints, and viscose yarns replace the synthetic polyesters of the sports world, imbuing the quotidian with a sense of history.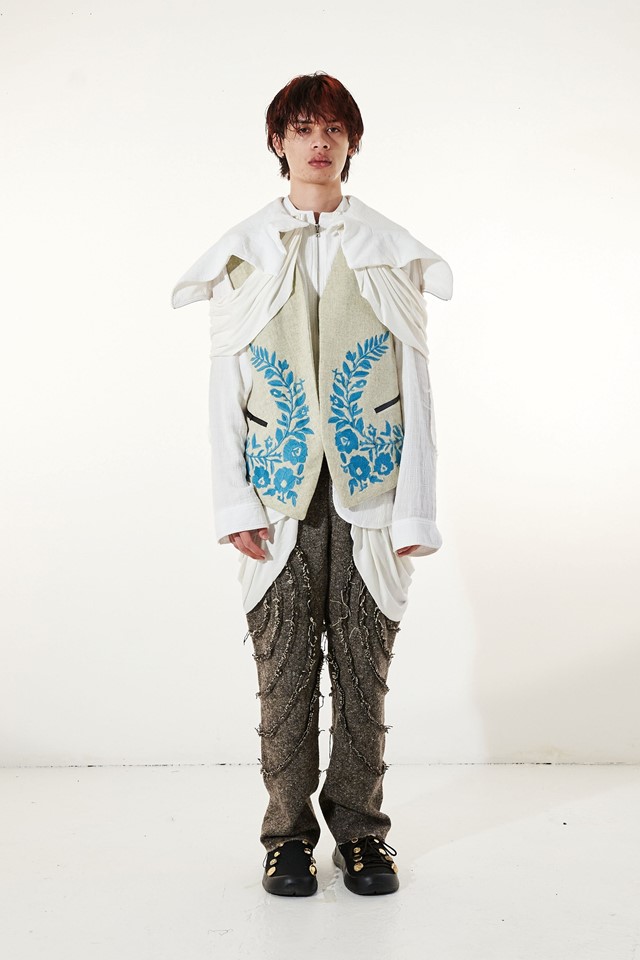 Courtesy of CSM
HORACE PAGE
Specialising in both womenswear and menswear, Horace Page's graduate collection attempts to interrogate the classist structures of British society. For Page, this is articulated in a tension between the aesthetic tropes of the landed gentry and the metropolitan finesse of city dwellers. Donegal tweeds are hacked open and stuffed with nylon inserts, cashmere is subverted as an inner lining stitched into trench coats, and military trousers are twisted with elasticated interiors, forcing them to warp ceremoniously in a complete lampooning of dress code and uniform.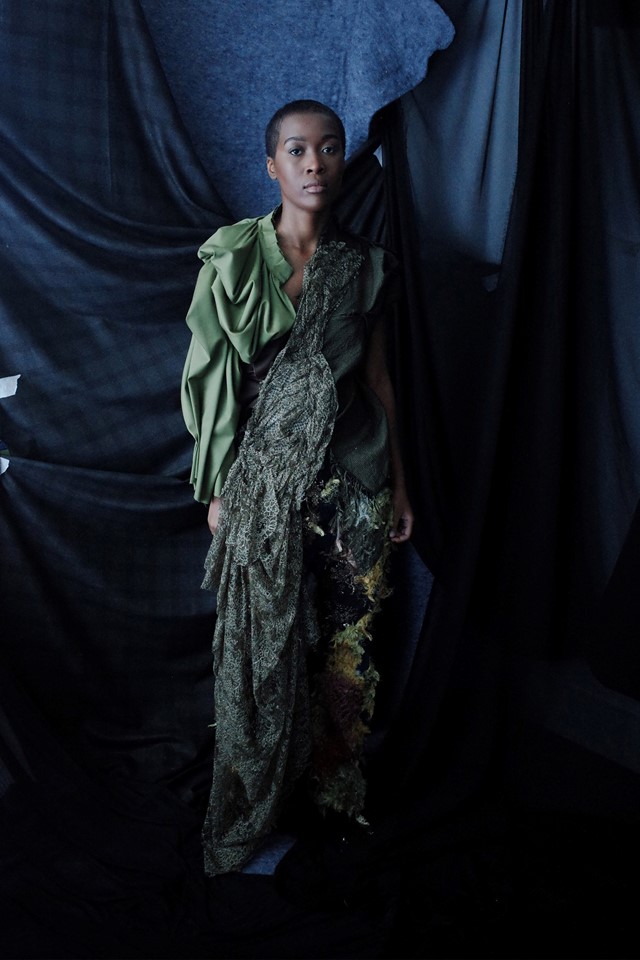 Courtesy of CSM
ANTÓNIO CASTRO
The other half of the L'Oreal Professionnel Scholarship is António Castro, MA Textiles, whose decadent collection is inspired by Portugeuse rituals surrounding the winter solstice. In smushing the artisanal with techniques widely associated with Haute Couture, Castro develops a unique handwriting which is at once regal and homespun. As he combines Marie Antoinette-inspired silhouettes with traditional Portuguese weaving, Castro is able to construct his collection through the act of deconstruction. Think shirt cuffs pleated into bodices with cut-and-paste trousers, shaped into Renaissance-style breeches.