From the iconic Myrtle Snow to Gaga as a vampiric Countess, over the last 10 years, Ryan Murphy's anthology series has given us some hair and make-up looks to remember –
and haunt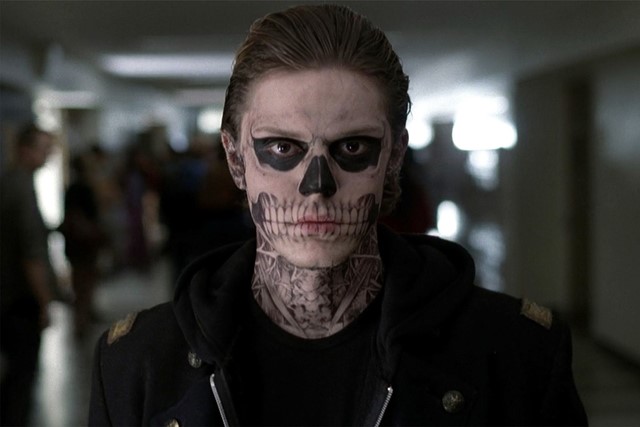 American Horror Story
Tate Langdon
Let's start at the beginning. Season one, the OG murder house. Tate Langdon is introduced with his Kurt Cobain hair, Kurt Cobain cardigans, and mass murder fantasies. In these fantasies, which he describes to his psychiatrist Ben Harmon, he dons black leather clothing, slicks his hair back, and paints a skull onto his face to go on a Columbine-esque killing spree at his school. The look has become one of the signature images of the show and Bernard Herrmann's creepy whistling theme has haunted us ever since.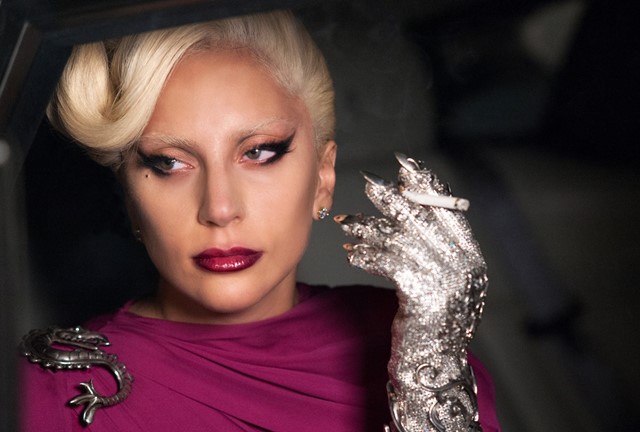 American Horror Story
The Countess
Lady Gaga's character in season five Hotel, the ultra-glam, bloodsucking Countess, is a sexy vampire who lives off a healthy diet of sex and blood. With her platinum blonde hair, bleached eyebrows, dramatic winged eye looks, and blood red lips, she is a classic Hollywood starlet with an added high fashion edge. Sarah Tanno, Gaga's longtime make-up artist who came on board for the show, said she was aiming for "a bomb Daphne Guiness" and a model shot by Steven Meisel for Vogue Italia.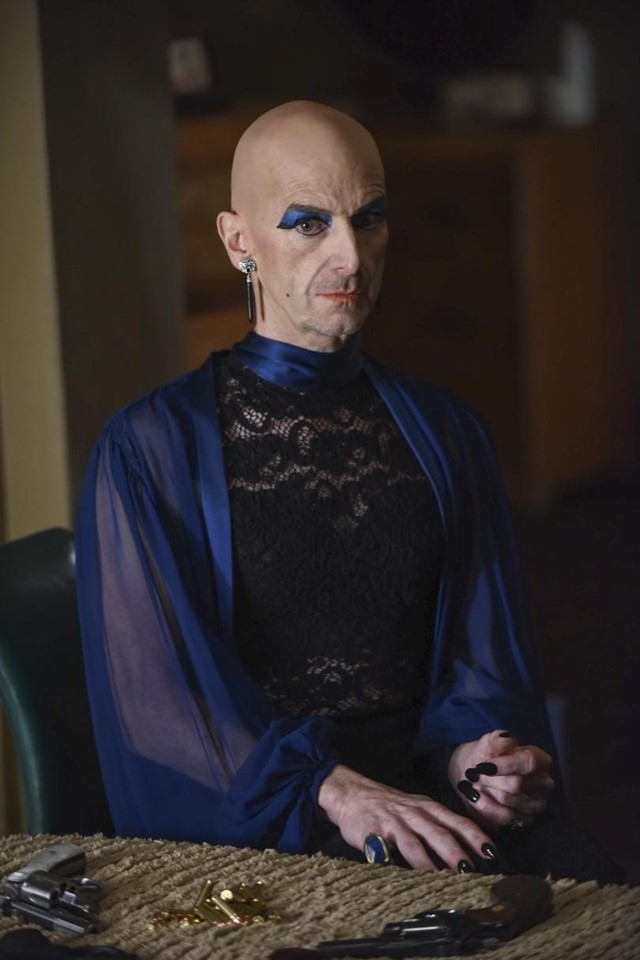 American Horror Story
Liz Taylor
Another season five favourite is the scene-stealing bartender Liz Taylor. As the name suggests, Liz Taylor takes her beauty cues from Elizabeth Taylor, Elizabeth Taylor as Cleopatra to be specific, with the same dramatic eye cat eye look from the film. Alongside the make-up, Liz has fabulous nails, stunning jewellery, and a very bald head which make-up lead Eryn Krueger Mekash has said was inspired by a gentleman who used to work at the Chateau Marmont.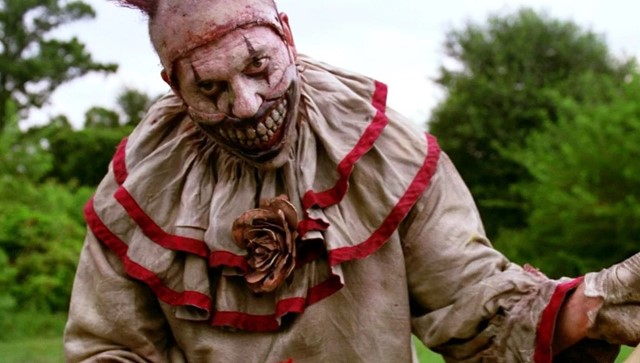 American Horror Story
Twisty the Clown
There's nothing more classic horror than a terrifying clown and season four's Twisty is up there with the best. A serial killer and kidnapper, Twisty wears a unheimlich, perpetually wide-grinned prosthetic mask to cover up his missing jaw which he blew off with a shotgun in an attempted suicide. The grin combined with greasy white face paint, three tufts of hair, unhinged eyes, and a grubby clown costume makes for a truly grotesque final look that would give anyone nightmares. Watch a creepy makeup tutorial to channel Twisty here.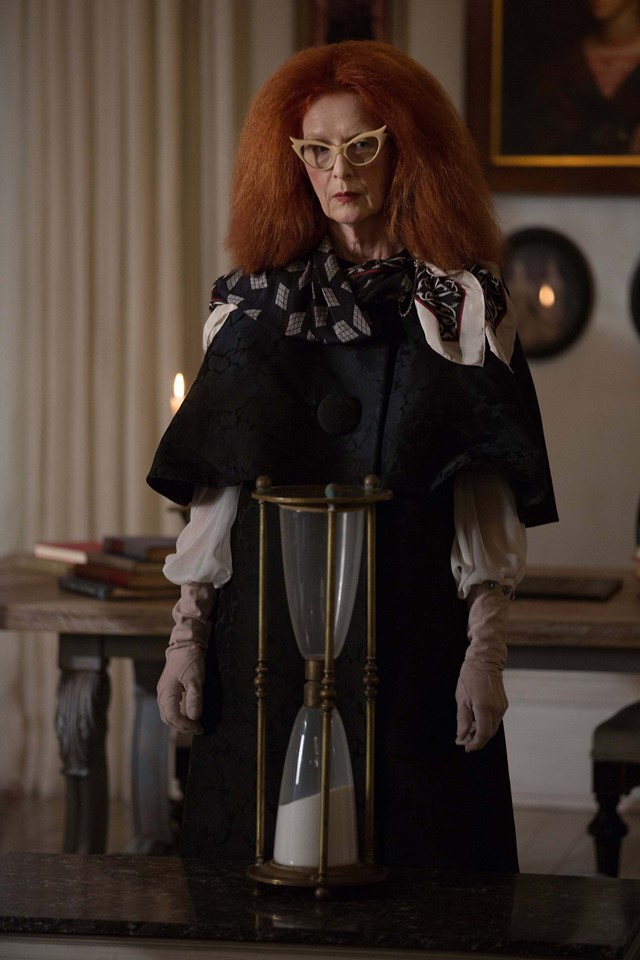 American Horror Story
Myrtle Snow
An obvious homage to the legendary Grace Coddington and her almost as legendary hair, Myrtle Snow from season three Coven rocks fabulous bushy red hair, vintage cat eye glasses, haute couture, and an air of sophistication. It's not just Coddington that the witch owes a debt to, however. Her voice and personality were inspired by another fashion legend Diana Vreeland and actress Frances Conroy studied documentaries on the former Vogue editor to ensure she got it right. No wonder, Myrtle's last word before being burned at the stake was Balenciaga.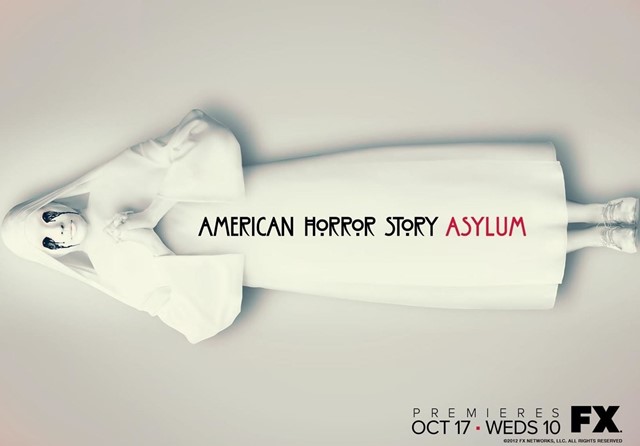 American Horror Story
Bonus: Weeping Nun
The creepy, weepy nun isn't an actual character on the show but made a lasting impression during her appearance in the promo for season two which was set in a mental asylum run by Sister Jude. With her stark white face and clothing and bleeding black eyes, Weeping nun is a ghostly vision and easily recreated as a fun Halloween costume. MUAs and YouTube creators have more than had their fun with some pretty imaginative beauty takes on the promo shots too.