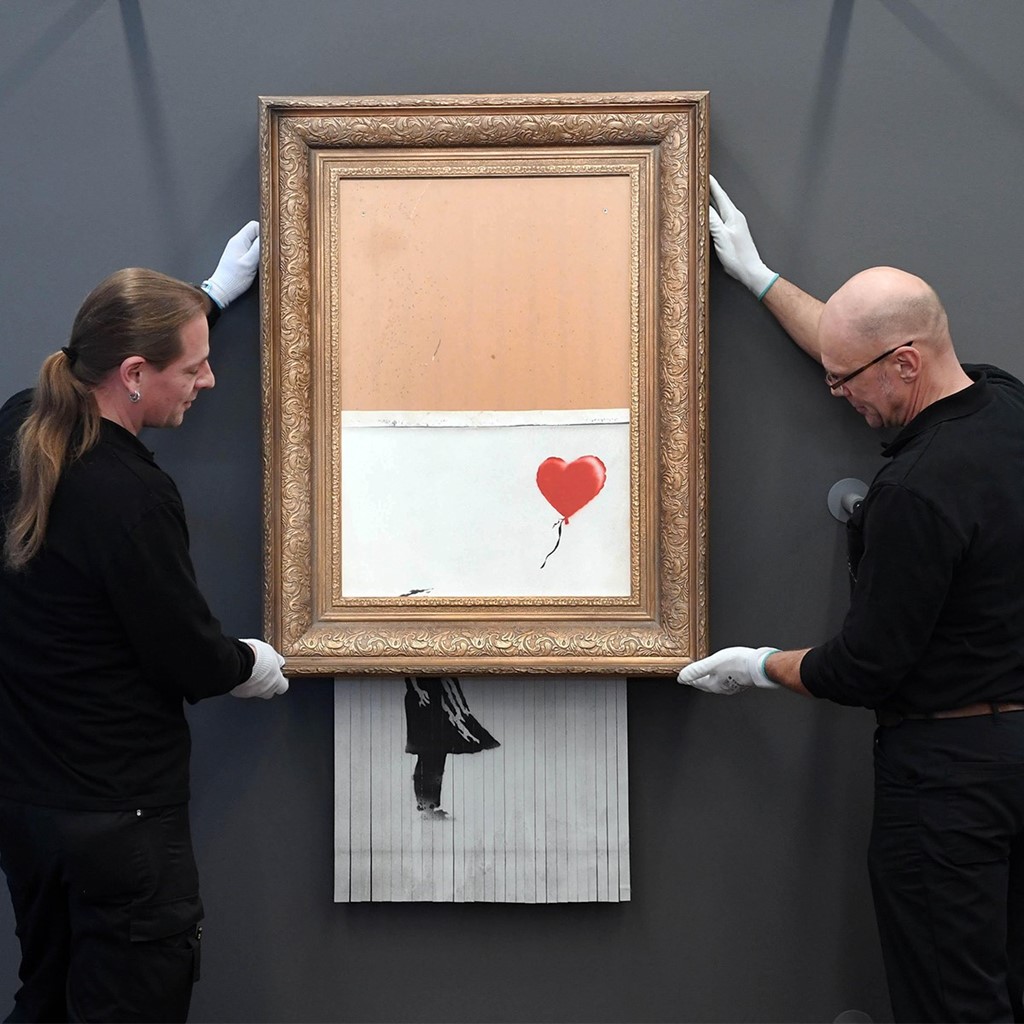 Everything we know about
Banksy
Banksy is an anonymous street artist (real name unknown, obviously) whose work has primarily cropped up across the UK since the early 1990s. He came up as a member of Bristol's DryBreadZ Crew (DBZ), working as a freehand graffiti artist before switching to his signature, stencilled style. As part of the Bristol scene, he became known by other artists such as Massive Attack's Robert '3D' Del Naja and met the photographer and gallerist Steve Lazarides, who would later become his agent.
Any acquaintances that do know his identity have evidently agreed to keep it a secret over the years, though a slip-up by Goldie in 2017 renewed speculation that he is, in fact, Del Naja (a claim Del Naja denies). Other theories include Gorillaz' Jamie Hewlett and, bizarrely, the former Art Attack presenter Neil Buchanan.
Banksy's satirical stencils – which often express anti-war or anti-capitalist sentiments, as well as tackling topics such as homelessness or Extinction Rebellion's climate change protests – gained increasing notoriety around Bristol and London, leading to an impromptu London 'exhibition' in 2001. In 2003, he staged a breakthrough London exhibition titled Turf War in a Hackney warehouse, showing paintings on live animals.
Since then, Banksy has created the subversive Weston-Super-Mare theme park Dismaland– featuring appearances from acts like Run The Jewels and Savages, alongside work by Damien Hirst and Jenny Holzer – and an art-themed hotel on the West Bank, which comments on the Israel-Palestine conflict. 
Reflecting the skyrocketing value of his work, Banksy's painting "Devolved Parliament" smashed estimates to sell for nearly £10 million in 2019. The following year, his 2005 oil painting that adds shopping trolleys to Monet's famous water lilies painting sold for £7.5 million at auction. Still, buyers had better beware, since the notorious prankster sold a self-shredding artwork in 2018 (though the new owner seemingly profited off the prank). In line with his anti-commercial messaging, Banksy has often donated artworks for charity causes. In 2020, he donated refugee crisis paintings to raise funds for a Bethlehem hospital, and funded a rescue boat for refugees attempting to reach Europe.