From Wolfgang Tillmans' new MoMA show to David LaChapelle's larger-than-life photoshoots, we round up the exhibitions you need to see
this month
TO LOOK WITHOUT FEAR, WOLFGANG TILLMANS, MOMA
"What does it feel like to live today?" That's the question unravelled within Wolfgang Tillmans' new MoMA show. Across its sixth-floor gallery, Tillmans' three decades of image-making across multiple forms and processes – from photocopies to magazine pages, abstraction, and portraiture – To look without fear continues his exploration of finding connections between his pictures and social spaces, commentary on political and social issues, and a general sense of "togetherness".

Runs until January 1, 2023
MEMOIRE TEMPORELLE, KALPESH LATHIGRA, HAVE A BUTCHERS
Memoire Temporelle – or temporary memory – is a visual journey of a life that could have been had photographer Kalpesh Lathigra's family never left India to live in the UK. Considering Mumbai as his spiritual home, the photographer made eight trips between 2016 and 2019 to create the images for the book and accompanying exhibition. Memoire Temporelle is a mix of "reflections, portraits, parrots, flowers, and fires" that the photographer describes as "emotional resonances", that is, "from memories that may or may not have happened".

Runs until October 21, 2022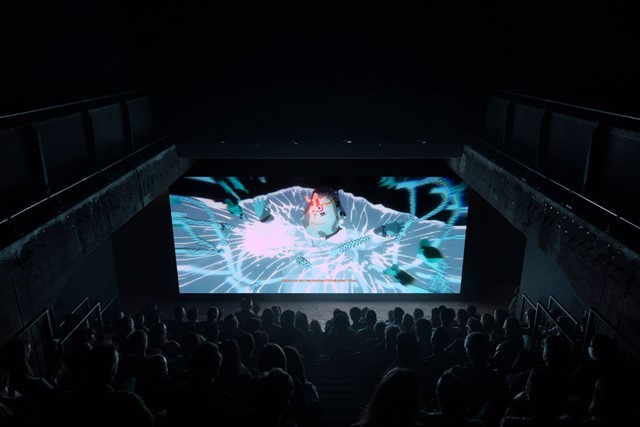 Photography Andrea Rossetti
Ian Cheng: Life After BOB
Never one to shy away from confronting our dystopian realities, artist Ian Cheng's experimental AI BOB returns with Life After BOB: The Chalice Study, asking: "What if AI could do the job of living your life better than you?" Across an eight-part anime series, the tension between technology, human free will and desire was tested – with disastrous consequences. This exhibition expands on this by bringing the animation into a physical installation, set in a frighteningly close 2074
Runs until November 6, 2022
HEAVY IS THE MANTLE, HOLLY-MARIE CATO, LEICA GALLERY
As a child, Holly-Marie Cato attended Sunday service with her now-late grandmother, experiencing first-hand Christianity in the Caribbean community. Heavy Is the Mantle debuts a body of work dedicated to this nostalgia and explores the "spiritual and symbolic mantle of responsibility" that church leaders have, especially continuing the faith into future generations.
Runs until November 1, 2022
DAVID LACHAPELLE, FOTOGRAFISKA
Few people defined image-making in the 90s and 00s quite like David LaChapelle. His larger-than-life photoshoots with the world's biggest celebrities – Tupac, Pamela Anderson, Kim Kardashian – were the overflow of an imagination that knew no bounds. It's not all celebrities, though; much of his more religious-inspired works are on display, as are his hand-painted film works.
Runs until January 8, 2023
KING PLEASURE, JEAN-MICHEL BASQUIAT
Much has been said and shown about Jean-Michel Basquiat's life and work since his death, particularly the last few years, as public interest has soared. King Pleasure is not simply another retrospective but one that adds the voice and perspective of Basquiat's own family. Whether that's a map of New York City marked with notable locations from the artist's childhood, voiceovers sharing family memories, and, even a restaging of the family living room and Basquiat's artist studio.
PHOTOGRAPHIC ETCHINGS, JACK DAVISON, COB GALLERY
Jack Davison is one of those photographers whose work allows you to really look. Whether it's down to how he works in the darkroom or the ideas behind the work, Davison's incredible eye has unsurprisingly made him one of the UK's best photographic talents. Despite this, it's just now that he is receiving a debut solo show on home turf – in the UK – at Cob Gallery. On display will be a selection of hand-printed monochrome images that "have more in common with etchings than with the depthless pixels of the digital sphere", depicting everything from architecture to animals.
Runs from October 7 – November 12, 2022
CAROLEE SCHNEEMANN: 1955 – 1959, HALES GALLERY
For those who couldn't get enough of Schneemann's retrospective at the Barbican, Body Politics, stop by Bethnal Green-based gallery Hales for a spotlight on four pivotal years of growth during the artist's incredible life and work. On view together for the first time is a series of nude figurative paintings and early drawings, "the works demonstrate the importance of the act of drawing – of drawing as action – that would remain consistent" to the artist's practice.
Runs until October 29, 2022
SAFE, GARRETT BRADLEY, LISSON GALLERY
One of the most exciting artists and filmmakers of a generation, Garrett Bradley's inaugural exhibition at London's Lisson Gallery presents the second in a trilogy of short films "that explore the nuanced overlap between women's interior and exterior lives". Safe is the successor to AKA, and. In contrast, while AKA focussed on the exterior, three-channel film Safe turns inwards to explore the interior, which "the artist likens to 'entire worlds which may be elusive or indiscernible, but remain vivid, infinite and parallel to the outside world'".
Runs until October 29, 2022
THIS IS MY SWIM LANE, MARIA SVARBOVA
Almost 100 of Maria Svarbova's incredibly orchestrated photographs – best known for her pictures of swimming pools and swimmers – as well as props, documents, and audiovisual materials, will be on show from this month. Born and raised in Slovakia, Svarbova's images often nod to the trappings of Soviet life that persisted in the years following the fall of the Iron Curtain the year after her birth. Once a student of archaeology, she is meticulous in her details, and the symmetry in many of her images are awe-inspiring.
Runs until February 2023
FRIEZE & FRIEZE MASTERS, REGENT'S PARK
While Frieze itself needs little introduction, it's London's turn to host the art fair, and it returns to its usual spot of Regent's Park mid-month, where hundreds of galleries from around the world will bring their best contemporary artists under one roof. A short walk from the contemporary fair is Frieze Masters, where women will take the Spotlight section by storm, with an all-female curated line-up, from Leonor Fini, Sister Gertrude Morgan, and Nike Davies-Okundaye, among others.
Runs from October 12 – 16, 2022
HYUNDAI COMMISSION: CECILIA VICUÑA, TATE MODERN
Chilean artist Cecilia Vicuña will unveil her new artwork for the annual Hyundai Commission at Tate Modern's Turbine Hall next week. As is tradition, the details are under wraps until the unveiling, but Vicuńa is known for her radical textile sculpture that utilise natural materials and traditional crafts. Throughout her work, she has explored ecology, community, and social justice while drawing attention to Chile's indigenous history and culture.
Runs from October 11 – April 16, 2023
BROKEN SPECTRE, RICHARD MOSSE, 180 THE STRAND
The Amazon is one of the most beautiful, life-giving places in the world, yet we humans continue to squeeze all we can from it. For three years, photographer Richard Mosse documented environmental crimes in remote parts of the Brazilian Amazon, using varying scientific imaging technologies to bring attention to the "world's most crucial yet ignored ecological warzone". Alongside the installation, Mosse will display a series of large-scale photographs from the project that are yet to be exhibited in the UK.
Runs October 12 – December 4, 2022
HUMAN STORIES: THE SATIRISTS, NOW GALLERY
The annual photography display curated by Kaia Charles, Human Stories, returns this year focusing on image-makers using satire in their work. Six photographers – Bubi Canal, Leonard Suryajaya, Nyugen Smith, Thandiwe Muriu, Stephen Tayo and Thy Tran – will exhibit, who "challenge historical and culturally biassed tropes and stereotypes by presenting an alternative worldview."
Runs from October 13 – November 13, 2022
THE BLACK MONKS, SERPENTINE
Earlier this year, artist Theaster Gates unveiled Black Chapel, the Serpentine Pavilion 2022, an immersive structure influenced by the "architectural typologies" found in the Chicago artist's practice, made in collaboration with Adjaye Associates. With a nod to the Rothko Chapel, Gates debuted a series of his tar paintings inside the structure, titled Seven Songs for Black Chapel. In the closing week of Black Chapel, Gates and his band, The Black Monks, will perform "a meditation on sound with nods to ascetic practice" that is as spiritual as it is sonic.
The performance takes place on Saturday, October 15. Black Chapel is runs until October 16, 2022