Gregory Bojorquez's series Eastsiders depicts the raucous, tragic, and joyful reality of growing up in east
Los Angeles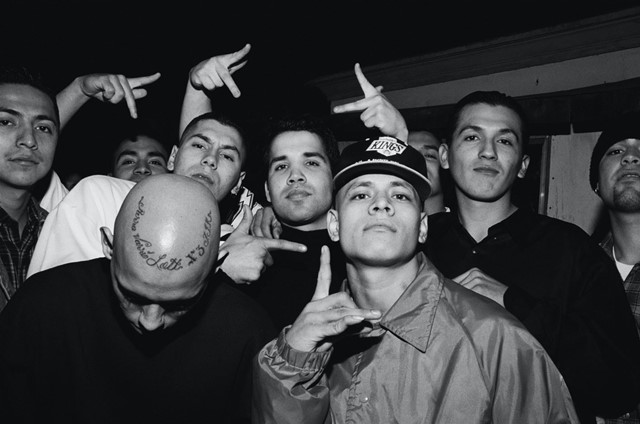 Photography Greg Bojorquez
Friday Night on Twickenham Ave. East LA (1997)
"My Pal, Monk threw a party at his place on a brisk autumn night. It seemed like the only songs being played were from the Westside Connection's Bow Down album. It was pitch black and I was just focusing on the silhouetted heads of my subjects and stopping down to f/11 so I could get focus by the depth of field. I had shot a couple of rolls when all of a sudden there was talk about some 'knuckle head' bald-headed dudes who drove up in a car out front in the street. 
"The DJ announced that the party was over so I started my walk to the car of some friends who I arrived with. By the time I was on the front lawn, I heard several gunshots and at the same time all the people exiting became a wave of humanity hitting the deck kind of like the wave at Dodger Stadium but to not get shot. It was mass hysteria and everyone was just trying to get off that street and to leave with anyone they could. The car I came in was gone so I began my walk home on Beverly Boulevard where I saw a car pulled over by a sheriff deputy. In that car was Wicked, – the kid with the tattoo on his head in this photo – who had been shot in the chest.Story goes that the sheriff deputy called an ambulance to the scene but, by the time Wicked got to Montebello's Beverly hospital a couple of miles down the Boulevard, he was DOA. I took this photo minutes before he was shot and he died of his wounds not long after that" – Greg Bojorquez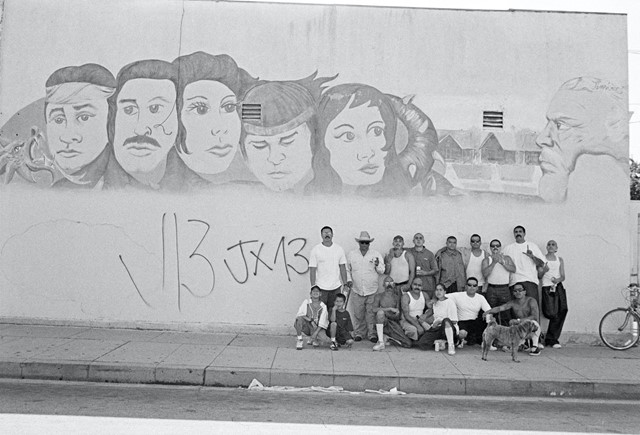 Photography Greg Bojorquez
Orange St. (off Whittier Blvd.), Pico Rivera (1998)
"There was a car wash to help pay for the funeral expenses for a kid named Peter Colonel. I was hanging out at the car wash taking photos and drinking beers and, at one point, someone told me I should take a photo of the neighbourhood mural that was going to be painted over the next day by the building's new occupants. I suggested that everyone should take a photo next to it. It shows the neighbourhood and a vine intertwining and connecting people called 'Jardin'. It has since been painted over and is now a painted faux brick wall' – Greg Bojorquez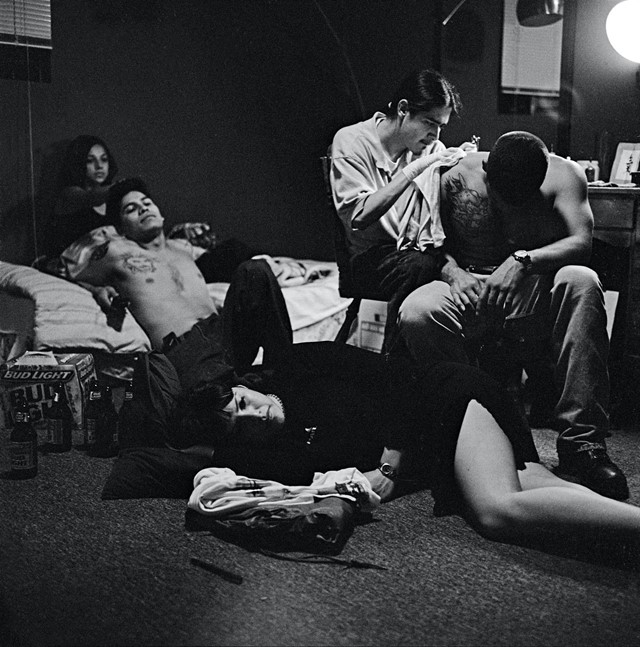 Photography Greg Bojorquez
Monk's Pad, Twickenham Avenue (1997)
"Monk [shirtless, left] had his pad in a back house that was originally a garage. We were hanging out drinking beers when Peter showed up and started tattooing on Jack's shoulder. When I took this photo, we were watching South Park" – Greg Bojorquez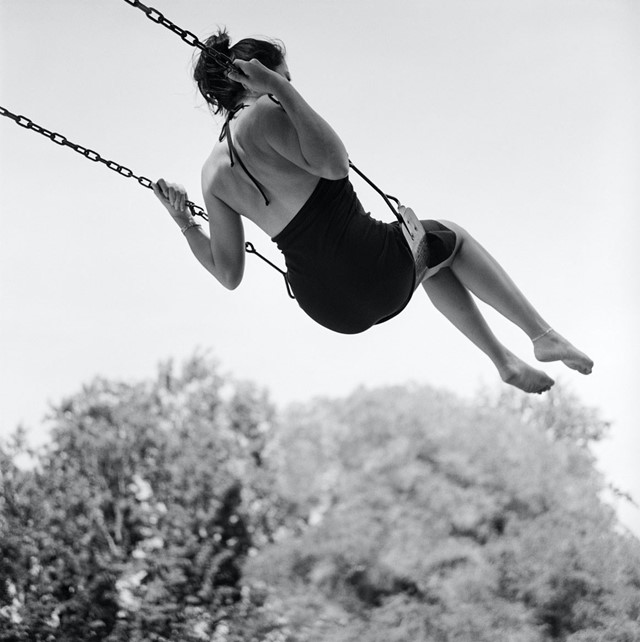 Photography Greg Bojorquez
Michelle, Lincoln Park, Lincoln Heights (2001)
"A few friends and myself went to the winery on Main Street and bought a couple of bottles of Lambrusco.We went to Lincoln Park where we were drinking the wine out of red plastic cups when Michelle got on a swing.I noticed that when she hit her apex, that there was slight pause, so I got my Rolleiflex and snapped the shutter right at that pause. It was a one shot deal. This is the only photo like it on the twelve shot proof sheet" – Greg Bojorquez
Photography Greg Bojorquez
El Atacor, Whittier Blvd. & Lindsay Ave. (1998)
"I have a friend that had kind of a second-hand store-cum-antique shop-cum-rehearsal studio where I would hang out often – drinking beer, smoking J's , watching VHS movies like Repo Man, or checking out the bands rehearsing. I would always walk to the taco stand, El Atacor, the next street over and get a burrito to eat when I was hungry. On this particular night, it was Sunday and there was a group of girls who were waiting for their food. Seasonally, Sunday nights were cruise nights on this particular strip of Whittier Boulevard and these girls were waiting with their Hi8 Sony Camcorder for the night to start happening" –  Greg Bojorquez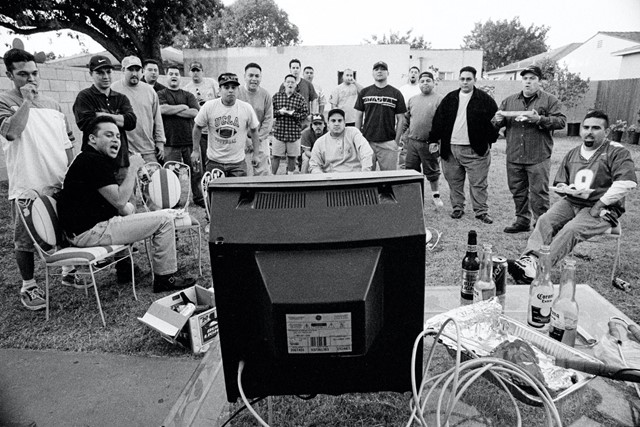 Photography Greg Bojorquez
Little Jen's Pad, Rose Bowl Party, East LA, 1999
"In the L.A., area, even if you never went to USC or UCLA, you pick one or the other to be for and, on this particular New Year's Day, my team – the UCLA Bruins – were playing the Wisconsin Badgers in the Rose Bowl. At one point, the game was tied up 21-21 and it was a close game to the end. It was kind of funny that all the guys were outside in the backyard watching the game while all the girls were inside not really paying attention to the game. My friend Herman who is a USC fan is the one sitting centred to the TV. He was against UCLA  and rooting for Wisconsin and he was really pissing me off. I felt like knocking him off his chair. Wisconsin ended up winning the game 38-31 and UCLA has never been back to a Rose Bowl since that day" – Greg Bojorquez
Photography Greg Bojorquez
Halloween Party, Red Devil Pizzeria (1997)
"Ever since I was in high school, I had friends that worked at Red Devil Pizza. At the time this photo was taken, one of my friends managed a skate shop that was next door so I was always hanging out at that skate shop, it was more of a hangout and we ate a lot of pizza from next door.  When there was a Halloween party at Red Devil, I photographed this girl who made some angel wings for her costume.  Five years later, writer, Luis Rodriguez published a book titled, The Republic Of East LA.  Years and years later, I was talking to an 18-year-old kid from the neighbourhood who told me he read that book in Youth Authority and mentioned Luis wrote about the particular part of the neighbourhood where he lived called 'the Hole' or 'the Gulley' in older times. I showed the kid the photo on the cover of the book online and he kind of got excited that I had taken the photo. Not long after that, I met with Luis in hopes that he would write a forward to my current book, Eastsiders. Luis signed a copy of his book with my photo for my youngster friend. The entire inception of the photo to the gift of the book to my young friend is really cool" – Greg Bojorquez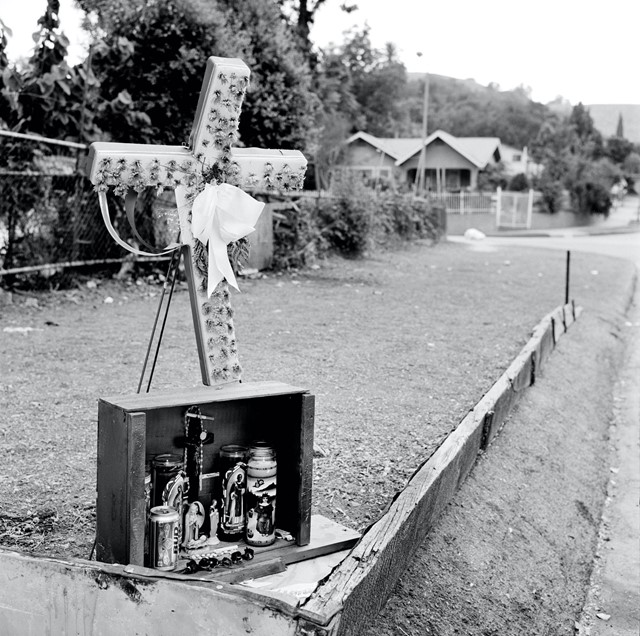 Photography Greg Bojorquez
Guardia Ave. & Wadena St. El Sereno (1997)
"I had rented a room in a house on top of the hill you see in the distance of this photo. It was common to hear gunfire in the distance and that might hold still today.The gunfire was so common that on one particular night the neighbours heard several shots come from this location and thought nothing of it until the next morning when it was discovered a young dude was shot several times and killed on this spot" – Greg Bojorquez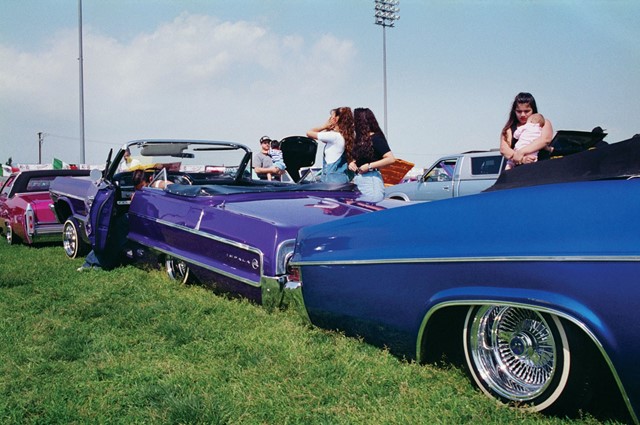 Photography Greg Bojorquez
Garfield High School Car Show, East LA (1995)
"There was a rare low-rider car show at Garfield High School. In previous local car shows at the Pomona Fair Grounds – a potential intersection point of many gangs neighbouring the high school made famous by the Hollywood production, Stand and Deliver – there had been fighting and mayhem going on and that was also anticipated for this upcoming show.
"My best memory of this event was that my dad came out with me to check it out. At one point in his life, his grandparents lived close by Garfield and he had even attended the high school before getting expelled. The day turned out to be mellow and all the fighting that was anticipated never materialised" – Greg Bojorquez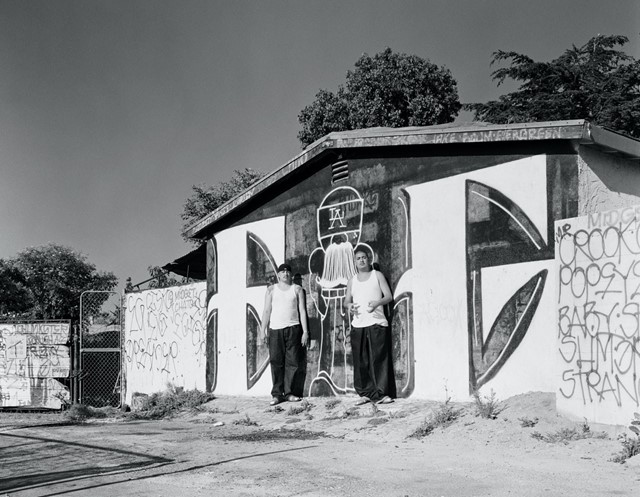 Photography Greg Bojorquez
Evergreen Brothers Jaime (RIP) & Rene (RIP) (1998)
"On this particular Saturday afternoon, I had just finished printing some stuff at the darkroom and set out with my 4X5 Speed Graphic looking to photograph some local corner stores. At the shop on 4th and Euclid, I ran into brothers Jaime and Rene.  After photographing the store, we went to a neighbourhood alley where one of their home dudes painted 'EG' for Evergreen on the wall. About a month later, I heard that both Jaime and Rene were murdered together in a shooting not far from where this photo was taken. Their mother lost her only two sons in that shooting" – Greg Bojorquez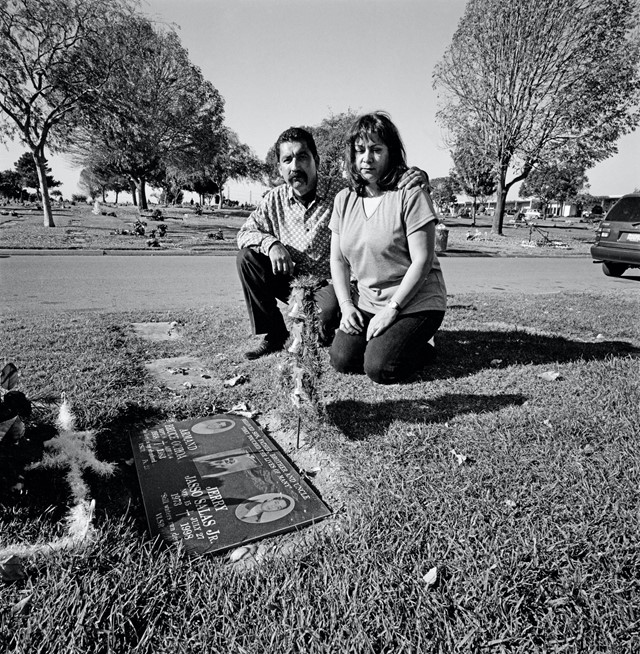 Photography Greg Bojorquez
The grave sites of cousins from rival gangs (1999)
"I went to Resurrection Cemetery in Montebello on Christmas Day to spend a little time at my grandfather's grave and to take a photo of his stone. As I was leaving, I saw this couple and walked up to them with my camera in hand and took a look at the stone they were near. The man spoke to me and plainly stated, 'Don't you think it's kind of weird to be taking pictures in the cemetery on Christmas?" I introduced myself and told them about my Eastsiders project and they told me they were the mother and uncle to the two young guys whose images were on the stone. Below one photo, the inscription read, 'VSGR (Varrio Sangra Rifa)' and below the others is 'VLSR (Varrio Lomas Rifa)'.  
"This is a rivalry that began long before I was born and still continues. You hear about family members being killed by each other's enemies in wars like the Civil War and these are two young guys who met the same fate in the local streets" – Greg Bojorquez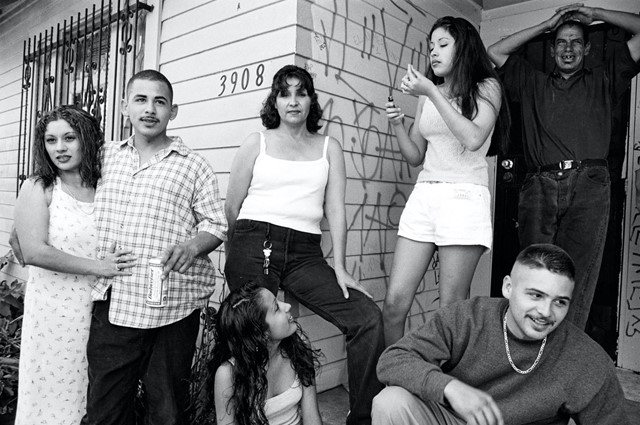 Photography Greg Bojorquez
5th Street, East LA (1998)
"A house was put up for sale and heads from the neighbourhood would hang out there… drinking, smoking, and having a real good time. On this day, the real estate agent drove up with some prospective buyers and when they saw the crowd, the car kind of slowed down and the occupants glanced over and the car continued down the street. Everyone just burst into laughing, including myself. Soon after, the E.L.A. Sheriff deputies started arresting some of the guys for loitering" – Greg Bojorquez