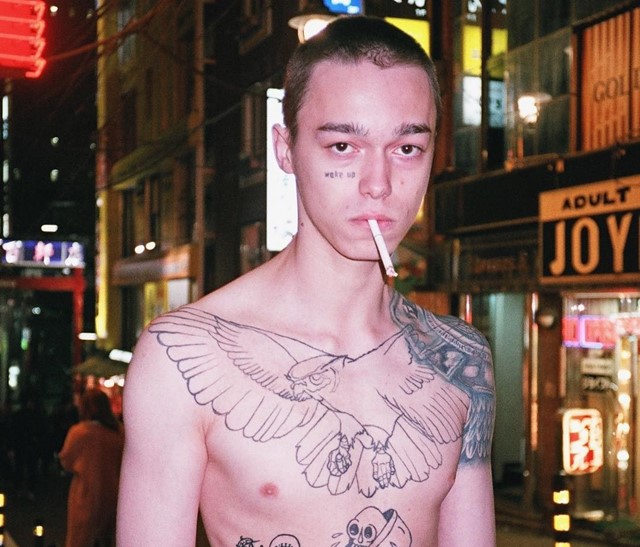 Courtesy of

Sasha Trautvein
The inked-up, Instagram-famous Russian is now modelling at fashion week
Location
St Petersburg, Russia
sashadidntwakeup
Sasha Trautvein stands out – but then again a face tattoo will usually have that effect. The model and scenester has "Wake Up" inked onto his cheek and countless more designs scrawled across his arms, neck and torso – most of which he acquried between the ages of 15 and 17.
Originally from Siberia but now based in Saint Petersburg, Trautvein has amassed a considerable following on Instagram thanks to his tatts and his style. "I use Instagram a lot mainly to show my followers that poor life can be really interesting, that Russian life can be interesting," he says.
When it comes to issues that are important to him, Trautvein cites young people and mental health – particularly in places like his hometown. "Outside of Saint Petersburg and Moscow, there feels like there is a hopelessness especially with a lot of young people where they only try to survive," he says. "It's a condition that I can relate to."
Now a model, Trautvein has found fans in brands such as Heron Preston and Y-3 who have cast him in their shows. This year, the Russian plans to spend time in the UK and US and work on a documentary based on his life. Watch this space...