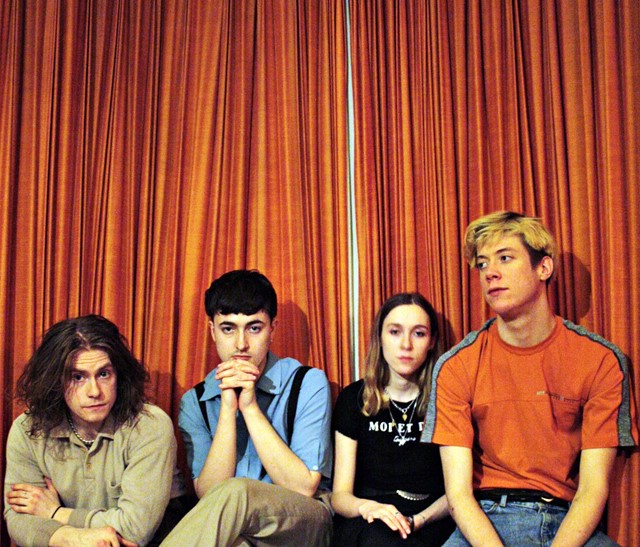 Photography Holly Whitaker
One of the UK's most inventive new guitar groups, writing downer pop songs and touring with Thurston Moore
Ages
Asha Lorenz 25, Campbell Baum 27, Lincoln Barrett 28, Louis O'Bryen 25
Location
London, United Kingdom
sorrybanduk
Emerging from the same scene that brought bands like Shame, Goat Girl, and HMLTD to the fore, Sorry are one of the UK's most inventive new guitar groups. Formed by childhood friends Asha Lorenz and Louis O'Bryen, and joined by Lincoln Barrett (drums) and Campbell Baum (bass), Sorry write downer indie rock songs that sound like a two-day hangover: the rhythms are claustrophobic, the guitars and electronics are racked by distortion, and Lorenz and O'Bryne's twin vocals sound both anxious and exasperated.
Though they're based in north west London, this is a far cry from the tabloid-friendly Camden indie bands that were ubiquitous in the early 2000s – instead, the band cite experimental artists like Dean Blunt and Mica Levi and the early mixtapes of Brooklyn rap collective Pro Era as influences. Sorry's queasy, uneasy sound could only belong to the present: all four members came of age during a decade whose cultural mood was defined by precarity, austerity, and a spiralling mental health crisis.
Having toured with the likes of Thurston Moore, Sunflower Bean, and Alvvays, Sorry are currently laying down their debut album for UK indie label Domino. If it's anything like their two self-released mixtapes or singles like "Lies" and "2 Down 2 Dance", expect one of the most visceral records from a UK band all year.