The Skate Kitchen
Collective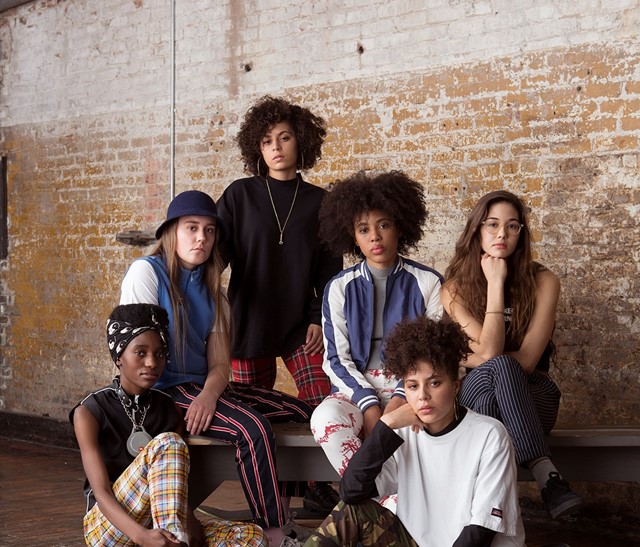 Since kickflipping onto our radar with a Crystal Moselle collab, this New York collective has been tearing up the skater bro stereotype
Ages
Kabrina 29, Nina 25, Ardelia 25, Ajani 25, Jules 24, Brenn 24, Rachelle 24
Location
New York, United States
theskatekitchen
A skate collective based in New York, The Skate Kitchen breezed their way into fashion consciousness after being featured in a dreamy, semi-biographical short by director Crystal Moselle for Miu Miu, That One Day. Made up mainly (but not exclusively) of young women, including Brenn Lorenzo, Jules Lorenzo, Nina Moran, Kabrina Adams, Ajani Russell, Rachelle Vinberg and Ardelia (Dede) Lovelace, their remit is the subtle infiltration of a world still dominated by a certain strain of west coast skater dudes. "Every time I'd see a video of a girl skating the comments would say 'Oh, she should be in the kitchen', so I've kind of been mocking them," explained Vinberg in a YouTube interview with Brett Conti.
The crew spend their time hanging out in skate parks, learning new tricks, filming clips for social media and sometimes pissing off NYC locals with their casual indifference to authority. Sometimes though, they just need time to breathe: "Skating to the bottom of Manhattan is very quiet and dream like after 3am," says Brenn. "The mass amount of dumbass tourists, New Yorkers and taxis that try to kill me are gone so there's room to breathe and skate in the middle of the now empty streets."
As well as skating, the girls each have separate interests – such as art and dance. "Painting, and skating make me feel free. With my art I'm capable of expressing what's bothering me through my paint in many forms," says Dede. "When I'm really deep in to dancing I'm in a sort of trance like or euphoric state. I could dance all day long if I had the freedom of not having to work to pay bills," adds Kabrina.
As well as championing racial diversity they want to give people who don't quite fit the skating mold the confidence to try it out. "I hope The Skate Kitchen serves as an affirmation for people who aren't sure if they can join the skate scene for whatever reason," Rachelle said to Dazed. They're now working on a coming-of-age feature film with Moselle, and producing a skate zine.