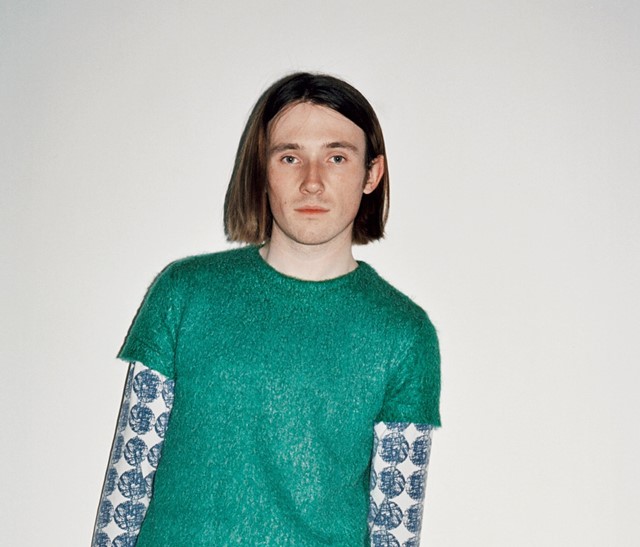 Photography Chris Rhodes for

AnOther Magazine
Upon meeting Richard Malone, you'd never guess he spent his formative years working on building sites: he is petite, often dressed in his own, avant-garde creations, and devoted to Miuccia Prada, Azzedine Alaïa and Rei Kawakubo. Yet the 25-year-old designer hails from Wexford, a small town in the south west of Ireland, and created his graduate collection in a self-made shed at the end of his parents' garden. Irish citizens aren't eligible for student loans, so when he was at Central Saint Martins he would go back home to save money – and this resourcefulness has (sometimes literally) permeated his collections. When his town was hit by the recession, he used the surplus masonry paints from his father's construction business to decorate the knee-high boots that accessorised his sculptural tailoring. His SS16 collection used the shape of his mother's Argos uniform as a key reference, and the patterns from her old cookbooks to inform its embellishments.
But charming stories aside, it isn't Malone's tales of fashion hardship which have established him as such an important new voice in the industry: it is his dedication to celebrating the bodies and lives of women through genius pattern-cutting and beautifully tailored garments that make his (very new) eponymous label so resoundingly brilliant.
"I focus primarily on cutting and silhouette," he explains, "although comfort is always something I really consider." And, with show pieces which almost magically pop into sculptural shapes as soon as he pulls them out of a bag (or a washing machine), Malone's skill for making garments that are actually ready to wear is remarkable. In an industry that sometimes forgets the women it designs for might actually want to wear its clothes, his approach is both refreshing and empowering. "Maybe if some of the big designers actually spoke to the women who were buying their clothes, they would understand that women have shit to do in the day as well," he laughs. "Why would a woman not want a pocket in her skirt to keep her phone in? Why would she need to be waist-trained to fit into a dress?"
Text Olivia Singer