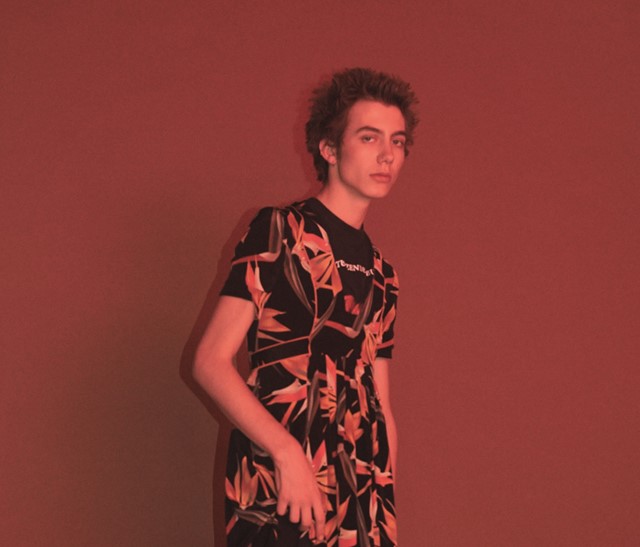 Photography Johnny Dufort, styling

Lotta Volkova
"I guess being looked at is quite a turn-on," says French model Paul Hameline nonchalantly, speaking on his profession. Decidely punk, Hameline's attitude has caught the attention of brands including Hood By Air, Maison Margiela, Prada and Vetements – and yet the 20-year-old maintains that he's more than just a pretty face. "I'm quite picky about the jobs I do – I love to shoot with my friends," says the Tomorrow Is Another Day-signed model. "If that's not the case, I like to work with a team that appeals to me – I can be quite hard to convince." In the past, people who have managed to convince Hameline include a slew of fellow Dazed 100-ers – like designer Demna Gvalasia, stylist Lotta Volkova and photographer Harley Weir.
When he's not modelling, Hameline focuses on his other creative outlets, one of which is art – he creates collages inspired by cult cinema, artist Francis Bacon and gothic rock band The Sisters of Mercy. This year, he's working on a publication which, along with its corresponding exhibition, will also showcase his friends' art.
Hameline also plays music and acts – last year, he made his silver-screen debut in Dennis Cooper's sexually-charged Like Cattle Towards Glow. This year he is also working on Lost Boys, an independent project which seeks to organise parties filled with DJ sets and post-punk music. "You know when you go to a concert and it finishes, but the night is still young? Frustrating, isn't it?" he says. "Well, with Lost Boys, the concerts will go on until dawn."
Text Biju Belinky