Asmaa Walton is making rare, overlooked, and excluded Black art accessible to the internet generation, with gems including photographs of everyday life in Harlem to the first US art exhibition dedicated to
Black artists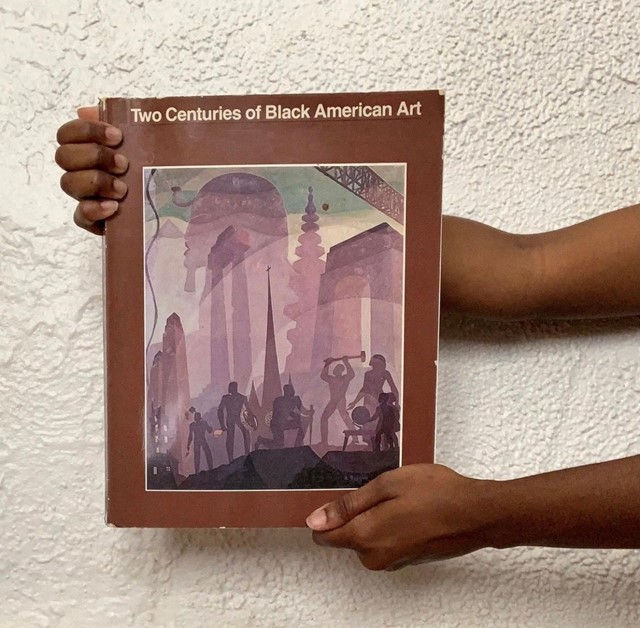 Courtesy of Black Art Library
TWO CENTURIES OF BLACK AMERICAN ART (1976)
In 1976, artist David Driskell curated Two Centuries of Black American Art, the first major museum exhibition dedicated to Black American artists. The exhibition is the starting place for Black Art: In the Absence of Light, and reveals the importance the book played in bringing art to the people.
"I bought this book over the summer. I lucked up because I found a copy on a used book website for under 10 dollars. I was super excited and feel like the price for the book will go up. It's not a huge book – it's not as big as you would think, which is interesting because it's this large chunk of time tracing these artists and it's a pretty thin book. The interesting questions are: which artists are left out? Which we still don't have a documented record on? It made me think about how much information we've missed out on that might be lost forever.
"This book is a start. At this point it's an old text but it's still relevant because a lot of those artists are not widely known and there's still a lot of information that's new to people. The book is important. Beyond the book, what it symbolises and shows is equally important."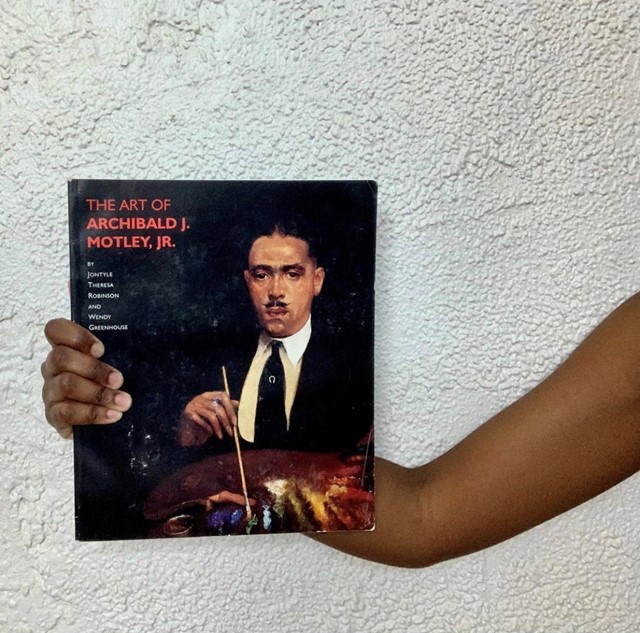 Courtesy of Black Art Library
THE ART OF ARCHIBALD J. MOTLEY, JR.
Archibald J. Motley Jr. (1891-1981) was one of the leading visual artists active in the Harlem Renaissance, chronicling the everyday life of Black Americans during the 1920s and 30s in his signature colour paintings. Motley's commercial success catapulted him to the top, becoming the first Black artist to have a solo exhibition in New York City and the first Black artist to have a portrait of a Black subject at the Art Institute of Chicago.
"All of Archibald J. Motley Jr.'s work uplifts you. People fall in love with their work. The colours are vibrant and the themes, they come to life looking at them. The book I got is a bit old but the colour plates capture his work beautifully. I don't know if I ever will see a work of his in person, so this does a good job.
"Motley is underrated. Many people aren't familiar with his work, or they don't realise they are, because they don't know anything about him. I've seen a lot of artists' work from the Harlem Renaissance repeated and don't realise until later that's what I was looking at. You can tell the time period these were made, but the work is still timeless. I'd love to see his work next to someone who is more contemporary and documents similar scenes."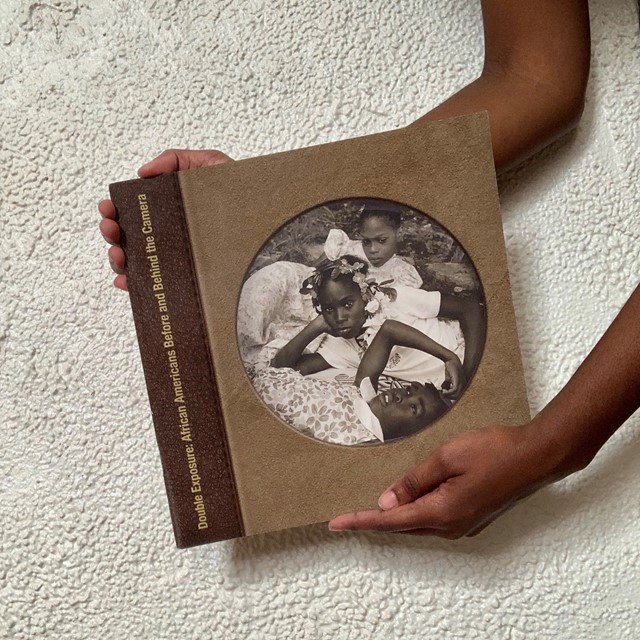 Courtesy of Black Art Library
DOUBLE EXPOSURE (2006)
Double Exposure: African Americans Before and Behind the Camera is the exhibition catalogue for a touring museum exhibition that showcased 90 vintage photographs from the Amistad Center for Art & Culture's historical collection of art and artifacts from the 19th and 20th centuries.
"I really enjoy the photography books that I have in the collection. Some people aren't sure if photography books are included in the library or if I include photography in visual art. I do. There's so much work that goes into taking a photo, just one singular photo, that these artists are doing within those few seconds – it's a beautiful art form.
"There are so many photographers that have been documenting history and shaping and showing life in more realistic depictions as opposed to that white gaze. They are providing a more authentic view and sometimes that view is different than what the viewer might have been expecting.
"Thinking about photographers that have shaped history, the first person I think of is Gordon Parks. He documented so many important events in history. He had a photojournalistic approach but there's also an artistic approach to his photos. Carrie Mae Weeems also helped shape history. I think she's a little underrated. She's so huge in my mind and has the potential to be so much bigger because of the way she's able to capture Black women and girls. I can't even describe it but it's beautiful."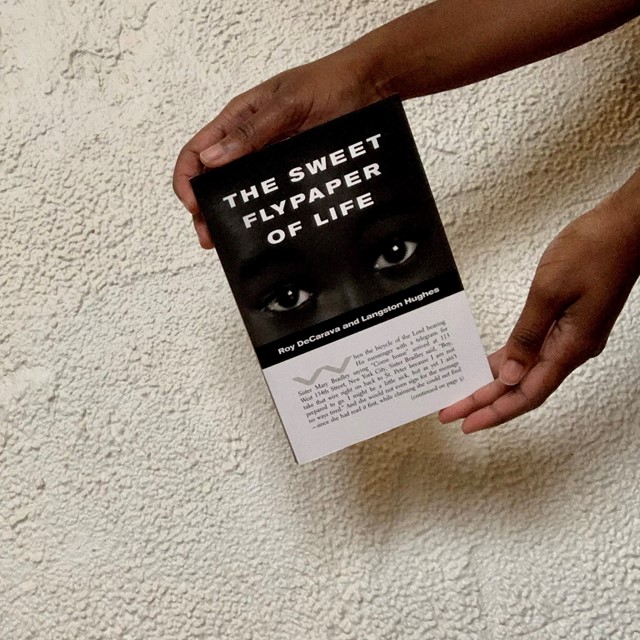 Courtesy of Black Art Library
THE SWEET FLYPAPER OF LIFE (2018)
In 1952, Roy DeCarava became the first African American photographer to win a John Simon Guggenheim Memorial Fellowship, which he used to complete a portrait of Harlem that would become The Sweet Flypaper of Life, a collection of photographs of everyday life in Harlem accompanied by a fictive narration by renowned poet Langston Hughes first published in 1955.
"This book is beautiful because it's a combination of so many amazing things about Black art: poetry and photography but spanning different time periods layered on top of each other in this way to create this new kind of art. It shows how dynamic art can be and the different ways art can be interpreted and consumed. This might be different from someone reading a Langston Hughes poem or looked at a Roy DeCarava photo. This is a wonderful opportunity to have a great combination and collaboration of Black art."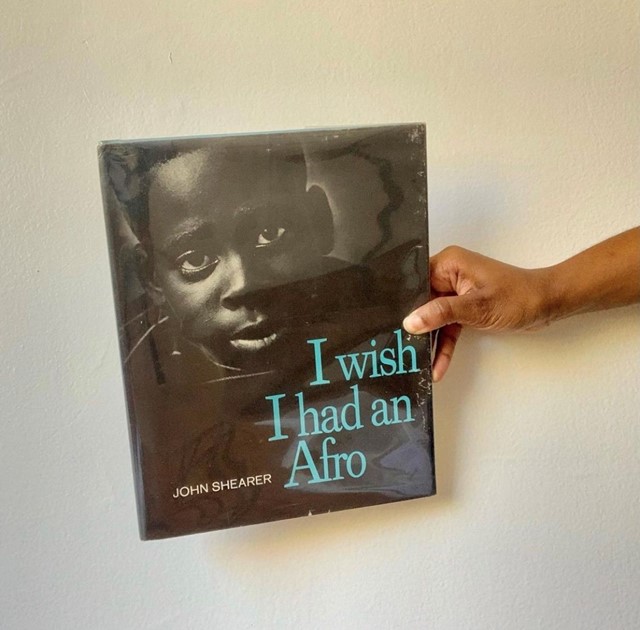 Courtesy of Black Art Library
I WISH I HAD AN AFRO (1970)
Photographer and author Jon Shearer became a staff photographer for Look and Life magazines in 1970, the same year he published his first book, I Wish I had an Afro, a YA nonfiction story chronicling the challenges of raising a Black boy in late 1960s America.
"I don't even remember how I found this book but when I saw it I was like, I have to get this book! It was the cover of the book that struck me. It's a pretty small book too. It tells the story of this young boy and it's a book anyone can read and enjoy. It's not a kid's book. A younger audience can read it and follow along but it's a striking book on its own. I thought it was beautiful and wanted to have it for the collection.
"I don't even know if I finished it. There are so many books in the collection now. Over the past few months, I have books getting delivered every day and I don't have as much time to sit with them as I was in the beginning. That's why I'm so excited about the exhibition; I can finally sit down and spend some time with them. I want to pick this up again and finish it."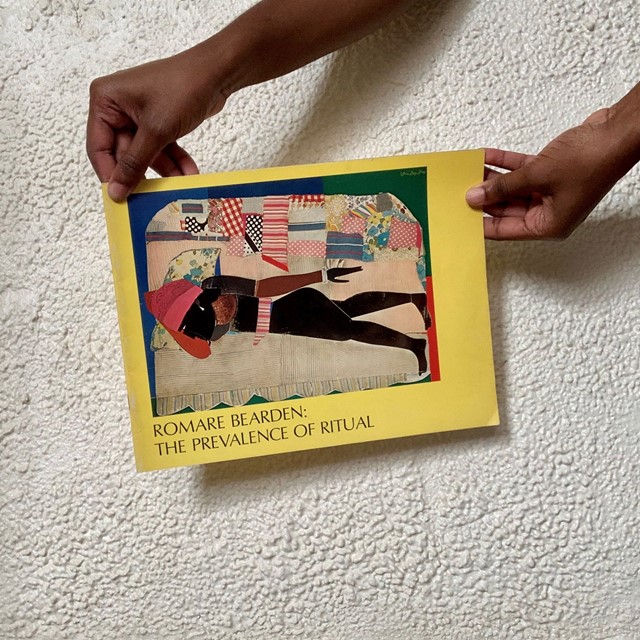 Courtesy of Black Art Library
ROMARE BEARDEN: THE PREVALENCE OF RITUAL (1973)
In 1971, the Museum of Modern Art exhibited The Prevalence of Ritual, the first major solo museum exhibition of Romare Bearden's celebrated collage work. Bearden first took up collage in 1964 during his tenure as leader of The Spiral Group, the short lived but highly influential Black artist collective based in New York City. He imagined collage as a collective action, but other members of the group were disinclined to participate so Bearden continued forth, creating scenes of daily life that would become some of his best-known work.
"When I am thinking of Romare Bearden's collages, 'The Block' is the most relatable one. It could capture the attention of the average person that isn't planning to go to MoMA. I briefly lived in New York, it was only about a year, but I think about how that image is so relevant. It's the things you see every day if you live in New York and you're walking down the street: your family, friends, neighbours, and local shops.
"I wish Romare Bearden was someone I could have met. He was well loved and deeply involved in community work. His art reflects where he came from and his community. Collage is amazing. It's really accessible because there's so much to look at and there's a lot of space for your own interpretations.
"Bearden was a huge part of art history. This book is gigantic! A friend of mine went to see the exhibition and this was the book he spent time with. He told me, 'I need to have that book!' It's hard to find and very expensive, but I feel like it's a must have. You definitely need one of his books if you have an art book collection."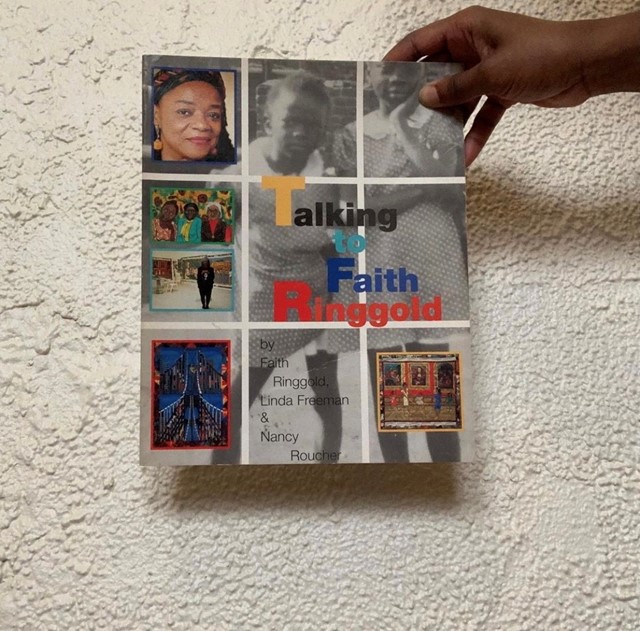 Courtesy of Black Art Library
TALKING TO FAITH RINGGOLD (1996)
Artist, author, activist, Faith Ringgold is one of the greatest artists of the twentieth century, but she has yet to receive her proper due. As a Black woman working during the Civil Rights Movement and beyond, Ringgold challenged the establishment, the patriarchy, and never compromised her work. "I did what I wanted and I paid the price," Ringgold says in Black Art: In the Absence of Light.
"Faith Ringgold is one of my favorites. I love all of her work and she's so dynamic. This book is one of the ones I haven't read but my favorite ones in the collection are the children's books that she wrote and illustrated. She was doing so much, and sometimes I think, 'Does anyone know all these things she has accomplished?'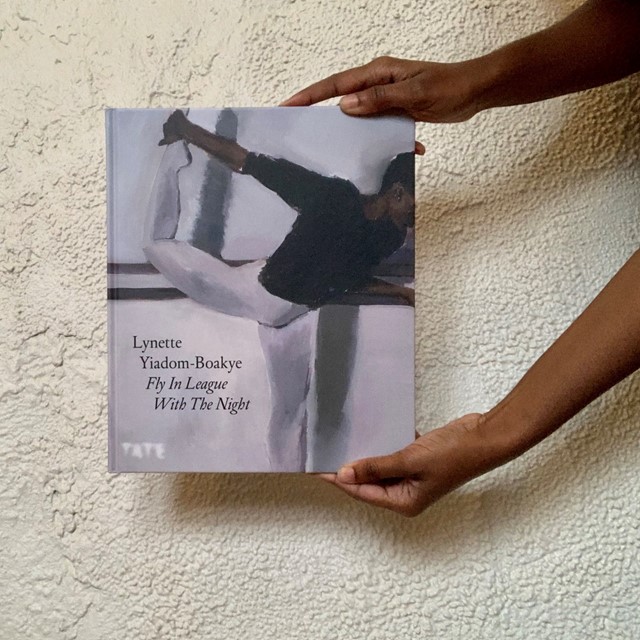 Courtesy of Black Art Library
LYNETTE YIADOM-BOAKYE: FLY IN LEAGUE WITH THE NIGHT (2020)
British artist Lynette Yiadom-Boakye is taking the world by storm with her extraordinary portraits of fictional folk, which she conjures from the depths of her rich imagination and lovingly renders in paint. Fly In League With The Night is the exhibition catalogue for her major touring museum exhibition now on view at the Tate through May 19, before traveling to Modern Museet (6/12/21–9/05/21).
"When I think about painters coming into the spotlight right now, I think of Lynette Yiadom-Boakye. Her work is dark, moody, and beautiful all at the same time. Everything about her work is exciting to me. I first started seeing her work last year, and I'm excited to see her getting some shine and looking forward to what is going to come out of her work.
"There are a few other young artists I love, in particular Tschabalala Self. I love her work. It's bright, vibrant, and different. She recently put out a vinyl talking about her thoughts behind her last exhibition and I wanted to buy it for the library. I contacted the gallery and they said she wanted to donate it. She's very early in her career but she's doing so well. I'm excited to see where all these Black artists will be 10 years from now."