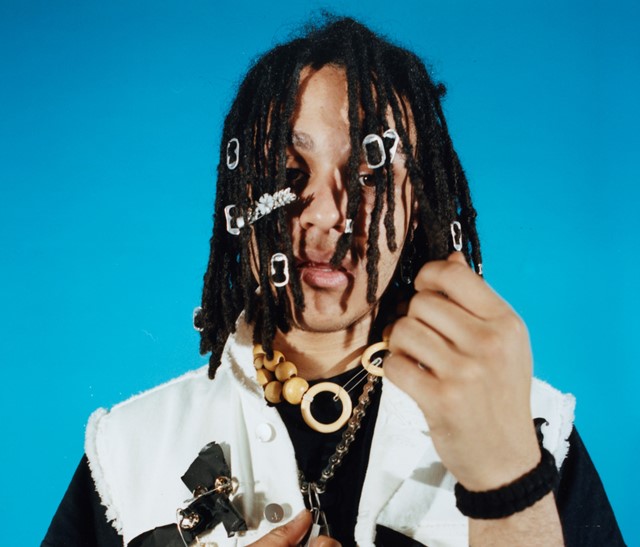 Photography Hanna Moon, styling

Ibrahim Kamara
Not content to sit in his cave daydreaming, Lewisham artist Ryan Hawaii is using his anarchic creations to take the initiative in 2017
Location
London, United Kingdom
In 2016, punk artist Ryan Hawaii moved out of his home and found himself couchsurfing. While this could have been a reflection of the rebellious spirit he became known for in 2015, when he was kicked out of Selfridges for holding a "flash sale" of his own clothing, in reality it pointed to something more ominous.
"I don't regret it, I learned a lot about who actually gives a shit," says Hawaii, a prodigal polymath who feels that his generation are "finding themselves younger" thanks to the internet. "But let me just be real, innit. I didn't know at the time, but I was in what's called a 'bipolar manic state'."
Now back living with his family, he's continuing to do what he does best – create youth-driven, punky artwork and clothing, often out of recycled goods. "I've never felt no type of way about wearing something that's second-hand," he says – and he doesn't expect his buyers to, either.
Hawaii has spent most of his life in Lewisham, which he says is "one of the last areas in London to be gentrified". He attributes a fair portion of his creativity to his borough's surroundings (along with his mum raising him to be a "free thinker").
"We're a generation of kids who grew up through rough times but were also wise enough to not be doing those things because they're short-term – petty crime and badness," he says gruffly. "So instead we turned to creative outlets, which is why I think there's so much talent coming from south-east (London).
When we discuss the recent explosion of gentrification in the area, he explains that he's not against change, "but the creative people need to be the ones to be opening our clubs and doing things".
Although naturally anti-consumerist, Hawaii understands the importance of working with brands, explaining a tentative plan to go to Cuba (he has Cuban-Jamaican heritage) with the support of companies he's friendly with. "It works out to buy a pair of Converse (in Cuba) is the equivalent to one month's wage… If I'm just sat in my cave saying 'fuck everyone', how will I be able to change anything?"