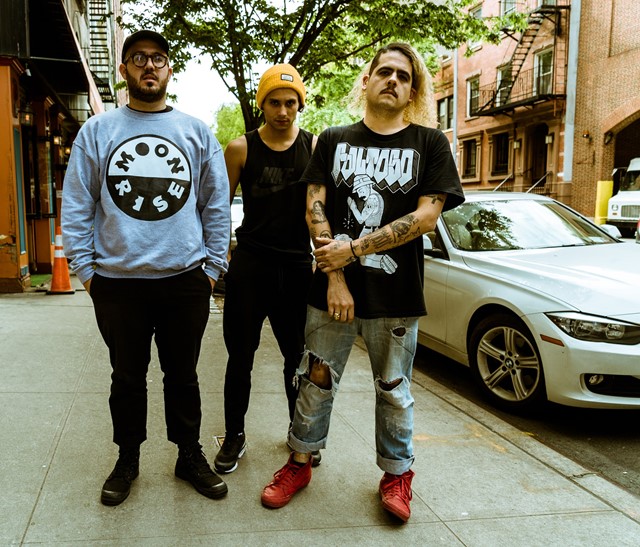 Photography Maxwell Schiano
As the wildest DJ crew and label in Mexico, N.A.A.F.I is at the forefront of a new freedom spreading through the global underground
Location
Mexico City, Mexico
N_A_A_F_I
Mexico City's N.A.A.F.I (No Ambition And Fuck-all Interest) is a club night, record label and squad that holds wild parties with slick sets across Latin America and beyond.
At just one of the crew's wild basement parties in 2017, New York's LSDXOXO  – the first artist GHE20 G0TH1K released as a label – played alongside locals Oly Duly and Wasted Fates. The atmosphere was unreal, with a circle-pit dominating part of the club where Mexican kids were voguing with each other amid a backdrop of sonic assaults coming from the DJ booth.
The scene was emblematic of a new freedom spreading through underground clubs across the world. The days of six-hour progressive house sets are thankfully dying, replaced by DJs twisting tracks at super-speed over 60-minute sets, where a Rihanna edit carries as much weight as a reggaeton banger or a Slipknot blend.
The meaning of 'local scene' has been changed forever by our ability to exchange ideas in seconds, and these fresh attitudes to tunes and looks have spread from New York's GHE20G0TH1K club night to London's Endless and Bala Club collectives, and the European crews Staycore and Janus. N.A.A.F.I appears to share the same DNA as all the aforementioned anarchists, although N.A.A.FI are adamant that "they all develop and respond to radically different contexts. We're excited about the collaborative networks that some of these scenes have generated, not so much about sharing the same vocabulary."
Mexico City is an incredible place to see – rich in colour, history and with a clear sense of an exciting cultural future. N.A.A.F.I say "it's young, raw and that there is space to develope or to make new things. Not everything is contested." As for the future, N.A.A.FI (which they say actually stands for Navy Army Airforce Institutes) say that they "see it becoming more professional and diversifying its formats. Maybe film, research, editorial. It's also a project that is growing with our age and needs."
Listen below.