Amandla Stenberg
Activist, Actor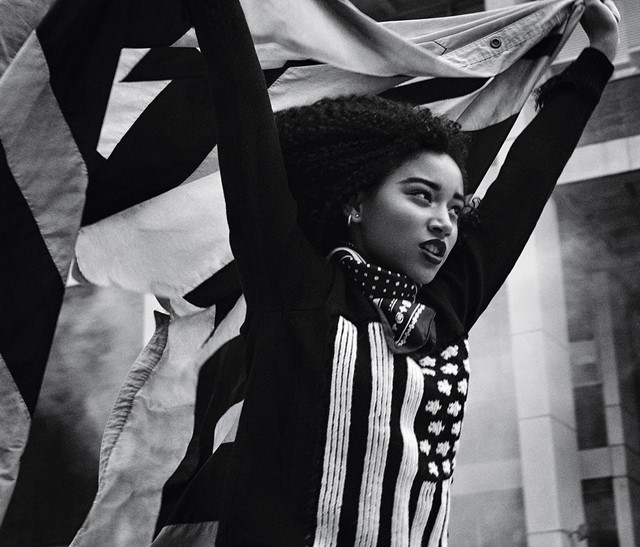 Photography Gregory Harris, styling

Robbie Spencer
"I think people discredit teenagers and how wise they can be," says Dazed cover star Amandla Stenberg. "Sometimes I meet teenagers who are much wiser than many adults I've met, because they haven't let any insecurities or doubts about themselves get in the way of their thoughts." The 17-year-old actress and activist certainly isn't short on wisdom. In fact, it's her outspokenness on race, gender and sexuality that has positioned her as one of 2016's most important voices.
Starring as Rue in The Hunger Games at the age of 12, Stenberg found herself on the receiving end of racist abuse after the film catapulted her into the spotlight. An unexpected byproduct of being a young black actress in one of Hollywood's biggest franchises, the backlash proved formative in shaping Stenberg's thoughts on inequality. "Even though it was painful, it was important to experience it, because it connected me in a very real way to the struggle that millions of people endure every day," she says.
The LA native has since evidenced her passion for fair and diverse representation by voicing her admiration for fellow agenda-setter Jaden Smith and his gender-bending style, unpicking cultural appropriation in her viral video "Don't Cash Crop My Cornrows", and openly discussing her bisexuality. Tumblr is one of the platforms she credits as key in forming and developing her critical outlook. "Tumblr has totally informed what I'm interested in and what I care about, especially when it comes to social justice," she says. "It's such a cool platform for learning about black and trans rights."
Next, Stenberg will release the second edition to her self-authored comic book Niobe: She Is Life, a fantasy dark-magic narrative with a kickass black female lead. She'll also star in As You Are, a feature length following the relationships and loves of three teen outcasts, later this year.
Text Monique Todd