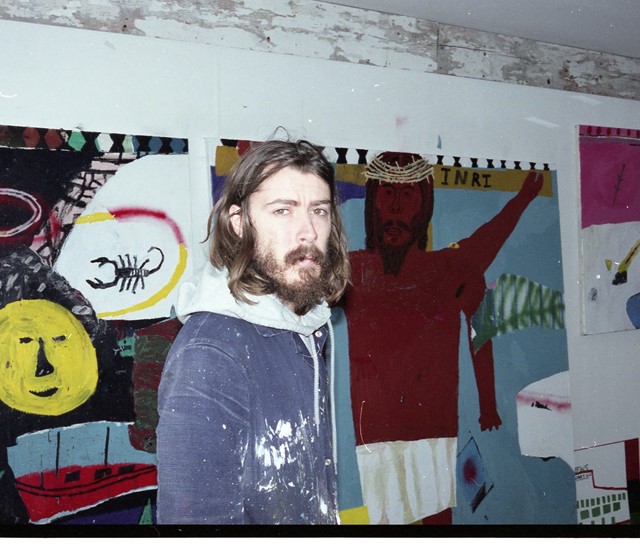 Photography Jackson J. Whitefield, courtesy of

Danny Fox
"I've always painted from self-experience, using women and family as the inspiration, the typically painful and personal subjects in life," Danny Fox told Dazed last year. "I just got sick of it – sick of my own bullshit. So I started painting the things I enjoyed in life: drinking, strippers, figures from history books, TV and movies." The English painter's work revels in an uninhibited freedom, brightly coloured splashes of paint forming body parts in intentional imperfections that belie the sturdy character of his compositions.
The first thing the Cornwall native ever painted was a fishing boat, a work that now hangs on his grandmother's toilet door. The paintings he produces now couldn't be more different. In recent years, he's painted Thai ladyboys, strippers from The White Horse bar in Shoreditch, and scenes inspired by Quentin Tarantino's Django Unchained. Often giving his paintings comical titles like "you don't see doves at BBQ's" and "what are cornish boys to do?", Fox's Tumblr serves as an online gallery of his work, annotated with handwritten notes in black marker.
When looking at his nude studies, in particular, it only seems natural to draw parallels between his work and that of Picasso and Gauguin. But, while the self-taught artist may bear some semblance to the modernist greats, Fox insists on marching to the beat of his own drum. "I don't really believe in advice," he explains. "All mistakes turn into something new anyway. A nice painting is made of thousands of mistakes." With a few solo shows and a Saatchi Gallery Magazine cover under his belt, expect more risque artwork from Fox in 2016 – after all, as he says himself, "the year is still young".
Text Ayla Hibri