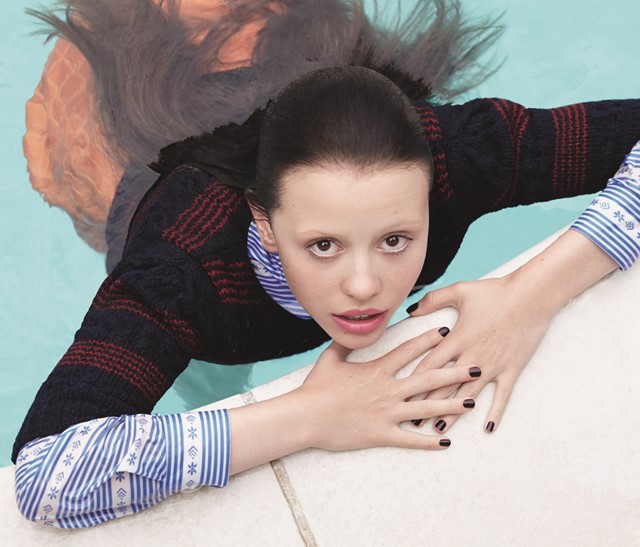 Photography Ben Toms, styling

Robbie Spencer
"I just love roles that scare me," says London-born actress and Dazed autumn/winter issue cover star Mia Goth. "Roles that are far away from me – the further away the better! You have to take that step and morph yourself into someone else."
Goth's hunger for the unknown is mirrored in her left-of-centre repertoire, such as Lars von Trier's sex-epic Nymphomaniac – in which her role as P memorably saw her piss on co-star Charlotte Gainsbourg. For this year's The Survivalist, a claustrophobic post-apocalyptic thriller about the last of the human race, she eliminated daily hygiene rituals in order to channel her character's grim reality.
Her commitment and willingness to dive head-first into the extreme makes her one of the most exciting young talents around. Indifferent to anything social media-related – "I'm a bit of a grandma, I don't really understand the Twitter and the Instagram" – Goth prefers purposeful introspection to online exhibitionism. "The better you know yourself, the better you are at your craft," she says. "My only goal is to be the best actress I can be. You have to give it everything. All I have as an actress is the revelation of my soul."
Appearing doe-eyed and innocent in Miu Miu's AW15 campaign, Goth confirmed her unwitting flair for provocation, this time in the fashion realm. The campaign was accused of portraying Goth as underage, but the 22-year-old was vocal about not being manipulated. "Never did I feel exploited or undermined in any way."
In any case, Goth thrives when pushed to the edge. And in an age where everyone is hyper-sensitive to the opinions of others, she couldn't care less.
Text Monique Todd