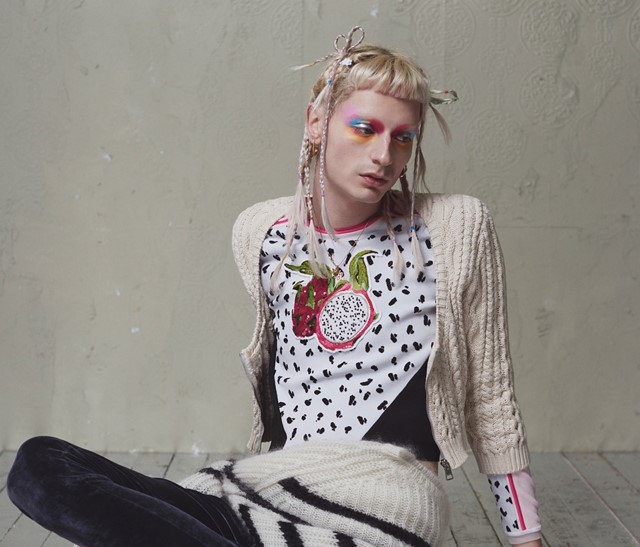 Photography Sarah Piantadosi, styling

Elizabeth Fraser-Bell
From his rainbow baby fringe to his equally colourful eye shadow, burgeoning fashion designer, stylist and make-up artist Matty Bovan is anything but understated. Currently working for Louis Vuitton, the Central Saint Martins knitwear grad is one of Marc Jacobs' recently unveiled SS16 campaign stars. In fact, the designer enlisted him to collaborate with fellow CSM alum Amie Robertson on the look he's pictured wearing, a glitter-graffitied tracksuit that hit the runway at last season's theatrical extravaganza. As for the rest of Bovan's designs, he describes his style as "stretch, lurex, colour, drippy, sculptures", citing "music, TV, my garage and crap shops" as inspiration.
"The most exciting thing about being a designer today is doing something exciting with energy and showing your own vision," says Bovan, who will release a capsule collection later this year. "You have to be quite brave to be a creative in this climate. It's a risk, and I see labels go under every week, but people are still pushing themselves and pushing boundaries." Unapologetic in his vision, it's clear that Bovan is doing just that.
Text Biju Belinky