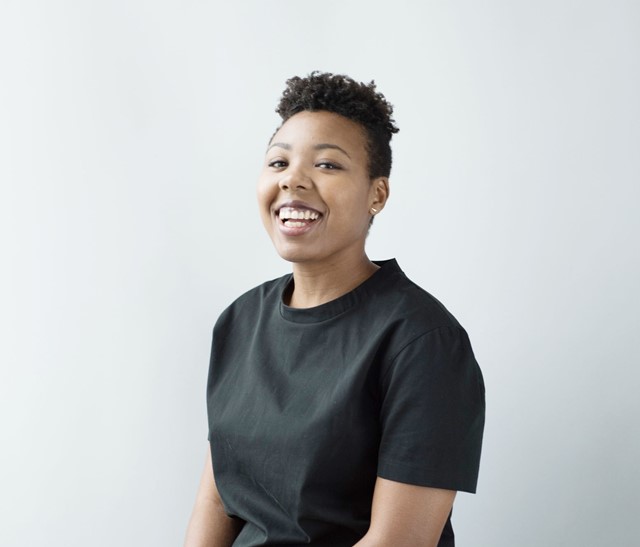 Photography Clara Balzary, styling

Emma Wyman
LA-based Martine Syms doesn't call herself an artist. Preferring the term 'conceptual entrepreneur', Syms uses performance, graphic design, lectures, video and printed matter to field ideas about entertainment, viewership and the communication of identities.
A cultural analyst of sorts, Syms is less concerned with her own identity than she is with the way identity frames consumption and spectatorship, an approach inadvertently nurtured by her upbringing in the showbiz capital of the world. "I grew up in Los Angeles," she says. "I watched lots of television; I still watch lots of television. I've always been interested in the manufacturing of narratives, identities and ideologies, and how they are embodied and negotiated by viewers."
Dominica, Syms' publishing project surveying "blackness as a topic, reference, marker and audience in visual culture", unpicks the ways in which meaning is built and communicated in exploratory essays and fictional works such as Fools, which she describes as "a short story about a young man's search for decolonial love".
For 2016, Syms has a string of solo exhibitions lined up, including Fact & Trouble at the ICA this April. Dominica will also have a few more titles on its roster, set to further her enquiry into representation and narrative. "I'm releasing two new books... Dark Pool Party, a collection of essays by Hannah Black, and There Is Nothing to Divide Us If We Do Not Exist, a book of sci-fi poems by Sara Knox Hunter." As ever, Syms stays true to her 'entrepreneur' title, producing work that challenges our role as consumers.
"Notes on Gesture is a video comparing authentic and dramatic gestures. The piece alternates between title cards proposing hypothetical situations and short, looping clips that respond. The actor uses her body to quote famous, infamous, and unknown women. She repeats and interprets each movement several times, switching from a physical vernacular to acting techniques likes blocking and cheating", says Syms.