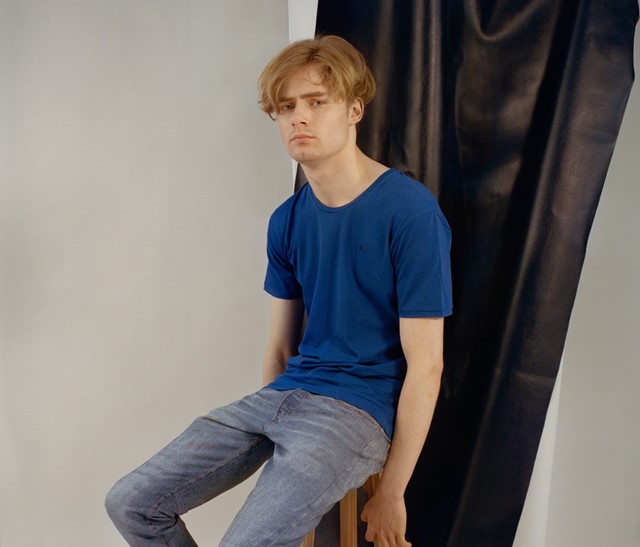 Photography Vicki King, styling

Elizabeth Fraser-Bell
At just 18 years old, Bertie Gilbert is kind of a big deal. He acts, writes and produces, has seven short films to his name as director, and is currently working on his feature debut. Reminder: he's just 18.
Already attracting comparisons with Wes Anderson for his carefully constructed colour palettes, Gilbert has been developing his idiosyncratic style over the past two years, and is fast making his name as one of this generation's most exciting auteurs.
Having made his big-screen debut as Scorpius Malfoy in the final instalment of the Harry Potter films, Gilbert's work behind the lens reveals a unique vision, his unsettling, almost fantastical narratives taking in an unexplained diner shootout and a 56-year-old man stuck in a teenager's body. His films feel like true originals, and even when there is light-heartedness, it's always coated in a layer of melancholy.
Gilbert's film Rocks That Bleed tells the tale of two radically different brothers looking to rekindle their relationship at the end of the world, and was nominated to take part in the BFI Future Film Festival. His latest release, Blue Sushi, follows the story of a young trans man named Scarlett, and the experience of revealing his gender to his band and friends. "I liked the idea of somebody's identity being turned into a commodity," says Gilbert. "The idea of a conflict where identity is based on the number and the figure."
Gilbert's creative approach is relentlessly DIY. He's involved in every aspect of the project, from being behind the cameras to in front of them, a trait that marks him out as part of a new generation of unstoppable, self-taught filmmakers raised on the internet. In 2016, he'll launch Let it Be, featuring the Grim Reaper as a young girl who has entered the mortal world. Stay tuned.