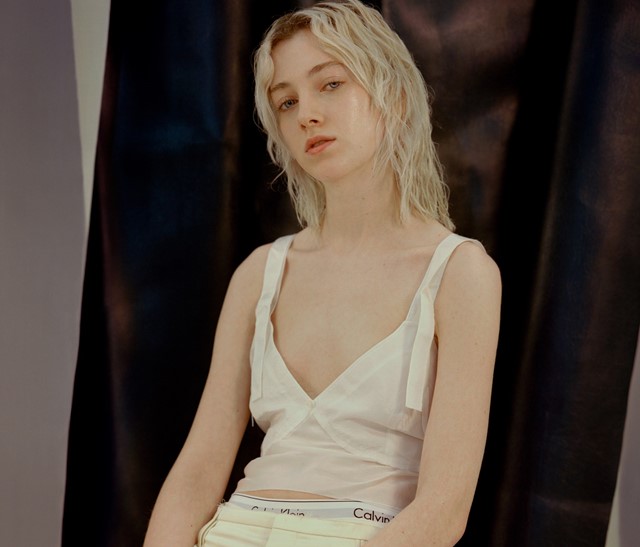 Photography Vicki King, styling

Elizabeth Fraser-Bell
If you were one of the 70,000 people who attended the People's Climate march in London last November, you would have seen two of the world's fiercest eco-warriors leading the charge: one, a septuagenarian queen with an oversized crown, the other an icy-haired blonde telling you to 'remember the glaciers'. Heir apparent to Vivienne Westwood's throne as queen of eco-punk, 19-year-old Elizabeth Farrell is turning herself into a walking billboard for climate change.
"Remember the Glaciers stemmed from my school art project exploring the correlation between globalisation, capitalist society, mass consumption and the environment," Farrell told Dazed last year. Looking to address the existential threat of melting glaciers by turning capitalism on its head, she makes activism accessible to the Insta-generation via carefully constructed photographs.
Glacier Girl's work has not gone unnoticed by the fashion industry, either. Vivienne Westwood, who has long been campaigning against fast fashion and fracking (to the point of driving a tank to David Cameron's house) found a kindred spirit in Farrell, taking her in as part of her ecologically conscious gang. The pair also collaborated on Westwood's #savethearctic campaign.
Always researching, Farrell's particular brand of superheroism isn't daunted by new ideas or direct action, and highlights the importance of diving headfirst into the issues that really matter. "As a generation, the most important thing for us to do is to come together to speak about climate change," she told AnOther. "This is a massive responsibility that we have taken on, and we must act on it – we cannot just leave things in the state they are. This needs to be an epic movement."