Alexandra Marzella
Artist, Actor, Activist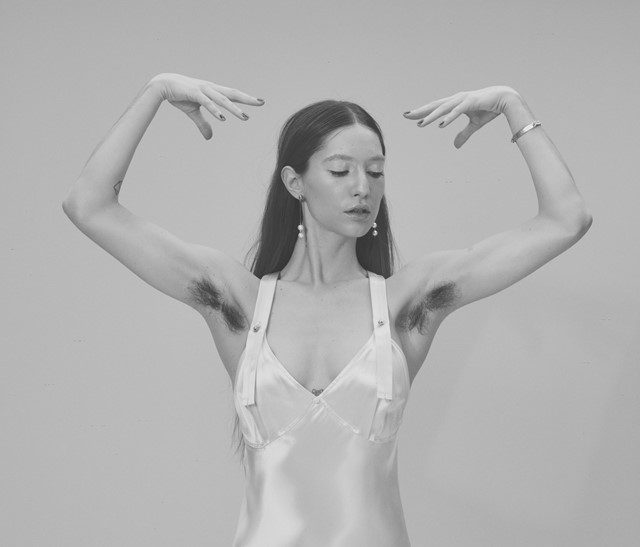 Photography Casper Sejersen, styling

Elizabeth Fraser-Bell
"To look at oneself is to discover oneself," says Alexandra Marzella, or @artwerk6666. To look at the 25-year-old artist's Instagram posts is to discover – what? One shot sees a distorted-looking naked stomach, with one arm reaching into 'Lady Princess' pants. Another video sees her made up like a turn-of-the-century painter, only with a face mask and hairy underarms exposed by her lifted top (caption: "look I'm a troubled artist"). Another sees her naked and resplendent like a Renaissance nude, all milky skin and rosebud lips – an archaic male fantasy quickly shattered by her arrangement on a toilet seat.
All are evidence of her consistent, playful knowingness – winking and sharing her intimate moments, all the while being in on the joke. Marzella is one of New York's most exciting "women artists" (never "female", she says), creating confessional work that flips the mainstream narrative of twee white feminism, unrealistic beauty standards and the over-sexualisation of the female body. But she's adamant that the city's new creative community should not be written off as a fad. "It's not a new community," she says. "(But) the internet has made it more accessible to more people. I am grateful for networks."
Confronting the banality embedded in the narcissism of her generation, Marzella's work provides another powerful discourse – one where women aren't worried about being wolf-whistled in the street, and one where the ex-exotic dancer is spreading the power of militant self-love as part of her artistic practice. Catch those Instagram posts while you can, though – at last count, Marzella's account had been deleted at least 16 times.