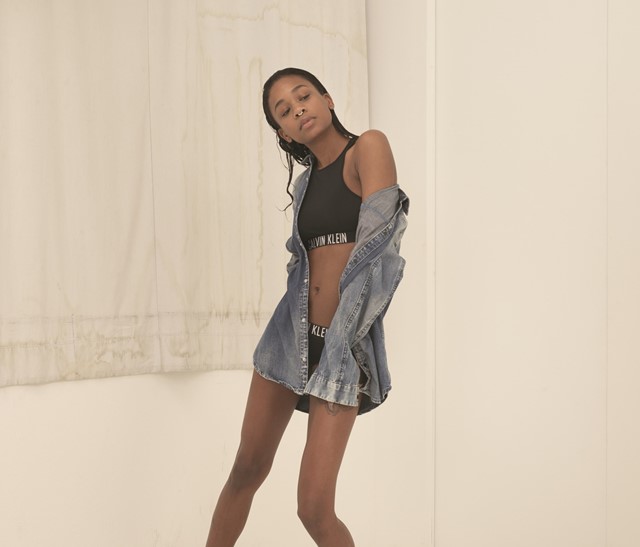 Photography Casper Sejersen, styling

Elizabeth Fraser-Bell
I'm on the phone to Abra, but I can sense her eyes are rolling. "When you're black, everyone says you're an R&B artist. I mean, yes, I pooled from it, but you don't have to be put in that box." Abra's music – "alternative pop or freestyle house", if you insist on talking categories – is already some of the most anticipated of the year, despite a complete absence of official releases. The Atlanta-based singer, songwriter and producer is responsible for last year's "Fruit" and "Roses", tracks that seduced us with icy, sensual harmonies and surreal visuals. Born to missionary parents from Guyana and Haiti, she grew up listening to "a lot of Christian music" in New York.
Now, after being drawn to Atlanta by the "trap, rap and bass" scenes, she's working with Awful Records, a musical collective based in the Georgia capital and Vancouver featuring artists such as rappers Father and Tommy Genesis. Backed up by her family of boundary-pushers, she's more than happy to call out inauthentic readings of her music. "As a female artist, people always think someone has done the production for you, or that you can't be an artist expressing yourself fully – it has to be all sexuality or romance."
In fact, it's the nuance and detail that makes Abra so mesmerising, on and off the record, and to hear her speak is to open up a world of real talk and bubbling social commentary. You get the sense that there's much more to her than she's currently letting on (which isn't too much – she keeps her real name and age under wraps). As her music continues to thrill, and we anticipate more, perhaps her approach to style says it all. "I always have three words – dark, romance and nostalgic – which I live by. I don't like gimmicky stuff, I don't want to be covered up, I just want to be myself – with a hint of mystery."