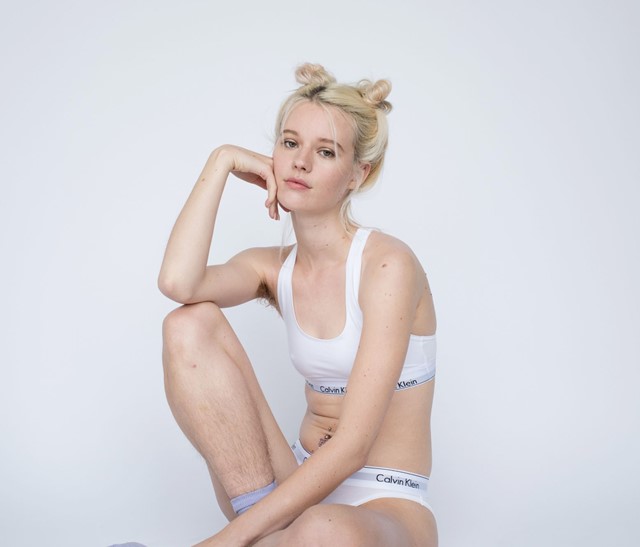 Photography Clara Balzary, styling

Emma Wyman
"You can't just make 'feminist art', because feminism is more like a spectrum of things; it changes and depends on its context," says Arvida Byström. The Stockholm-born, LA-based polymath deals with sexuality, body image, gender politics and the intersections between them, using feminism to expand rather than limit those conversations.
Byström's medium of choice is Instagram, and she boasts a following that's just passed 115k. From a young age, she'd seen the internet as "a little window out of a very closed room of teenage depression", but now, Byström's oeuvre of selfies, music videos and digital art have helped forge an online culture of body positivity and self-celebration.   
During a round-table discussion on body politics featuring fellow female artists Rupi Kaur, Alexandra Marzella, Molly Soda and Saerah Lee, Byström expressed her distaste for damaging body norms, decrying the harm caused by unfair body standards: "It sucks to feel like a freak and be grossed out by your own body. This makes people sick."
Byström's own pics, however, display herself as unapologetically sensual and fully confident in her body – hair and scars included. Are the images sexy? Perhaps to some, but this default interpretation is something the artist is keen to challenge. "Why are all naked, especially cis or non-cis, female bodies labelled under sex? A body has to be able to be a body without being sex," she says. "I like it when respectful people think I'm sexy, or, like, I wouldn't mind a person masturbating to a photo of me – but my body is also so much more."