As the long-running reality show come to an end, we remember the best and worst moments, courtesy of the
Kardashian Klan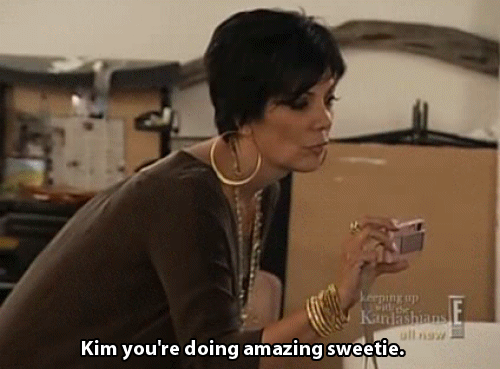 "YOU'RE DOING AMAZING SWEETIE"
The moment that solidified Kris' iconic role as a momager, the line alone conjures images of Kris filming on her phone while Kim poses naked for a photoshoot with Playboy.
KIM TAKING SELFIES WHILE HER SISTER IS GOING TO JAIL
One of the most memorable scenes in KUWTK is when Khloe is on her way to jail for violating probation stemming from a 2007 DUI arrest. While Kris Jenner is freaking out about Khloe's jail time, Kim's busy snapping selfies, to which Kris says: "Kim, would you stop taking pictures of yourself? Your sister's going to jail."
"I BOUGHT HER A FUCKING CAREER"
Who can forget the moment Kim was upset with Kourtney for not signing a release so Kim's video game could include a Kourtney avatar. The argument devolves into Kim being furious that Kourtney won't do her this favour after all she's done for Kourtney, and Kourtney pointing out that Kim never asked for a favour. Kim says the line, "I'm not buying (Kourtney) a fucking pair of shoes, I bought her a fucking career!" It may have been insensitive but that's television, kids.
"IS THAT A CHICKEN?"
Back in 2016, Mama Kris surprised Kylie with a tiny piglet as a housewarming gift on, to which Kylie responded by squealing, "Is that a chicken?!" As you can imagine, the moment quickly went viral. People then turned the exchange into a Vine, which later became a meme, and here we are.
"KIM, THERE'S PEOPLE THAT ARE DYING"
Remember that time when Kim had a meltdown in Bora Bora after losing her $75k diamond earring in the ocean? As she walks through the luxury resort in tears, Kourtney utters the iconic line: "Kim, there's people that are dying."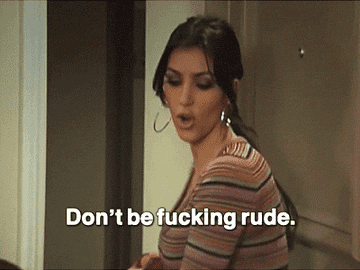 "DON'T BE FUCKING RUDE"
It's the episode in 2008 where Kim famously beat her sister with her expensive handbag, over and over again, while shouting, "Don't be fucking rude! I swear to god, don't be fucking rude... I'll fucking hurt you. Don't do that." Since that incident, the moment has become legendary with memes and gifs galore. Relatable content.
KIM AND KOURTNEY FIGHTING, AGAIN
Back in April, Kim and Kourtney got into an actual physical fight on the season premiere of KUWTK. In the second episode, Kim shows her bleeding arm after Kourtney scratches her.
THE KARDASHIANS EATING SALAD
Would it really be an episode of KUWTK without several shots of the Kardashians eating massive boxes of salads? There's many salad moments across the show, but here's one of Kourtney. Enjoy.